Hello guys! Kamusta?
Ambilis! Bukas August na! Next month ber month na! Pasko na! Yay!
Alam nyo na sasabihin ko.. Busy na naman kami! haha! Lage na lang!
But seriously, we're getting through some tough times lately. Yet, we wanted to share a story that hopefully would inspire you.
Last month marks our 1st year as Permanent Residents here in Australia. It was actually a big surprise for us when we received the good news a day after our 5th year wedding anniversary last year.
Some people may think that our lives here abroad are very much comfortable. Truth is, we face different kinds of struggles too.
When I post our story during our first month here in Australia, (click here for the story), we received messages from people asking us, why did you choose Australia? How did you migrate to Australia? What's your pathway to Australia? It's kind of hard to explain, but let me tell you our story.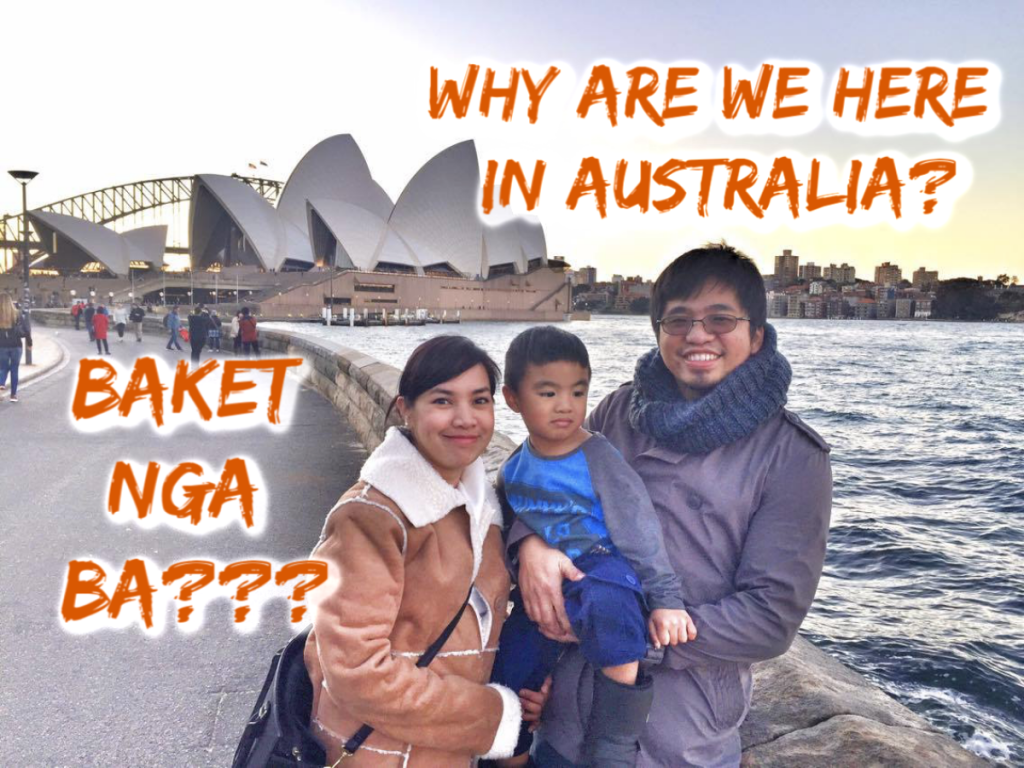 As shared before, we had an on and off long distance relationship with Marshall back when we were still in Singapore. So primarily, our reason is to live together as a family. Mahirap ang long distance guys. Click here for our LDR stories.
But life here in a foreign land is not as sugar coated as it may seem. In fact, sometimes we think that our lives in the Philippines are much more comfortable knowing that family and friends are always around. So during these times we have weary hearts, we can't help it but question God, "Why are we really here in Australia? Why did He brought us here?"
James 1:55 If any of you lacks wisdom, you should ask God, who gives generously to all without finding fault, and it will be given to you.
Do you believe in life's tapestry? That those series of events happening in our lives our not just coincidence, but is truly meant to happen. Would you believe that we are all here in whichever places we are right now not because we are lucky, but because we are really supposed to be here. That He brought us here.
Before I moved to Singapore, I had a nursing application going to Middle East. I already completed all the requirements and was just about to submit it, but then I received a call from another agency. An agency processing papers going to Singapore. It's like God had carried me and brought me to the right path. Sabi Nya cguro, "Anak dito ka…"
So then, I moved to Singapore. But before that, I already kept in mind that I would only stay there for 5 years. True enough, we stayed from March 2010 to Dec 2015. O diba, pasok sya sa 5 year goal ko! My goals back then was to save, invest, and help my parents with my sibling's schooling and help them build a house. Humbly speaking, I was able to help them. And so I believe God blessed me with Dada and Marshall, and we started our small family in Singapore.
Though early 2015, we were already having difficulties with our long distance set up with Marshall. We had trouble with the visa status of our parents who were helping us at that time look after Marshall while Dada and I were both at work. So, we thought of moving to a more family oriented place which is Australia. We researched on how to migrate to Australia but we found out that it would really cost us a fortune, considering we would want to move as a family. Medyo nahold back kami to apply through an agency because our savings were not enough.
But God truly provides.
Late quarter of 2015, Dada was offered a lateral work transfer from Singapore to Sydney. It was a very big blessing to us! Imaginine nyo, hindi lang si Dada ang inisponsor nila ng visa, kasama pa kami ni Marshall. Makakatanggi pa ba kami dun? Si Lord na nagbigay nun eh!
But even before we planned on moving to Australia, would you believe that we were already destined to be here? God had already planned for us to be here in Australia way before we have thought about it.
Rewind to 2014, we met Pastor Jeff Gatdula at the Singapore Expo. He is our spiritual mentor back then, until now. He prayed for us and he had a vision from God that we will be in another country, which is Australia. He even saw in the vision that we were on a big swing happily together as a family. Si Jesus pa nga daw ngsswing samin eh. hehe! You will see that in the video at the end of this post (0:29-0:32). Then God's will, we arrived here in Sydney last 2016, and we are already here for 3 1/2 years.
Being a nurse in Philippines and Singapore, I also wanted to be a registered nurse here in Australia. It wasn't that easy but through God's guidance, I was able to quickly get a slot to a bridging program, have my AHPRA nursing license, and now working as a nurse here in Australia.
It felt like things are falling perfectly into places.
You might think sobrang lakas naman namin kay Lord. Hindi ba kami binibigyan ng challenges??
We do. We do have a lot of struggles. We are not immune with the challenges. We have troubles with finances, Marshall's care arrangement, social issues, career dilemma, and family health problems. My mom had a stroke on Mother's day. My father is diagnosed with prostate cancer. Tatay and Nanay (Dada's side) have been under the weather too. Dada and I are currently facing a life-changing journey here in Australia. We will expound more of those stories in due time.
Although there may be hiccups along our journey, we cannot deny the fact that there's still plethora of blessings that we should be thankful for. And whatever battle we are/we will be facing, our faith in Him remains intact.
So why are we really here in Australia? What's our purpose here?
We do not know yet. We are still asking for wisdom to fathom His intentions on bringing us here in Australia.
But one thing certain, is that He has plans for us.
And He has chosen us to accomplish His plans.
And that we, our family, will always be a testimony to His promises.
1 Everything that happens in this world happens at the time God chooses. 2 He sets the time for birth and the time for death, the time for planting and the time for pulling up, 3 the time for killing and the time for healing, the time for tearing down and the time for building. 4 He sets the time for sorrow and the time for joy, the time for mourning and the time for dancing, 5the time for making love and the time for not making love, the time for kissing and the time for not kissing. 6 He sets the time for finding and the time for losing, the time for saving and the time for throwing away, 7 the time for tearing and the time for mending, the time for silence and the time for talk. 8 He sets the time for love and the time for hate, the time for war and the time for peace. 9 What do we gain from all our work? 10 I know the heavy burdens that God has laid on us. 11 He has set the right time for everything. He has given us a desire to know the future, but never gives us the satisfaction of fully understanding what he does. 12 So I realized that all we can do is be happy and do the best we can while we are still alive. 13All of us should eat and drink and enjoy what we have worked for. It is God's gift. 14 I know that everything God does will last forever. You can't add anything to it or take anything away from it. And one thing God does is to make us stand in awe of him. 15Whatever happens or can happen has already happened before. God makes the same thing happen again and again.

Ecclesiates 3: 1-15
Watch our video below to see some of the places we've been here in Australia. Background prayer voice c/o our dear Pastor Jeff.
Please don't forget to subscribe to our YT channel (click here!) and like our FB page (click here) for you to be updated with our family's stories! 😉