Hello guys! Kamusta?
Malapit na magweekend! Woohoo!
Medyo nabusy ako sa mga interviews lately. Kwento ko next time ano ano mga interview questions ko. Merong part na tell me about yourself, tapos narealize ko oo nga pala, 1 year na rin pala akong RN dito sa Australia. And since madami dami nagtatanong kung pano ang process ko, cge kwento na natin yan! 😉
Again, I'm migrating this file from my previous site. I actually posted this last year on some nurses group, but I thought it might be a good idea to share it to everyone. I hope this helps my fellow nurses in achieving the dream of becoming a Registered Nurse in 'the Land Down Under'.
Sharing my personal journey on becoming an Australian Registered Nurse.
——————————————————————————————————————
Jan 2016 when we moved to Sydney from Singapore. I was a nurse in Singapore and my husband Rod was also working there. Rod was offered a lateral work transfer from Singapore to Australia which was a very big blessing to us (Thank you, Lord). Before moving here, we already planned that I would be a full-time housewife and mom (yes, dream come true!) for the meantime, at least for 2 years. The main reason was to look after Marshall since he was only 2 years old at that time and childcare fees are very much costly. We also wanted to have that opportunity to finally spend quality time together since we had an on and off long-distance relationship with Marshall when we were both working in Singapore.
Late quarter of 2016, I started looking for the AHPRA application process for internationally qualified nurses. I did not opt for an agency because personally, I do not want to spend additional cost considering the process would be very steep. I first read the AGOS 40 form which can be found here, then carefully studied the documents that I needed to complete. Straightforward naman sya.
December 2016, Rod and I decided to enroll Marshall in a childcare for 2 days so I can have some time to study for the IELTS and at the same time, Marshall would be able to socialize more with kids and be familiarize with the school set up.
Jan 2017, while Marshall was at child care, I began to review for the IELTS. I did not attend any classes or training. Again, so as not to pay extra. (tipid mode, hehe)
3rd of March 2017, although I was not that confident yet, I booked my IELTS exa on March 25. (bahala na, hehe)
Check out my IELTS Writing Test, Speaking Test, and IELTS re-marked.
Concurrently, I prepared some of the necessary documents needed for the application such as:
-Recent Passport
-Birth Certificate
-Marriage Certificate
-Visa (I am already holding a valid dependent visa under my husband which was thankfully less of a hassle so I totally do not have an idea of what visa is needed or how to apply for a visa)
-Proof of age card (Since we are already temporary residents, I already have a New South Wales Photocard)
-Bank Account details
-Health Insurance Card (Insurance is mandatory in Australia)
-Copies of my PRC ID and SNB ID
Basically, everything is already written in the AGOS-40 form but you may check out AHPRA's website for further details.
While waiting for my IELTS result, I requested a Certificate of Good Standing from the Philippines. I sent an authorization letter and a copy of my PRC ID to my brother for him to process the request on behalf of me. He came at the PRC at 8 am, and at 10 am the COGS was immediately released. I asked him to send it to my home address here in Sydney, which, by the way, is not the correct way. It is indicated in the AGOS-40 form that it should be sent from the registration authority to AHPRA's office directly. That was one of my mistake which I did not notice earlier. (basa mabuti..)
Apr 7, 2017, I received my IELTS result. Unfortunately, I missed 0.5 points for the Speaking Test, but I requested for a Remark. Click here for my IELTS Remarked story.
It took 8 weeks for the final IELTS result to be out so I used that time to complete the other documents required for the application. I requested for a detailed Certificate of Employment from my previous employers indicating that I've worked as a full-time staff. It took more or less 2 weeks for me to receive it. I also prepared a comprehensive Curriculum Vitae that describes my professional qualifications. Check AHPRA's standard format for CV.
June 19 2017, when I received my IELTS remark result by mail, and finally the result was enough for me to pursue my AHPRA application. By then, I rushed to complete all the necessary requirements.
–Certificate of Good Standing, Philippines – By that time my CoGS from Philippines which I initially requested in March was already invalid since the validity is just 3 months. So I asked my brother to request for me again and sent to my home address (mali na naman..) and received it by June 21.
-Certificate of Good Standing, Singapore (Since I also worked in Singapore for 5 years, I needed to request one. The application took 2 weeks.)
-Academic Qualifications (I am very grateful that Kuya Celso, one of the staff at my Alma mater in RTRMS MMC, was very helpful and he already knows the requirements needed by AHPRA. I asked my father along with the authorization letter to bring the request form to him at school. After a week, my transcript of records was forwarded directly to AHPRA. My father also forwarded some documents from school to CHED (Commission on Higher Education) and after a week it was sent directly to AHPRA. Check here for supporting documents needed.
-Criminal history check – Applicants are required to apply for an international criminal history check (ICHC) from an AHPRA approved vendor. I used Fit2work. A day after I registered online, I received the email stating the reference number which was needed in the AGOS 40 form. The result was forwarded to AHRPA by the vendor and I received it as well through email in 2 weeks time.
I was anticipating that all my requested documents will be forwarded to AHPRA by second week of July so I mailed my application form to AHPRA Sydney Office on July 13 along with the other requirements. All documents must be certified true copy by an authorized person. Thank you Tita Angie! 😉
July 17 2017 when I received an email from AHPRA that they received my application and it will be reviewed. During this time, I was already looking for possible approved bridging institution.
Aug 01 2017, I received the email from my Case Officer asking for a revised AGOS 40 form. The form I submitted was not the updated form (hindi ko na check 2016 form pa pala yun, meron ng 2017 form.) Apparently, I also did not notice that my CV was stamped as a certified true copy though that was the original (dapat original CV at signed). Another thing was the CoGS from the Philippines. Like what I said, it should be sent directly to AHPRA office from PRC address. (Basa mabuti..) So I requested again. (Bayad again! Huhu!)
Aug 09 2017, I mailed the revised AGOS 40 form and CV then inform my Case Officer through email.
Aug 15 2017, the CO replied to me looking forward to receive the documents.
Aug 17 2017, the CO updated me that she received my documents and will still be under assessment.
Aug 31 2017, I received an email from AHPRA of the assessment outcome of refusal for application of registration along with the referral for NMBA approved bridging program. The registration fee of 155 aud was also refunded after a week.
Sept 4 2017, I sent my application to ETEA to do the bridging course. There are a number of institutions but most are fully booked.
Sept 10 2017, I started the bridging program at ETEA. It was a 3-month course but just after my placement days are completed, I already prepared the documents that I needed to submit for my reapplication to AHPRA including the updated CoGS from Philippines and Singapore.
Nov 23 2017, was our graduation. I immediately mailed my application to AHPRA Sydney office along with my cover letter saying that my bridging certificate will be to follow.
Dec 4 2017, I received an email from AHPRA that they already received the documents. I also mailed the bridging certificate on that day.
Jan 8 2018, I haven't heard or received any email from AHPRA so I called to inquire about my application. It seems that it was still ongoing assessment. (Naisip ko na lang, naabutan kasi ng Pasko at New year, cge lang..)
Jan 9 2018, I received an email from the case officer telling me that they are going to email me if there are any more documents needed or to inform me of the registration. It was quite a long waiting period but…
Jan 24, 2018 I received an email from AHPRA that the application has been finalized, along with my registration number. Yey! Glory to God!
Of course this would not be possible without the help and support of my family back home in the Philippines as well as my friends in Singapore. To my ever supportive husband especially pag dating sa financial (kaching kaching, labyu).. To my makulit na Marshall yet very understanding,(pinaalaga muna namin sya kila Tito Billy and Tita Edel during my bridging course and there were nights na umiiyak na lang daw sya magisa without even saying to them, huhu, And everytime I remember that, naiiyak pa rin ako hehe. Yan yung isa sa mga Maalala ala mo kaya moments ko. hehe!
To our friends here in Sydney who supported us and helped us in looking after Marshall while I was doing the bridging course.. To my friends and people who I became friends along the way, sa mga nakilala ko sa Pinoy AU Nurses and Bridging Filipino Nurses to Australia, who shared their experiences in doing this AHPRA application and bridging course and sharing their tips para mapadali ang buhay.. And to everyone who made this journey possible, you know who you are. I may not have mentioned all your names but you know that you've been a part of this journey and thank you very much. And of course to God Almighty who always listens and indeed faithful to His promises. All praises and glory to You!
The journey was not that easy, yet, it is truly remarkable. This is only based on my personal experience and there might be differences in other people's encounter. I know how hard it is to start with something you totally have no idea about it. Hence, I hope this gives you an idea on how to become a Registered Nurse in Australia.
Good luck guys! 😉
Photos during our graduation at ETEA taken by Dada and Notalonephoto.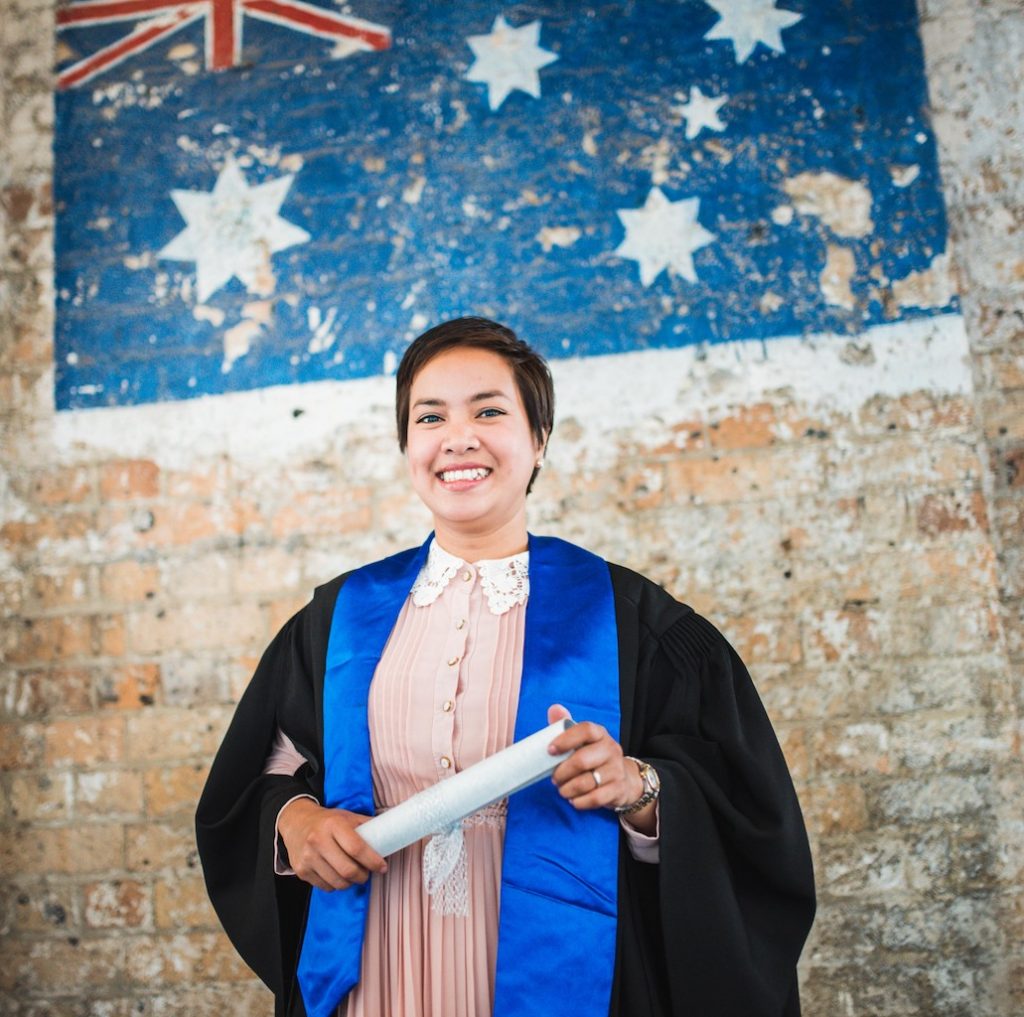 Wala pang registration nito pero feeling RN na talaga ko! ;))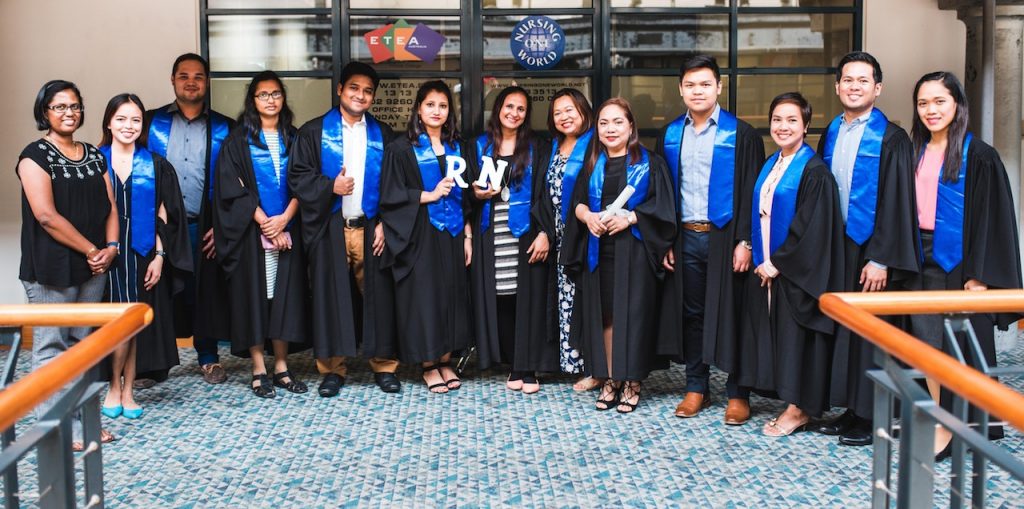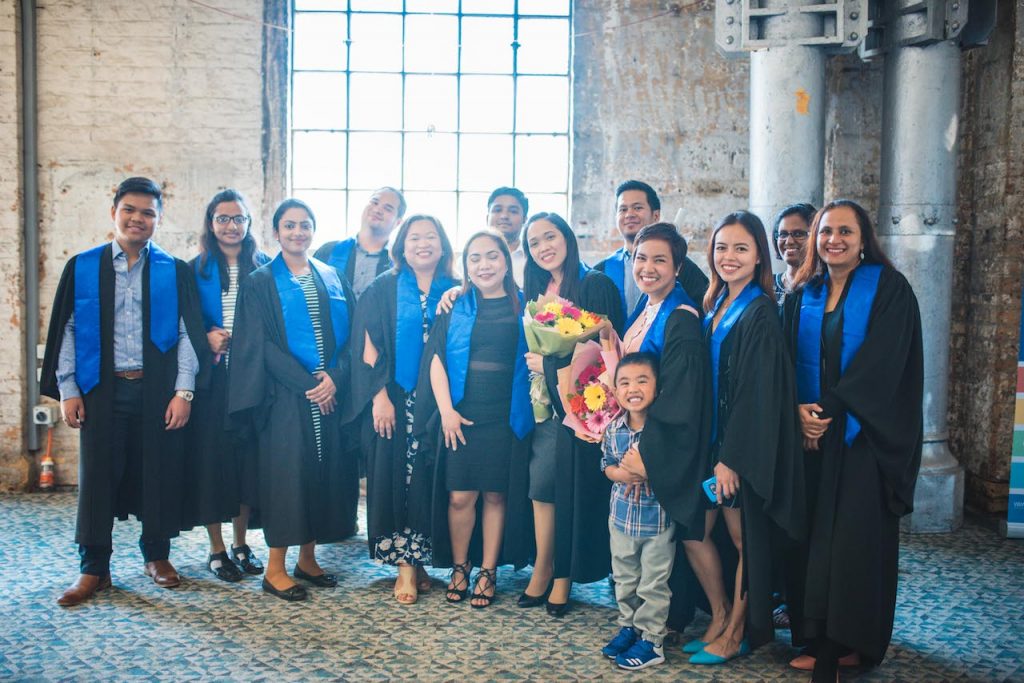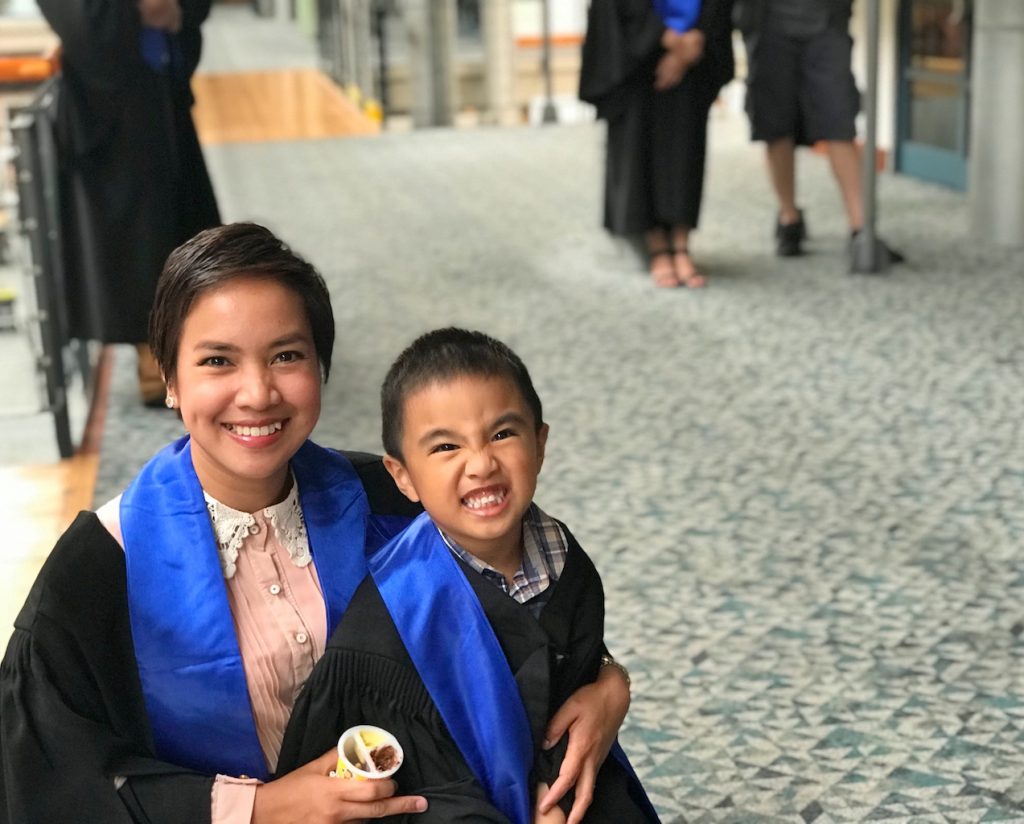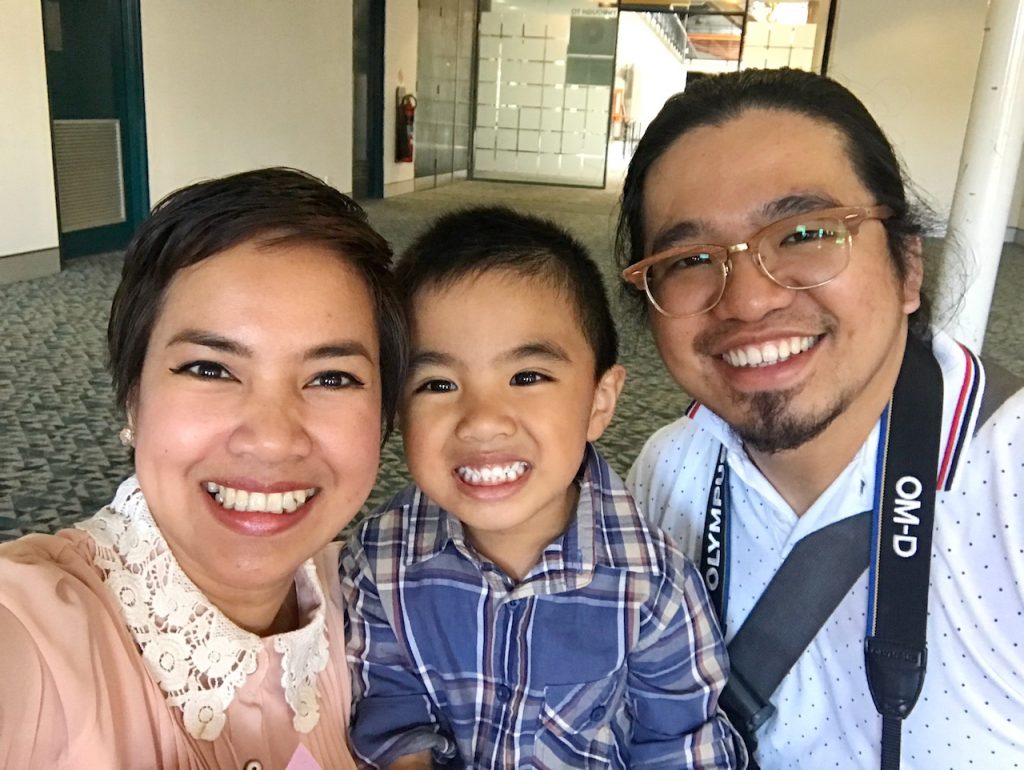 Mark 10:27
Jesus looked at them and said, "With man this is impossible, but not with God; all things are possible with God."
You may check out my video here on my journey on becoming a Registered Nurse in Australia! Please like and subscribe to out YT channel! – Click here!
You might want to check my IRON/Bridging Experience. Click here to view my story.
Click here for more of my RN stories 😉
Keep updated with our family stories by liking our FB page – Click here! 😉
Likewise, you may subscribe on our YouTube channel by clicking this link!
Thank you for taking time to read this story. Feel free to comment for any questions and other topics you might want us to share and we will try our best to reply as soon as we can. 😉