Hello guys! Kamusta?
We've been receiving messages from people inquiring about our family budget and usual expenses here in Australia. So this is it guys! Read more to find out our list of our usual expenses and how we budget.
I usually do a regular update on our budget using an Excel. Mas madali sakin pag naka-Excel kasi mas madali matrack kung magkano na ang expenses ni Dada, este namin, haha! And so, we keep all our receipts – Click here to find out our reasons for keeping receipts.
Accommodation is the biggest part of our budget. Ang mahal ng rent dito guys considering it is a weekly payment. When we came here in Jan 2016, we rented a small room for $200 weekly. Click here to read our story during our first month here in Australia. Currently, we our renting a 2-bedroom unit for $410 a week. Share namin sa inyo next time tips for looking for accommodation, needed requirements, and websites to check! – Abangan nyo yan guys! 🙂
Another part of our monthly budget is the remittance. It's not really mandatory for us to send money back home but Dada and I have this mutual decision to give back to our parents even in a simple way of paying for their electric bills, groceries, and to pay for their medicines too. We use Orbit Remit to send money back home – Click here!
For Food, our usual budget is $500-600 per month. A regular meal here costs about $10-$15 per meal. So pano ka makakatipid? Baon is the answer! I only have a half an hour lunch break at work so instead of walking out and looking for somewhere to buy food, I bring baon. Aside from saving bucks we also save time, and less stress to think what food buy. Mostly are cafes lang din, e rice person pa naman tayo! aminin! haha! We also bring water bottles para refill na lang. Share din namin usual price ng mga groceries next time!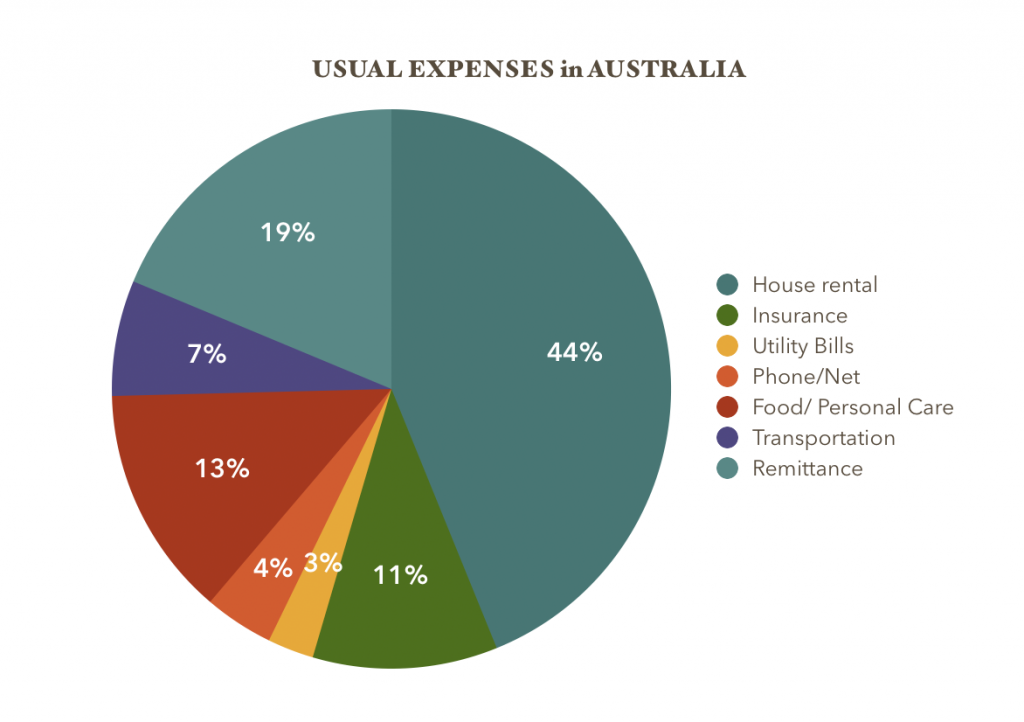 Our transportation budget is $200 per month for the petrol. Dada needs it for work, and yung mga pasyal na din namin. We find it more accessible to go to different places when you have your own vehicle. But of course, it depends on the nature of work you have and the distance of your workplace to your house. So far, the cheapest gas station for us is at Costco, though you need to be a member. Plus another $100 for my Opal card. Here in Sydney, we used opal card to tap when using public transport (bus and trains). Commute lang kasi ako for now kasi nagaaral pa ko magdrive. Kwentuhan ko din kayo dyan next time ng driving journey ko! Yay!
Phone and Net. For beginners you may opt for prepaid sim card. Ganyan muna ginawa namin nung una, hanggang sa nakaluwag na, dun na kami kumuha ng line at sariling internet. The data you need depends on your usage.
Electricity bills. For a family of 3, our usual electric bill including gas for the stove is around 300-350 per 3 months so it makes it $100 per month. Water bills are already included in our rent.
Another one in our budget is the Insurance. Insurance here are mandatory. There are a lot of insurance companies to choose from but ours is tied up with Dada's work. We're not the best person to give advice which insurance is the best because it all depends on your personal needs. Medical and emergency services are a must though.
That's it guys! Those are the usual expenses here in Australia but of course it's still case to case basis. It may differ in other Australian states considering we live in Sydney which is one of the most costly state. It also depends if you are single, or if you have family and the number of children you have. By the way, if you have a child or children, you will also need to consider the child care fees and school fees. Child care fees usually ranges from $80-$130 per day. Yes guys! Per day! Kamahal noh? Let's talk more of child care fees and requirements next time.! Dami natin pagkwkwentuhan guys!
We are only sharing based on our family experience. Other people may have a different budget allocation. There is no single formula for every person or family. It's a chemistry of considerable factors for every person's life circumstances. Nothing's wrong as long as it works for you and you're comfortable with it. (Naks! Quote ni Dada yan! Clap clap clap!).
Aside from this usual expenses, we also allocate parts for our savings and investments, fun funds, and of course, tithes. We might dig deeper into this topics next time. Hope this helps guys! We'd love to hear more ideas from others as well. Drop it in the comment box! ;))
Don't forget to subscribe on our YT channel so you'll get updated with our stories – Click here!, and like our FB page too- Click here! Madami pa tayong pagkukwentuhan!!!
Meanwhile, watch our budget kwentuhan here ;))