July 15, 2017
This is our second time to experience winter here in Sydney. Last winter, we were able to visit the Blue Mountains and had a quick escapade to New Zealand to see the picturesque views and finally experience snow. This year we want a snow free winter (for now) but of course looking for some winter activities that Marshall would still enjoy. Thankfully we were invited by friends to go for a road trip and do — Mandarin picking.! With no hesitation, we quickly agreed.
We left our place around 9 in the morning to avoid any heavy traffic. Although the road is quite narrow and zigzag we arrived at the farm after an hour drive.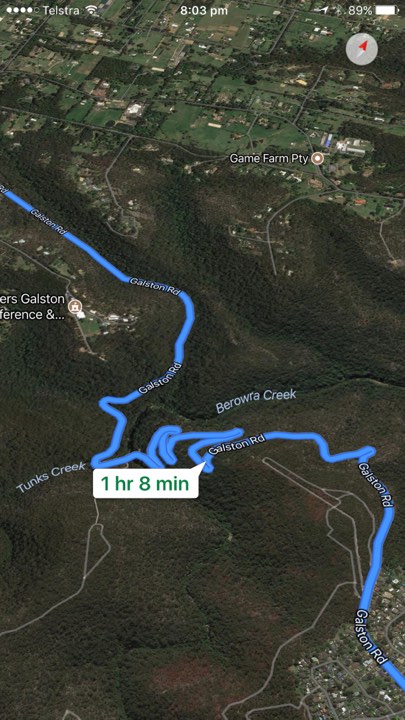 Watkins Family Farm is located at 1006 Singleton Rd, Laughtondale near Wisemans Ferry NSW. We checked their site a day before and it was stated that "Laughtondalegully Road is Closed so ignore your GPS just drive to Wisemans Ferry – turn right into Singleton Road and we are about 10km along on the right."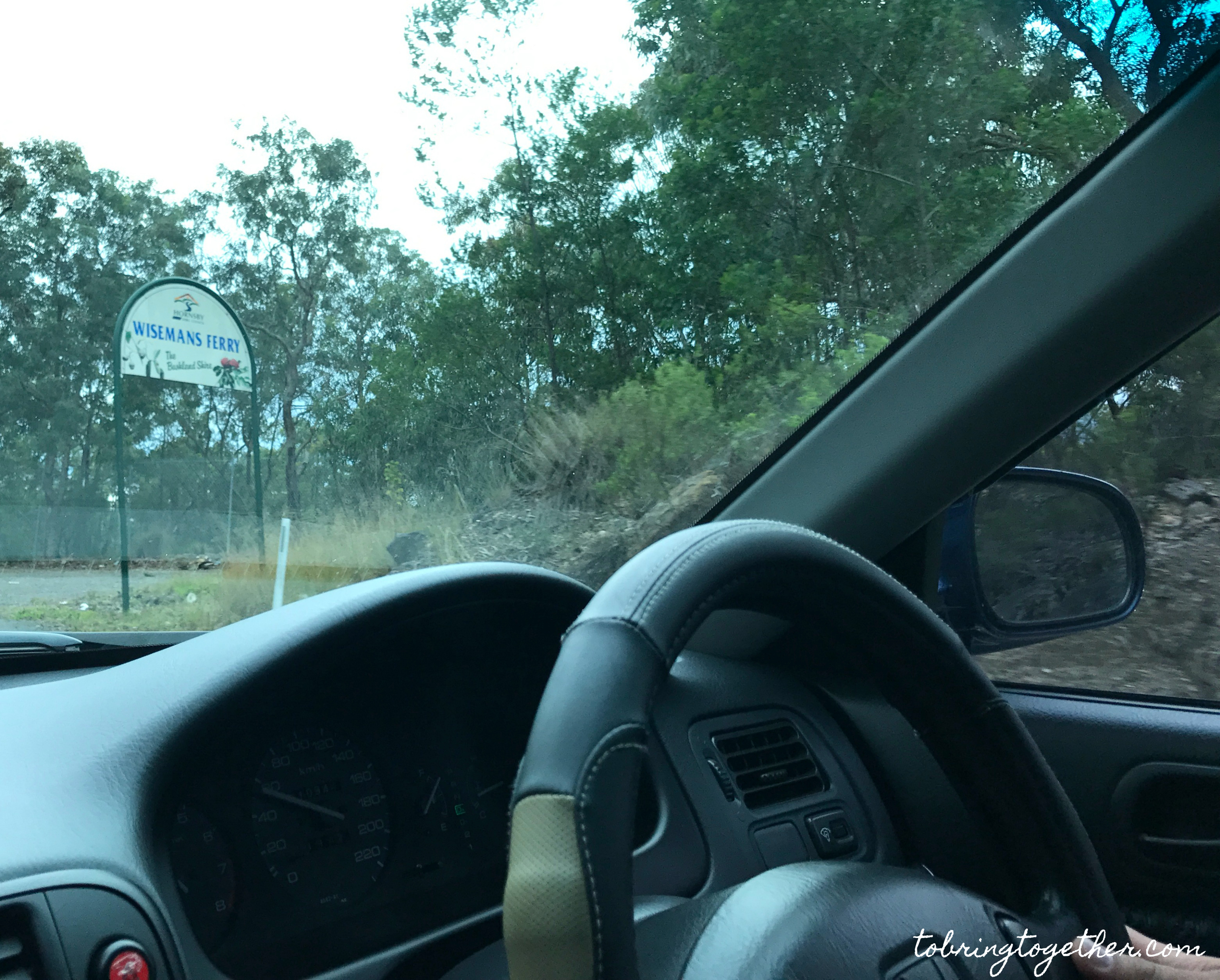 When we arrived at the place at 10:20 am, there were only 6 vehicles before us and not much of guests at that time.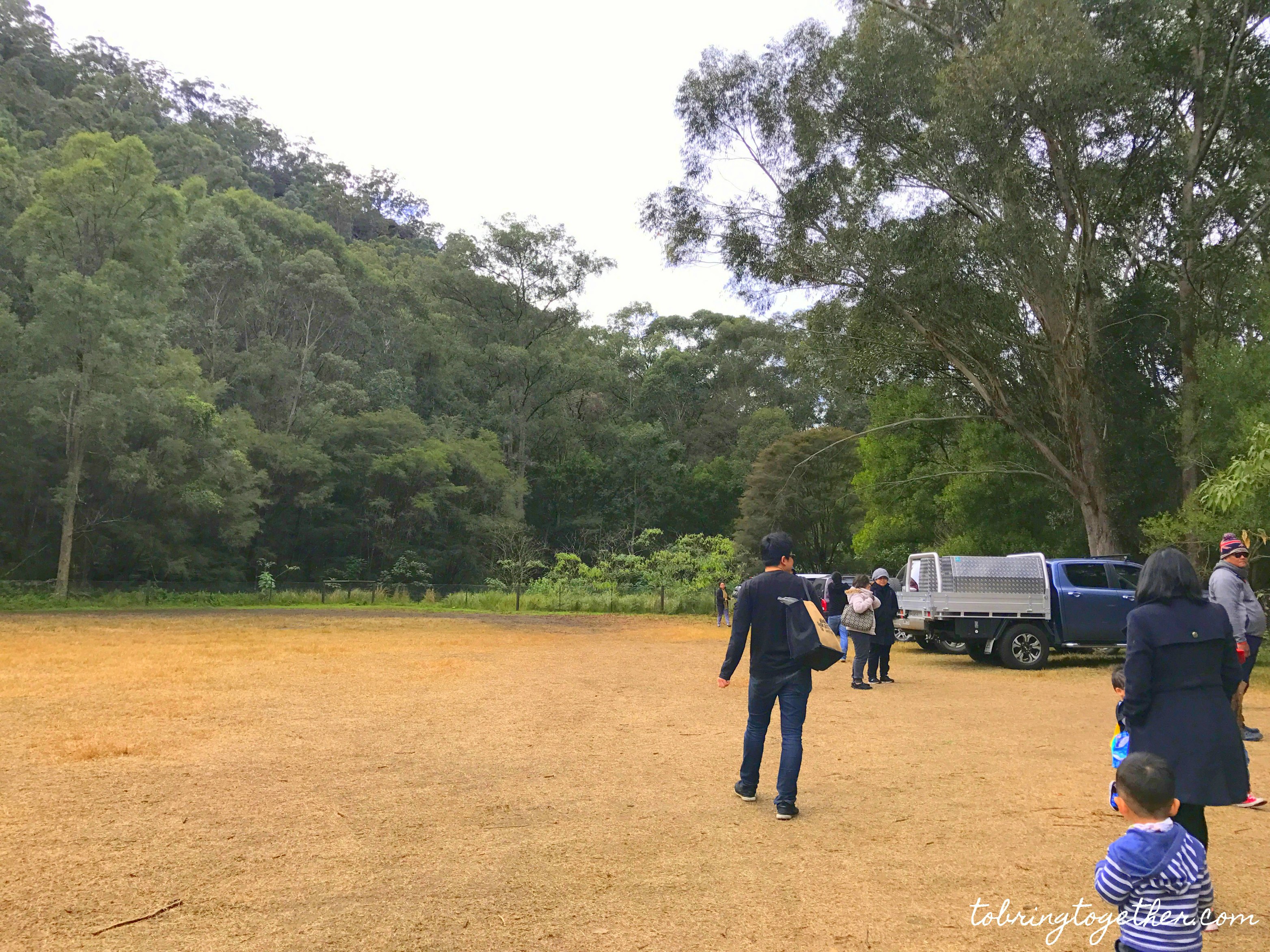 Upon entry, staff will hand over a list of their farm rules:
Farm Rule # 1. Every adult to enter the orchard must purchase and carry a bucket through the entry gate.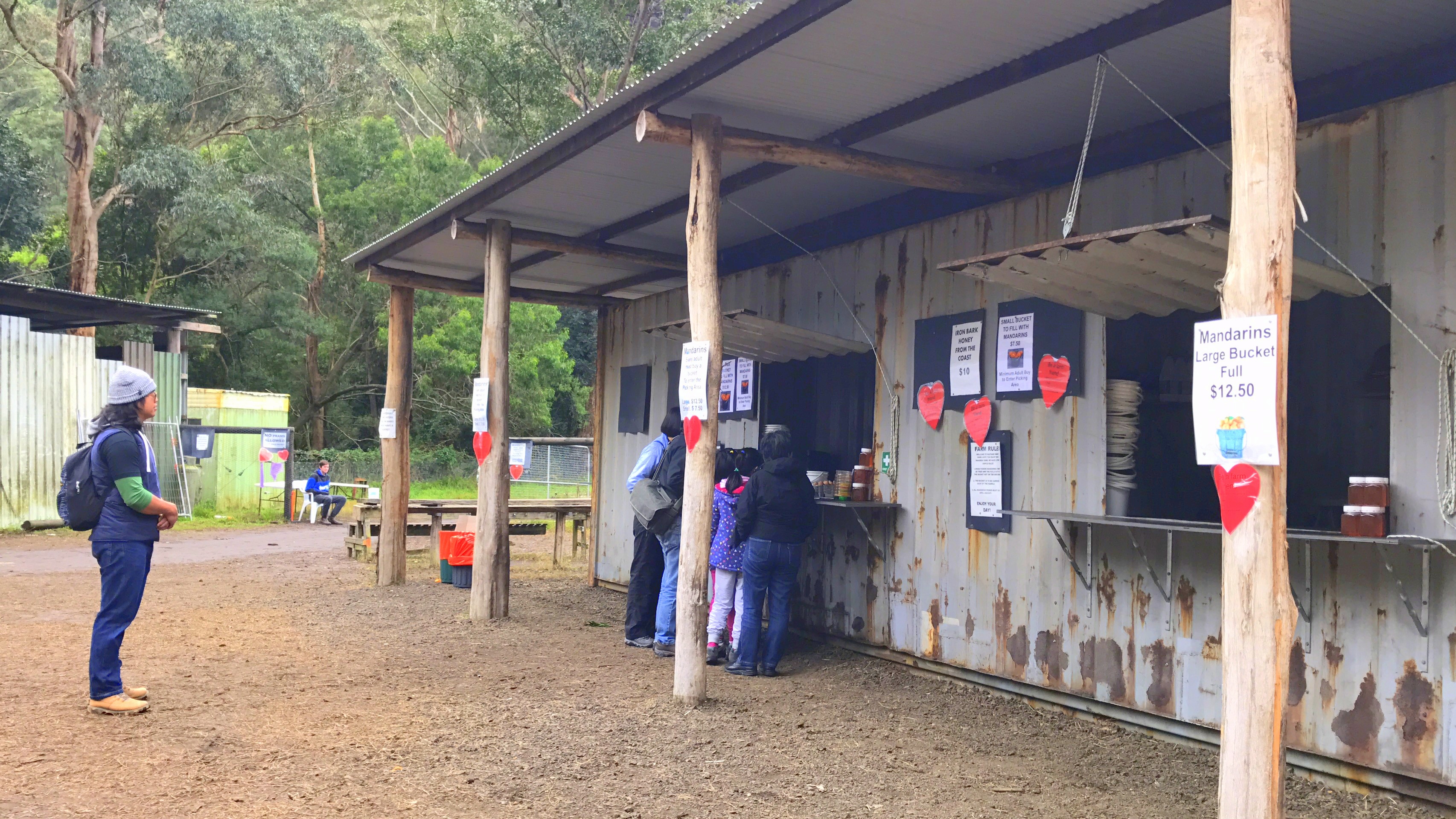 Entrance is FREE but every adult needs to purchase a bucket for $12.50 (large) or $7.50 (small), paid by cash only. We brought our own scissors to avoid pulling the fruit and to keep it fresh but there is also a pair of scissors that you can rent for $5. You may also bring fruit picking gloves.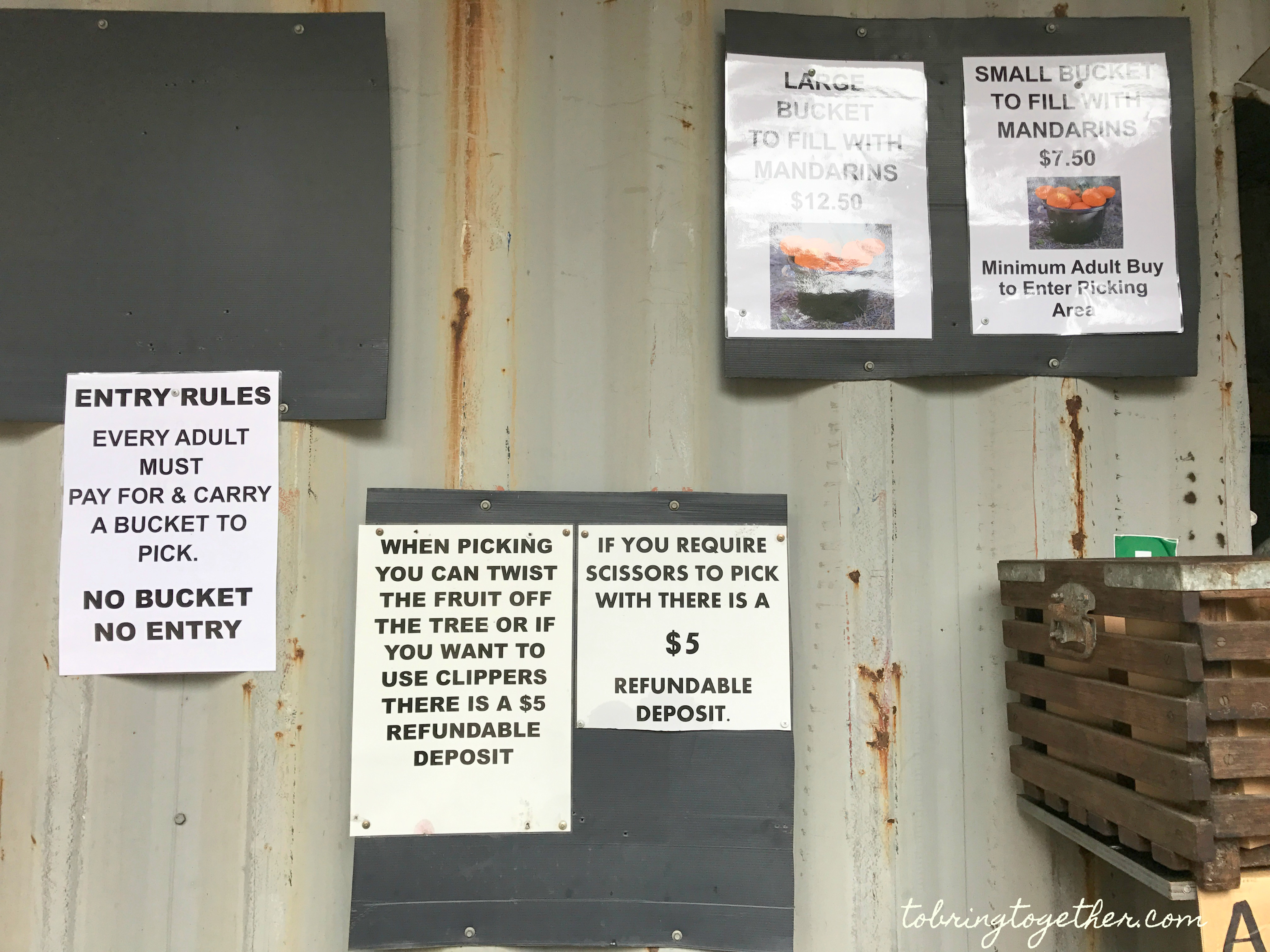 Bags and Prams are not allowed so it is advisable to leave belongings inside the car. Although the staff seems trustworthy because we just left our bags on the designated table before entrance and the bags were still intact when we got it back. But of course, we carried with us our valuables.
Farm Rule #2. When picking mandarins 2 may be tried and the peels must be put in the bucket, not on the ground. — but when we roamed around the farm, peels and even bunch of Mandarins were all over the place.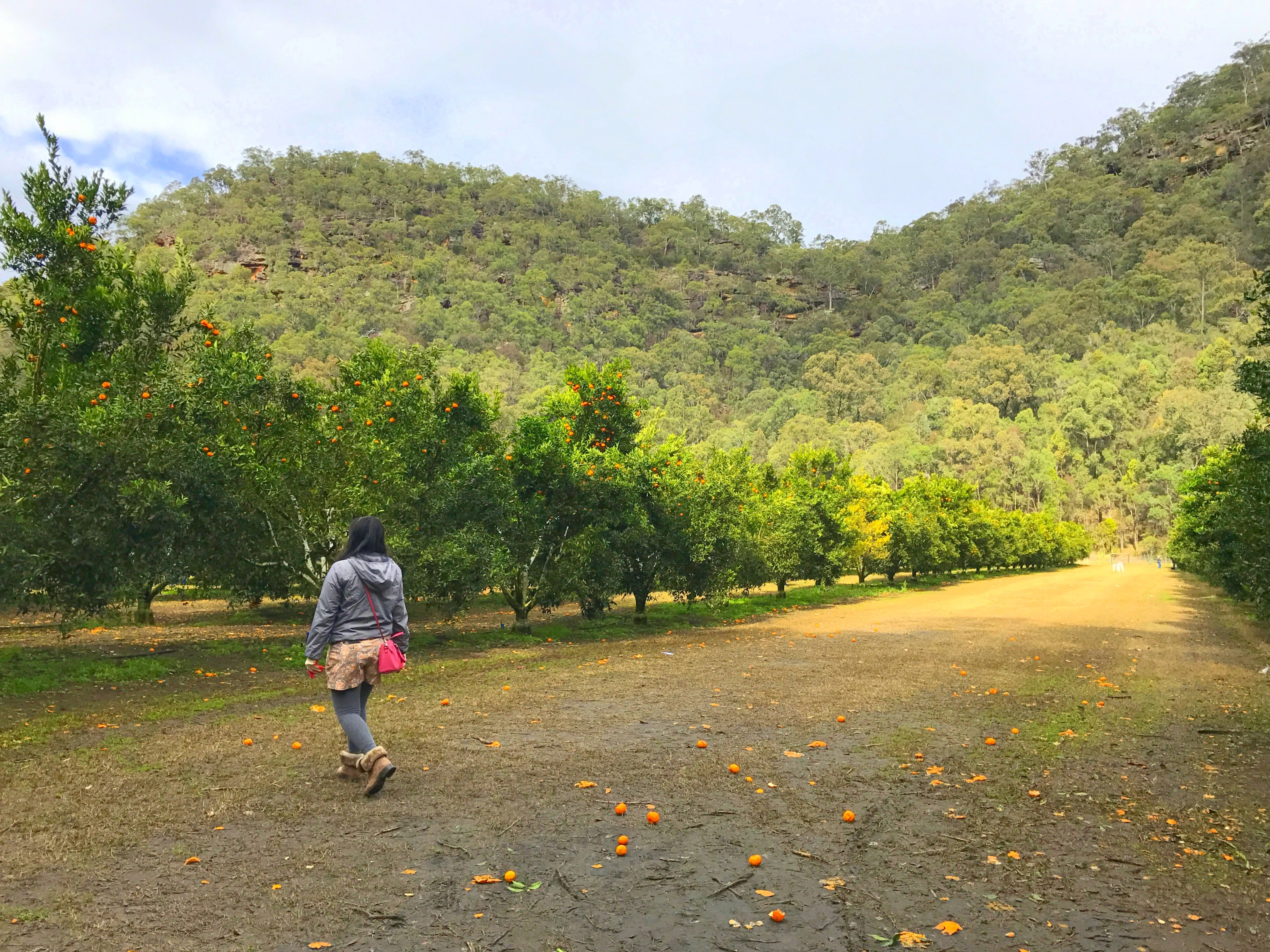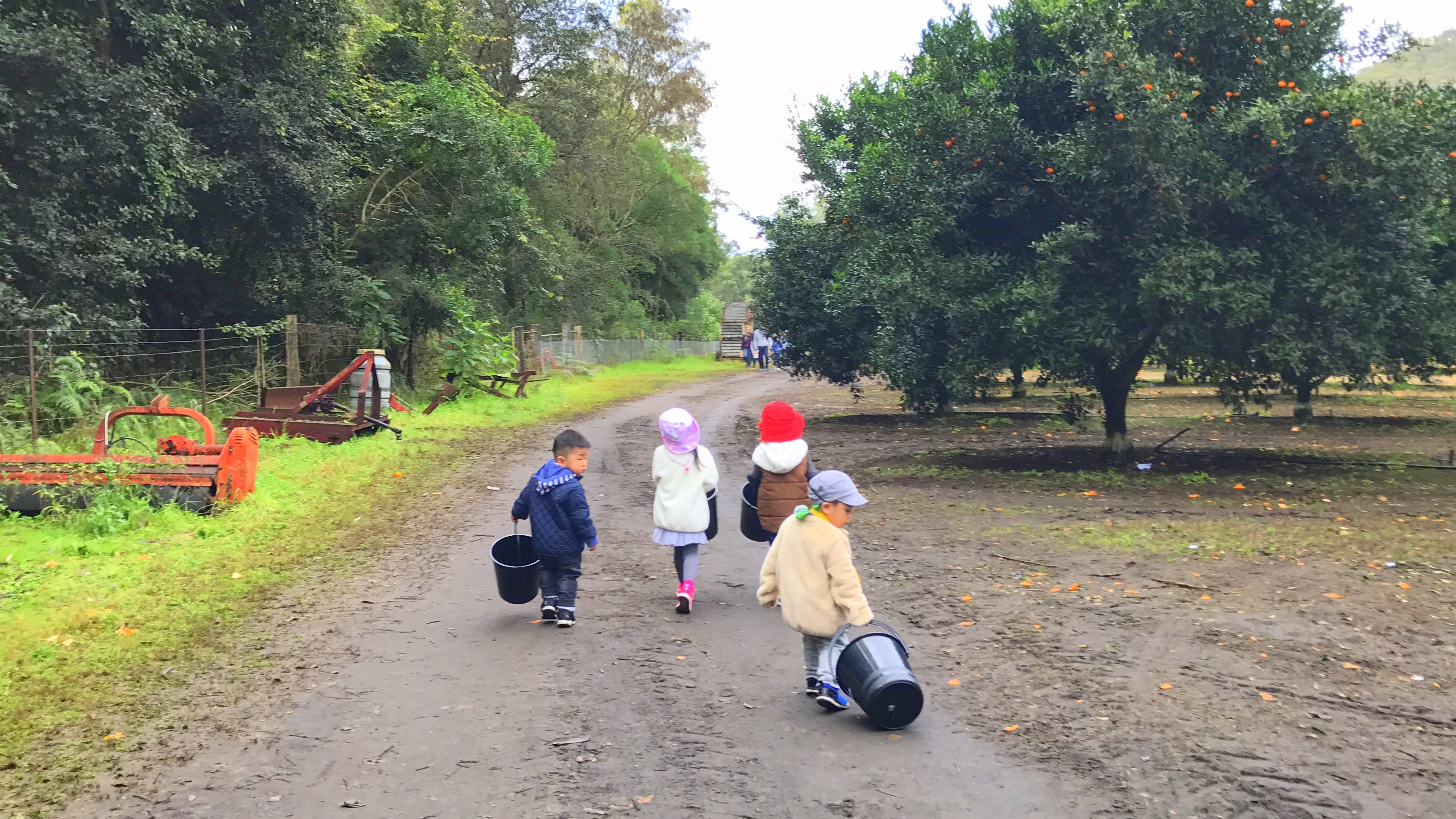 Farm Rule #3. All Mandarins picked off the trees must go into a bucket. This helps keep the farm clean for the next visitors.

Children want to be independent and bring their own bucket. haha!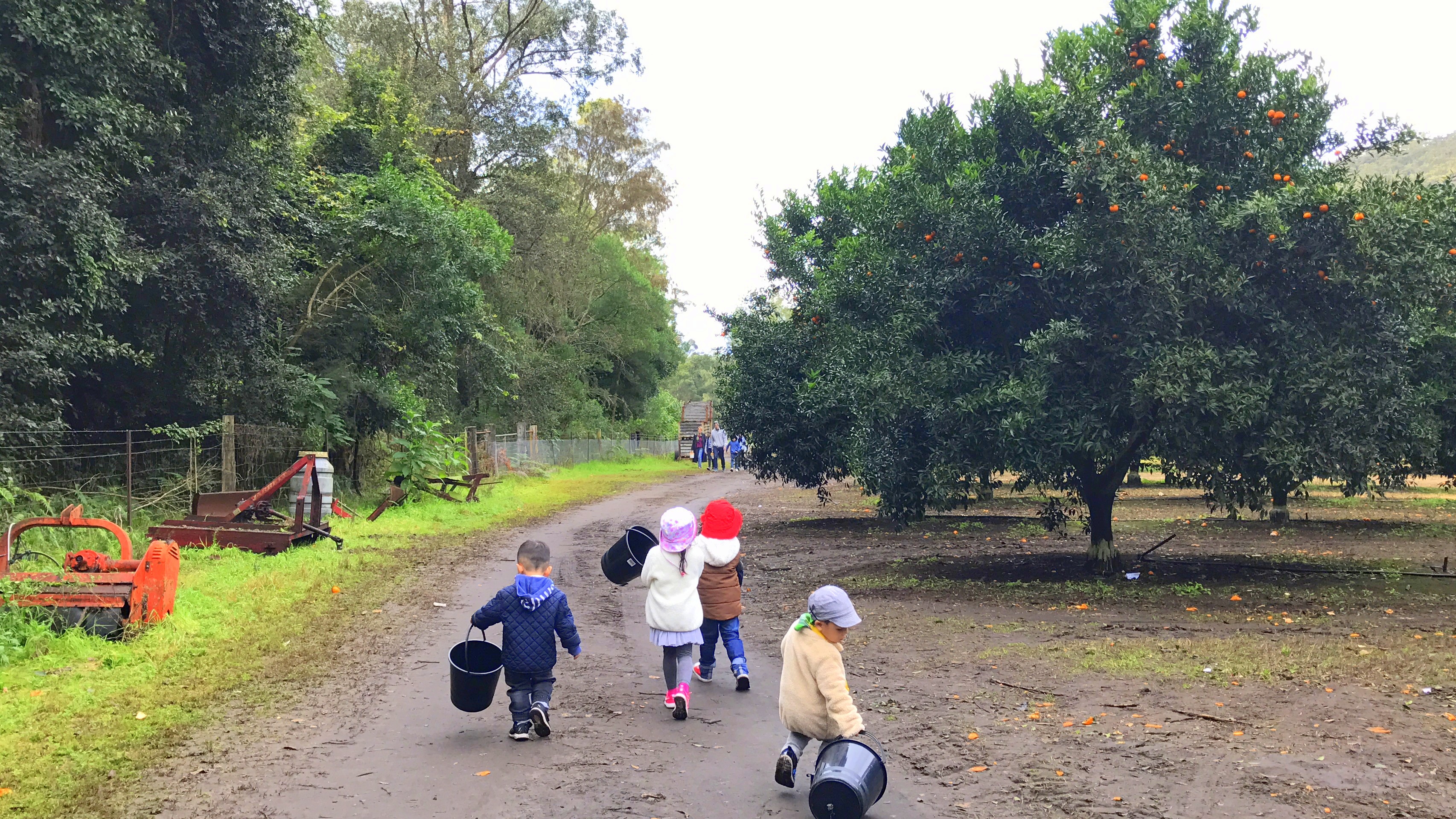 Farm Rule #4. The bucket may be filled right up as long as it can be carried by handle.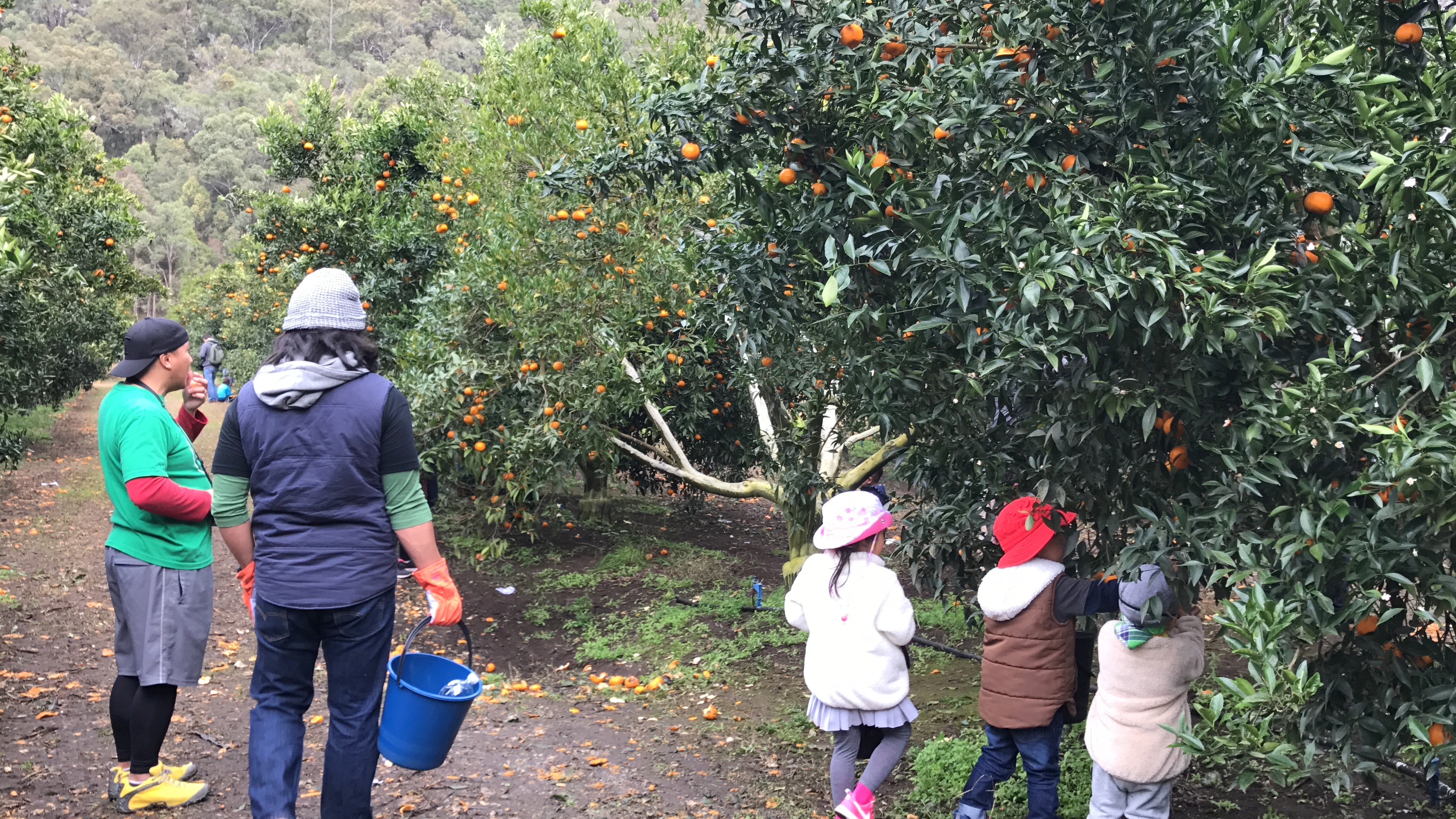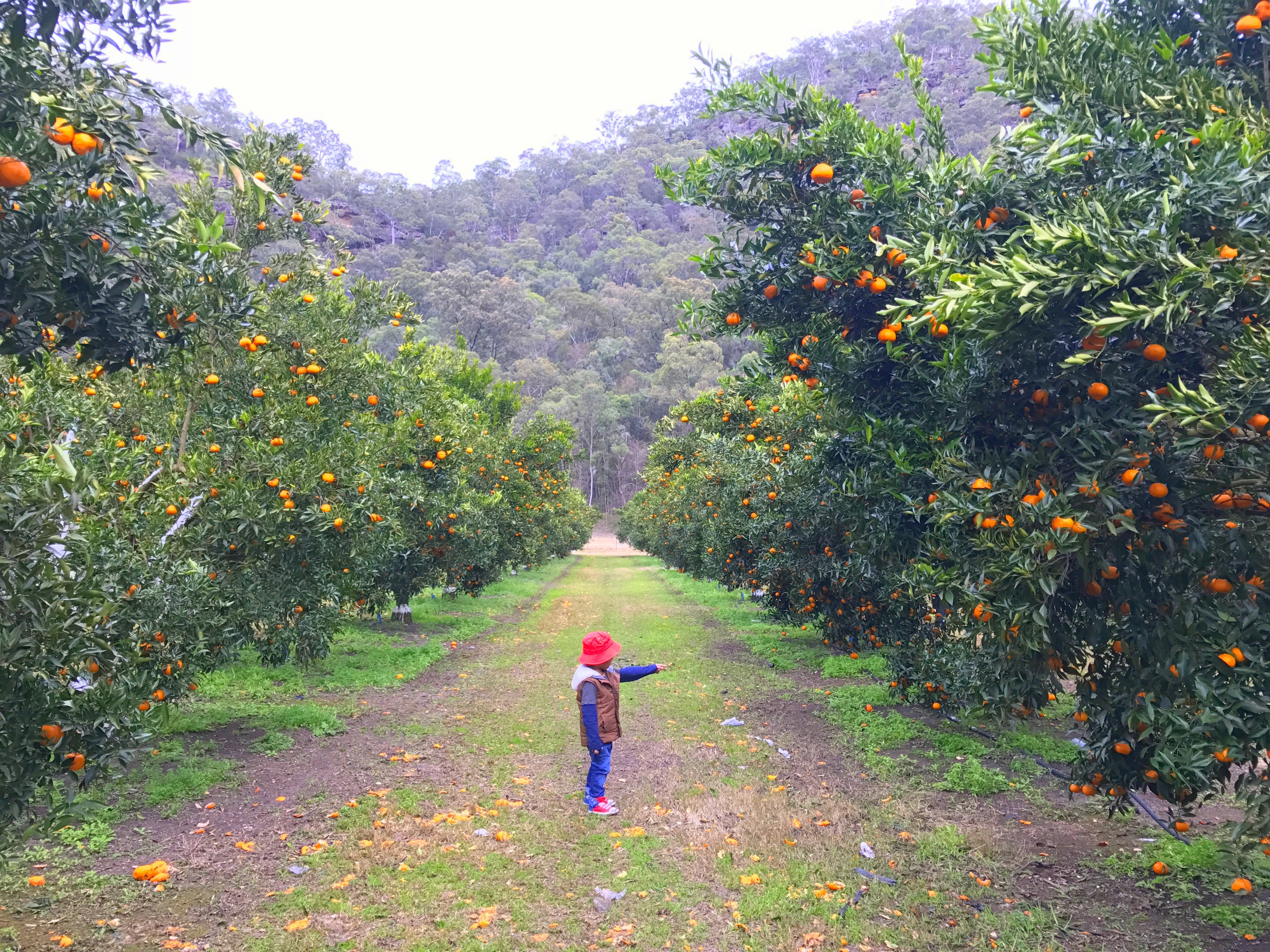 Everyone was busy picking! The farm grows Imperial, Hickson and Emperor mandarins though honestly, I do not know how to distinguish the different types, hehe. 😉
Farm Rule #5. No pulling off branches and hanging them over the bucket.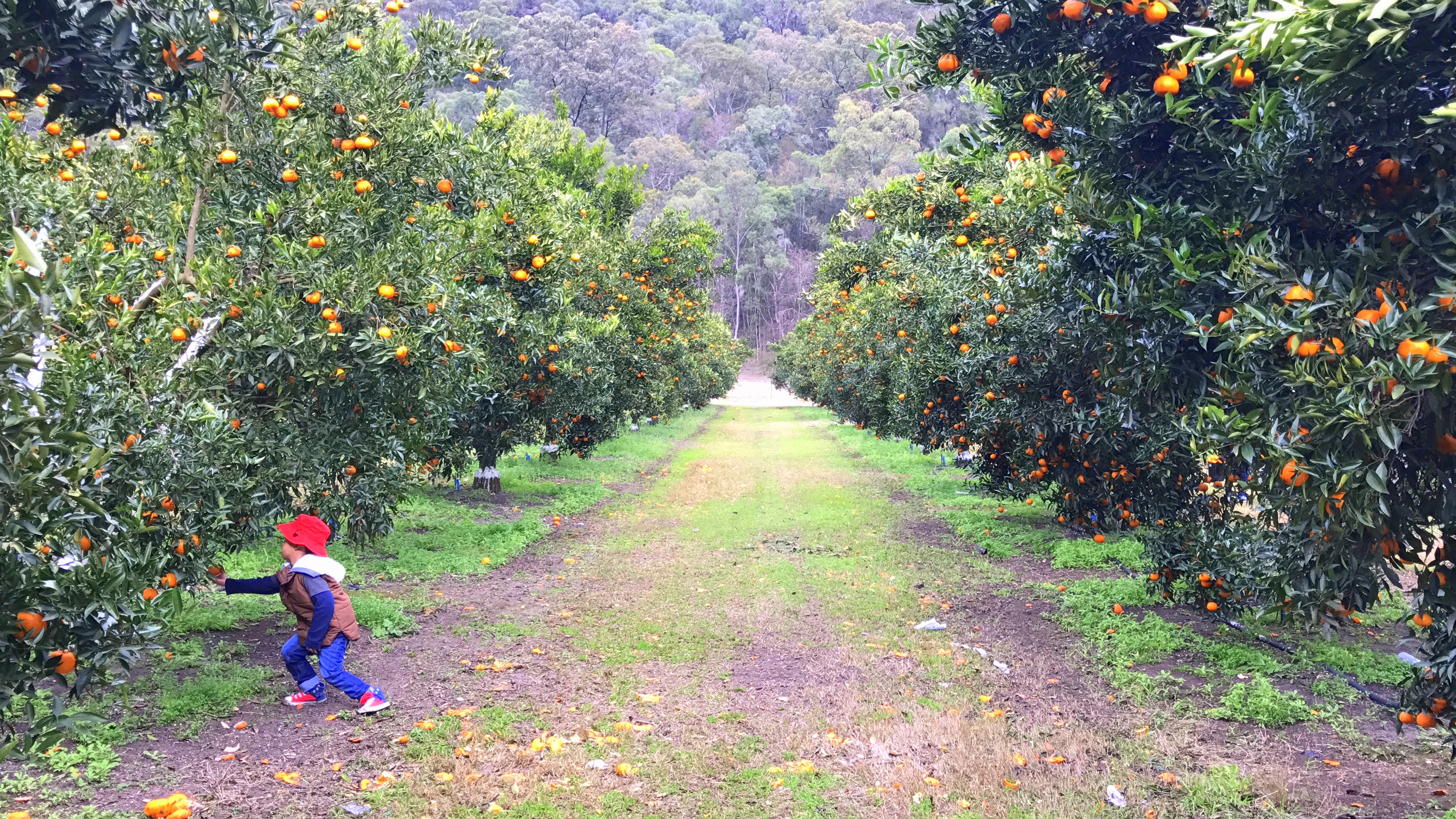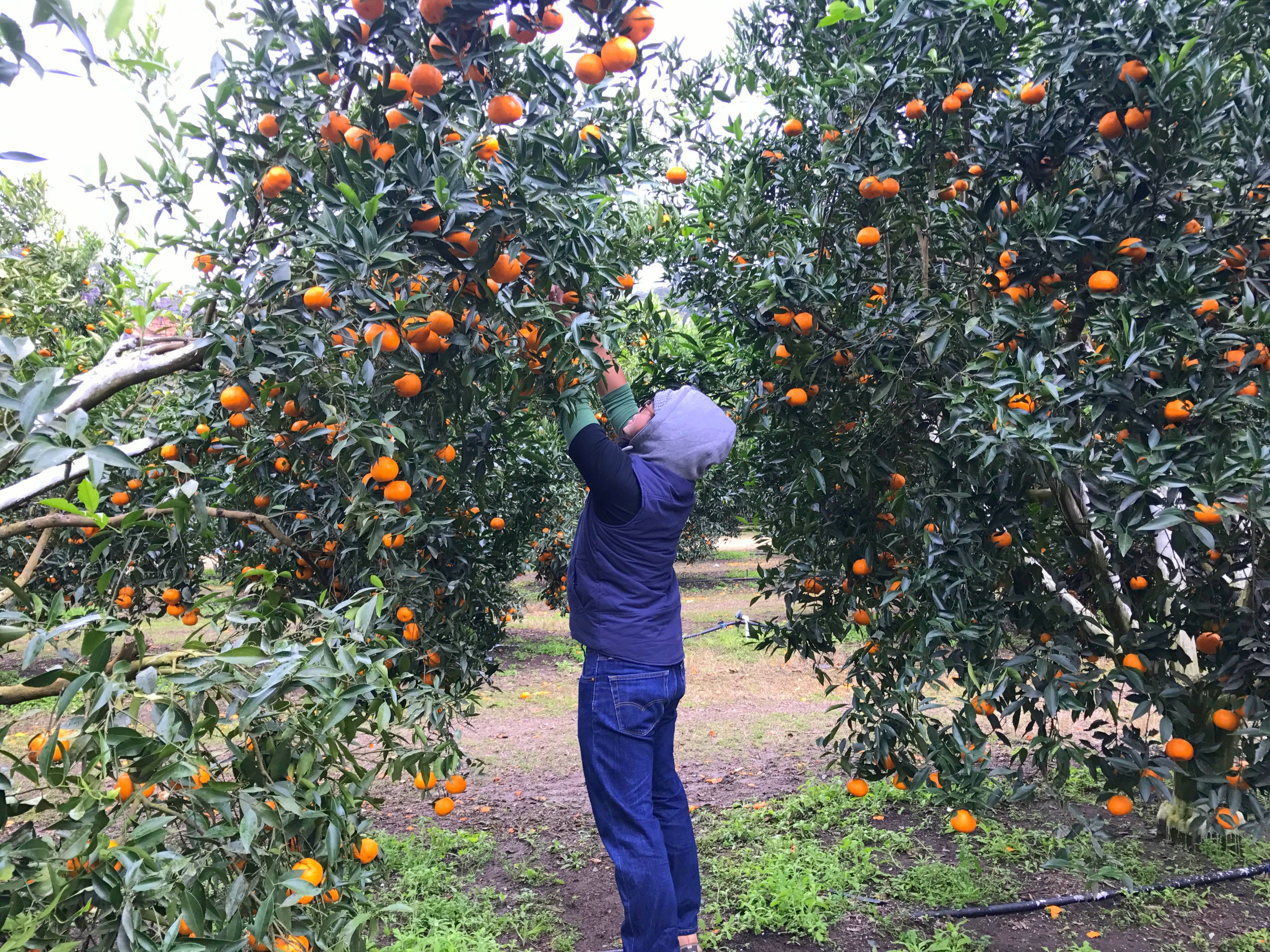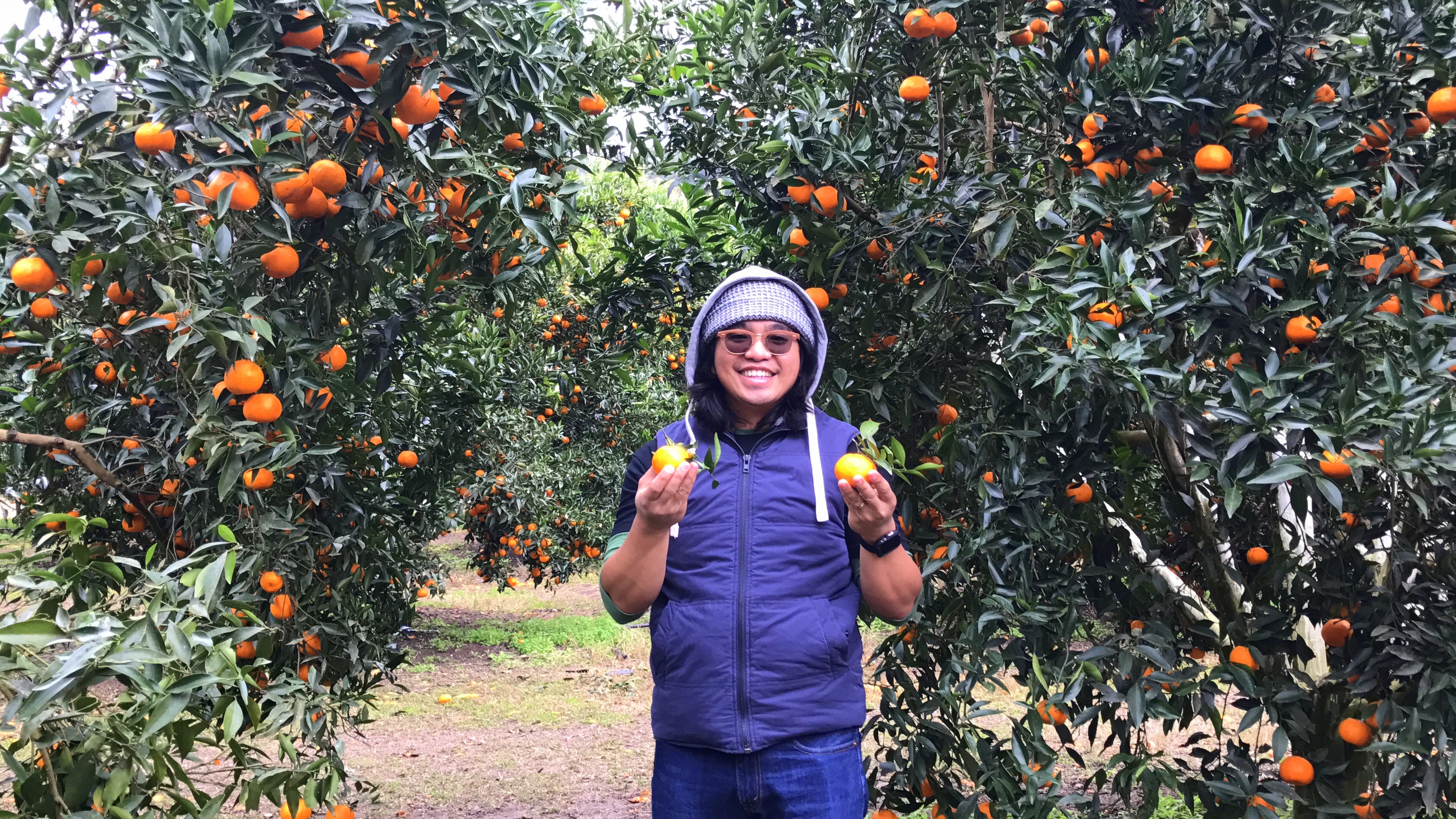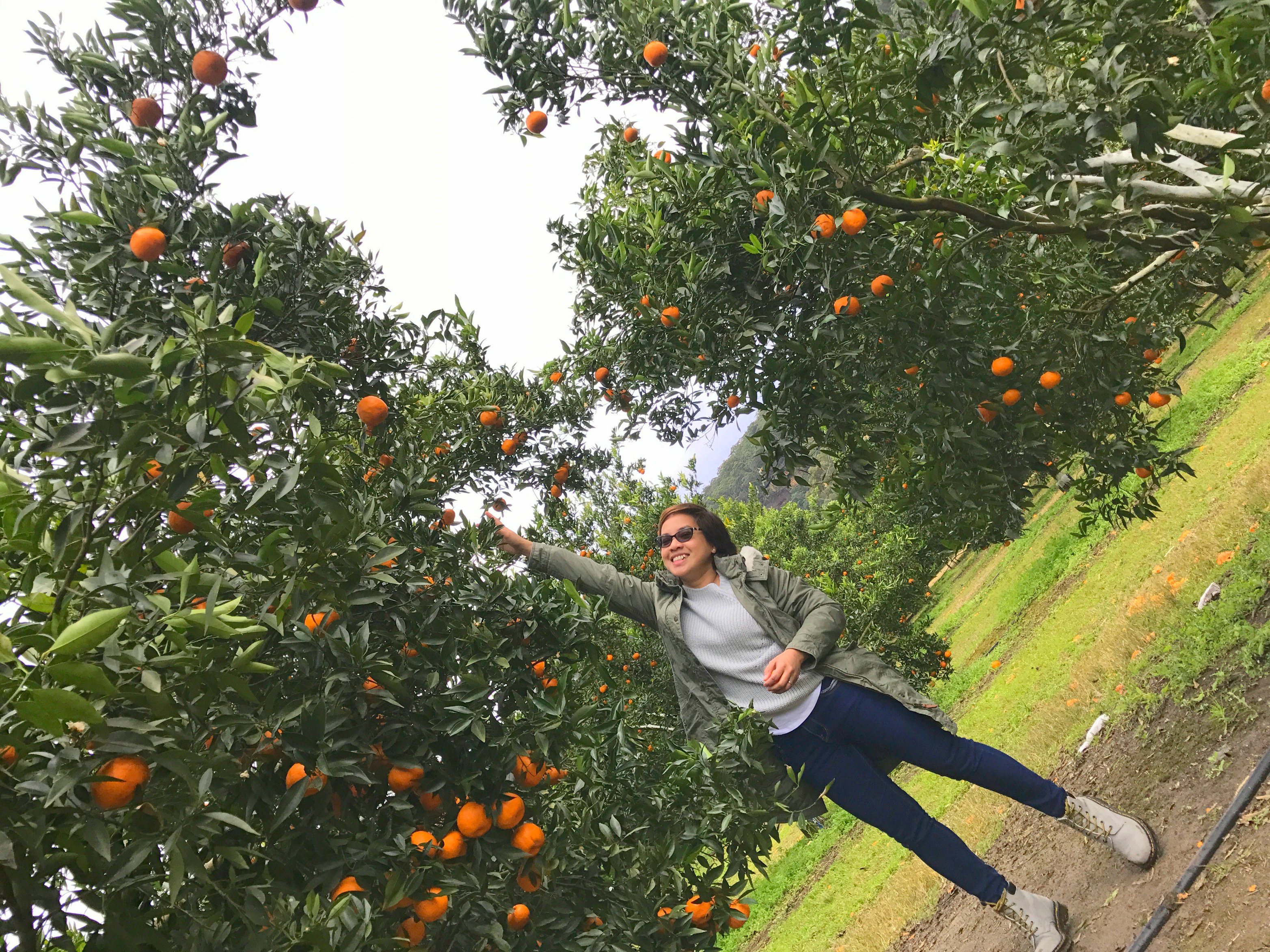 After about an hour of roaming around, Marshall felt bored. It's probably because we asked him to stop picking Mandarins at that time and so he was just running around. This was the best family shot we had haha!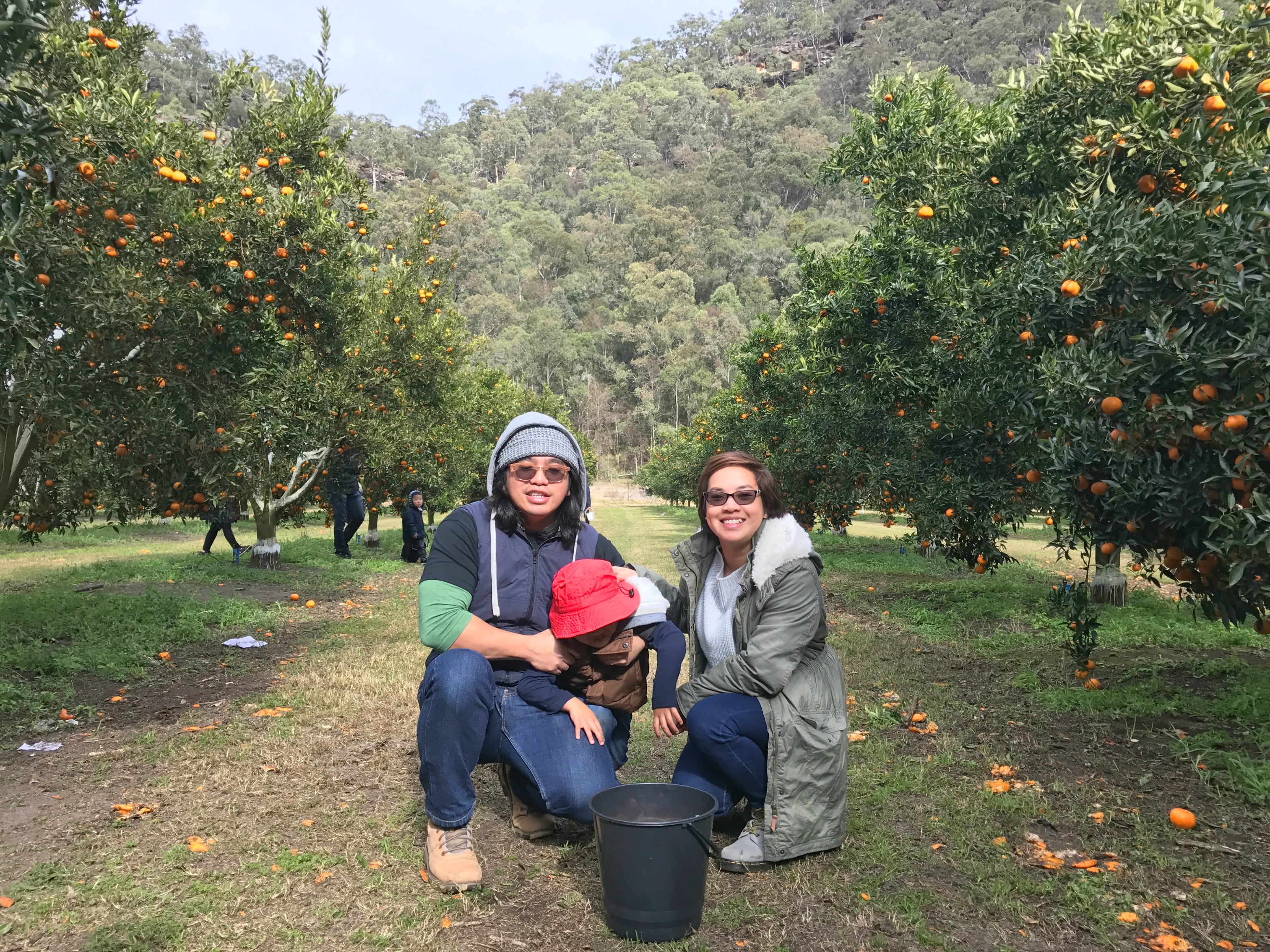 Farm Rule #6. The wooden tables along side the entrance are for bagging the Mandarins into the bags provided and please return the buckets to the window shelf at the side of the window.
You may also bring your own eco bag or plastic bags because the plastic they provide leaves a very soapy smell in the car.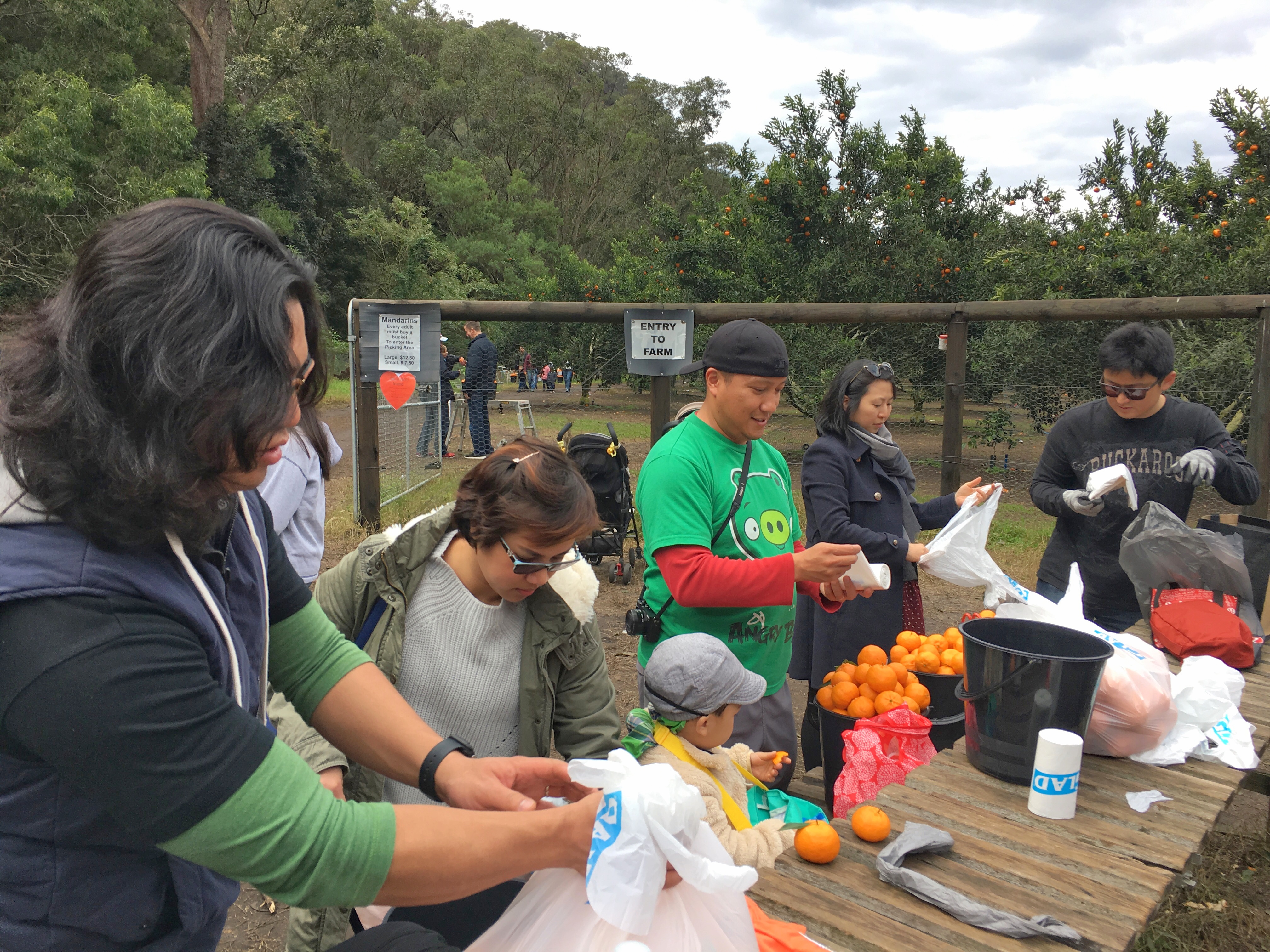 Farm Rule #7. You are responsible for any children you bring.
Children tend to run around so better keep an eye on them.
There are no food stalls inside the farm so better bring some packed lunch and drinks.
This is the picnic shelter you can stay and eat. You may bring some picnic mats as well in case the area is full especially during lunch hours.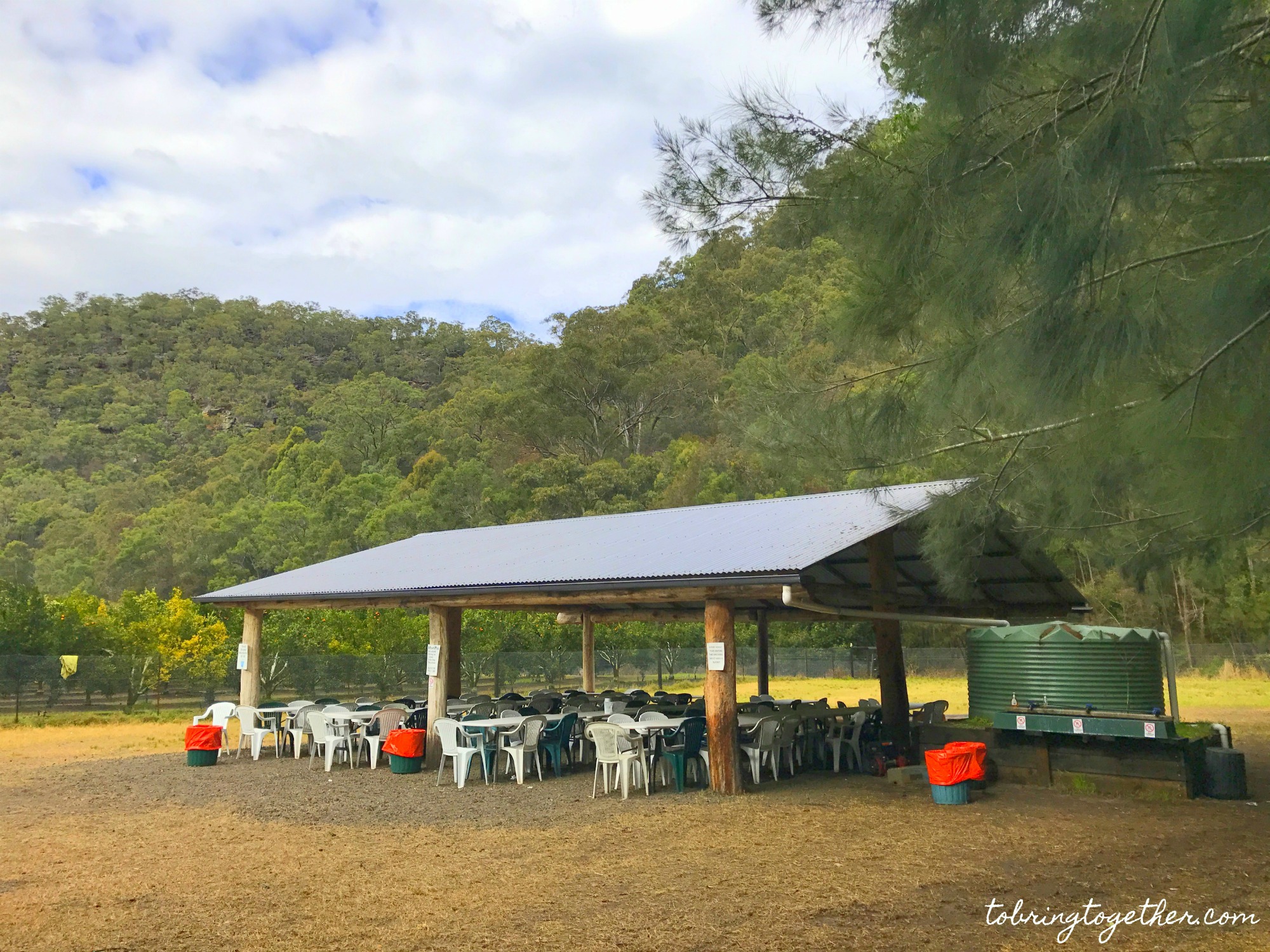 Children get themselves busy as well by looking and feeding the farm animals. Feeds are sold for $1 a bag.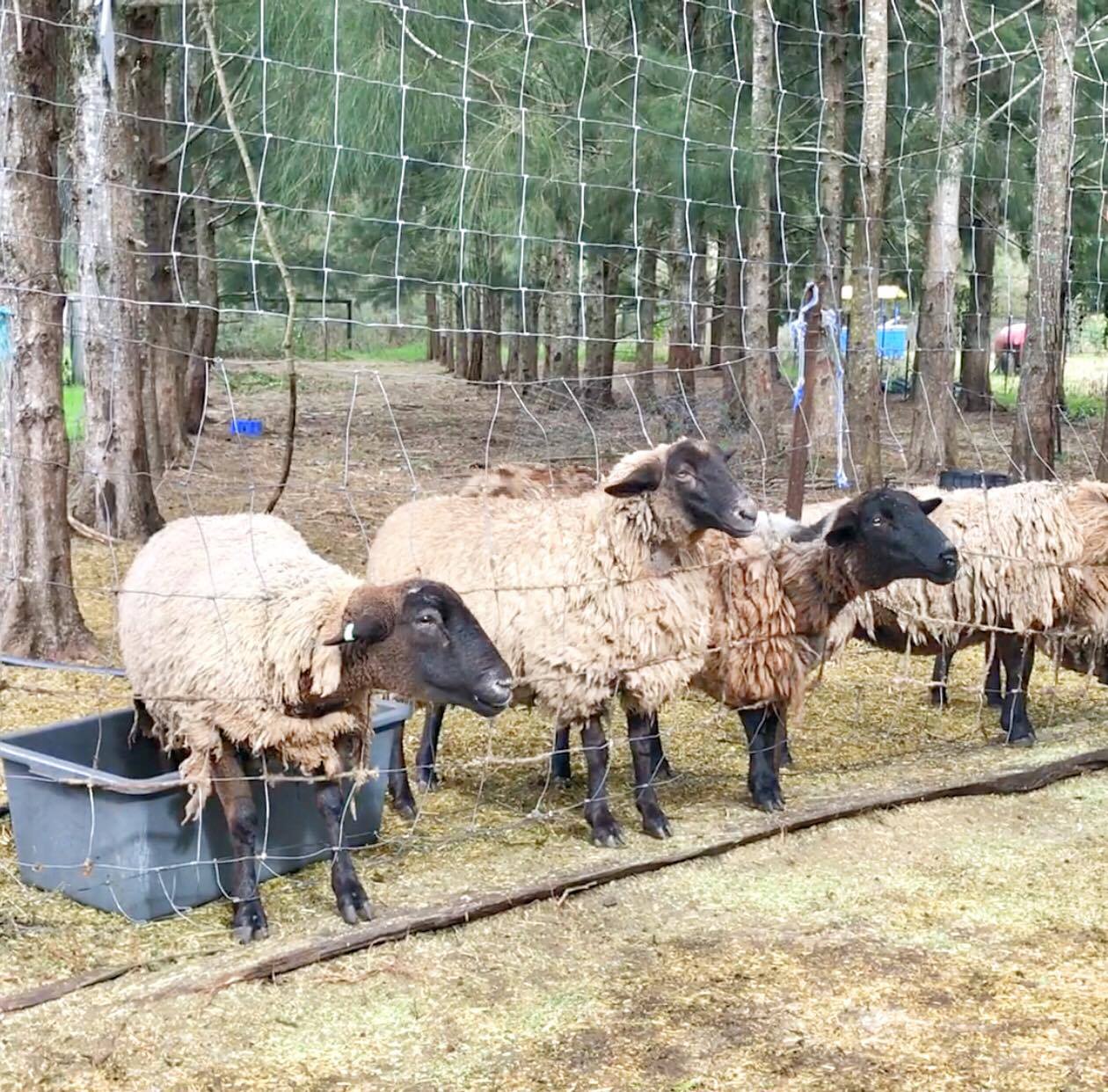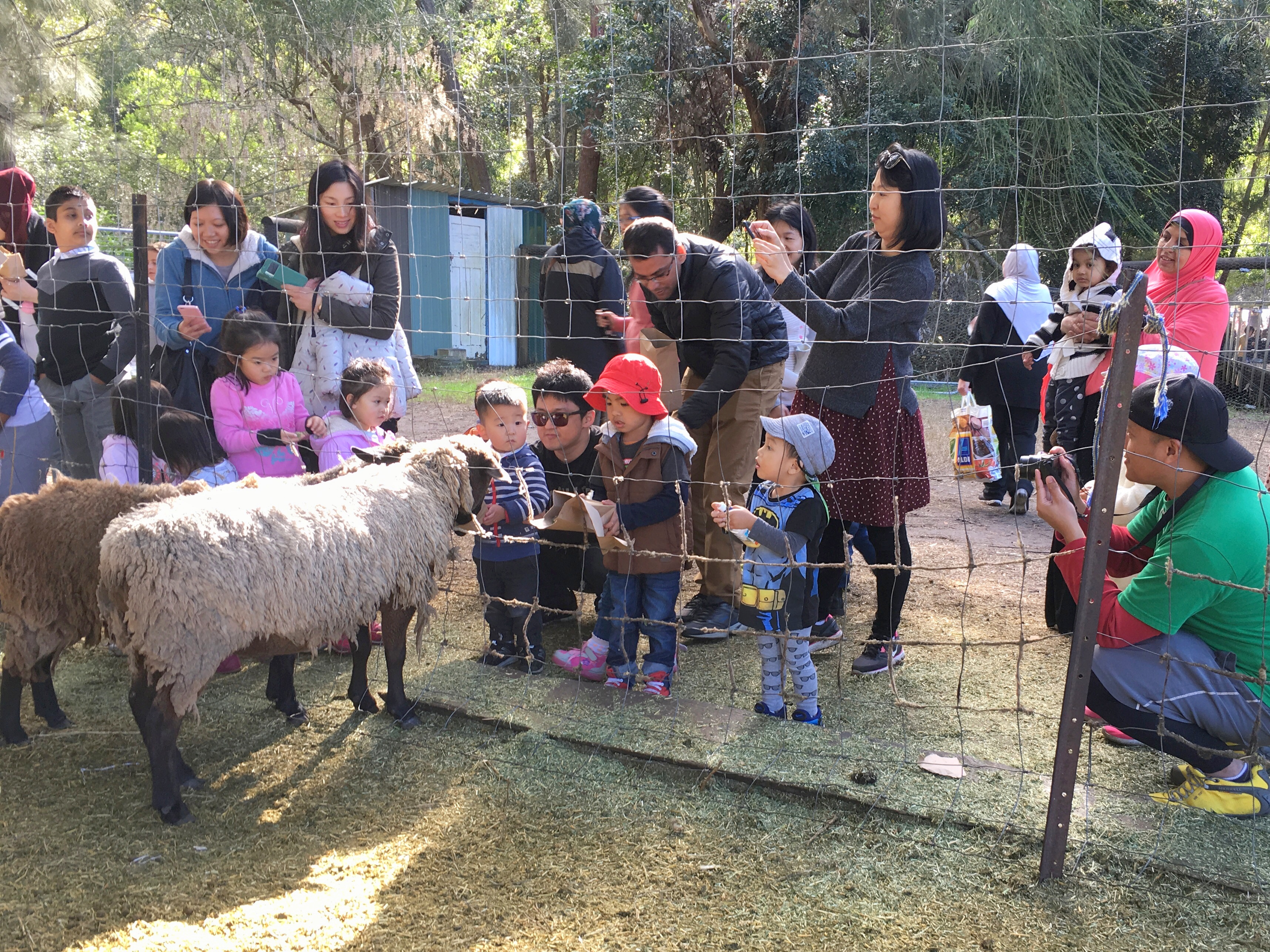 Farm Rule #8. This is a working farm. Visitors enter and pick at own risk.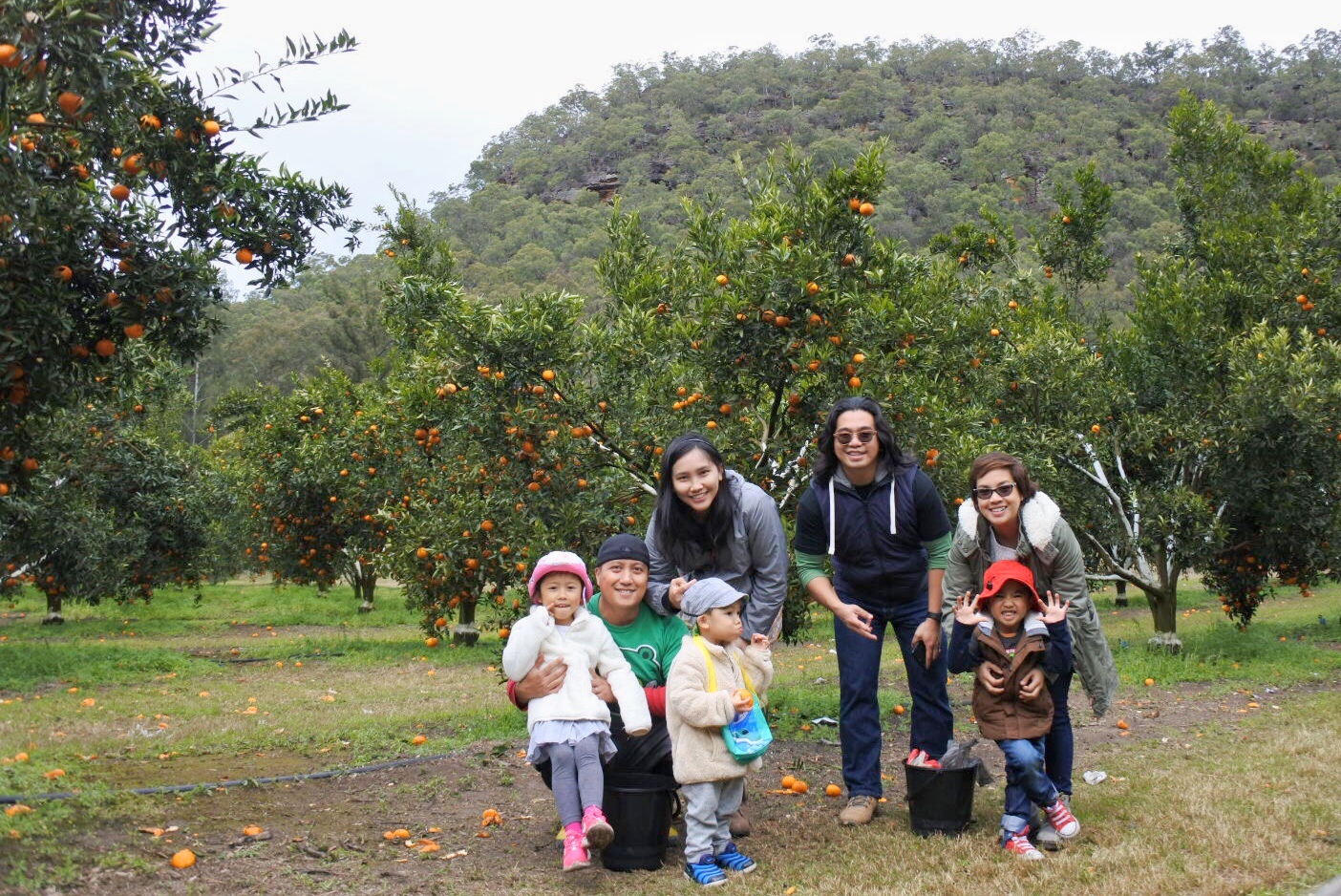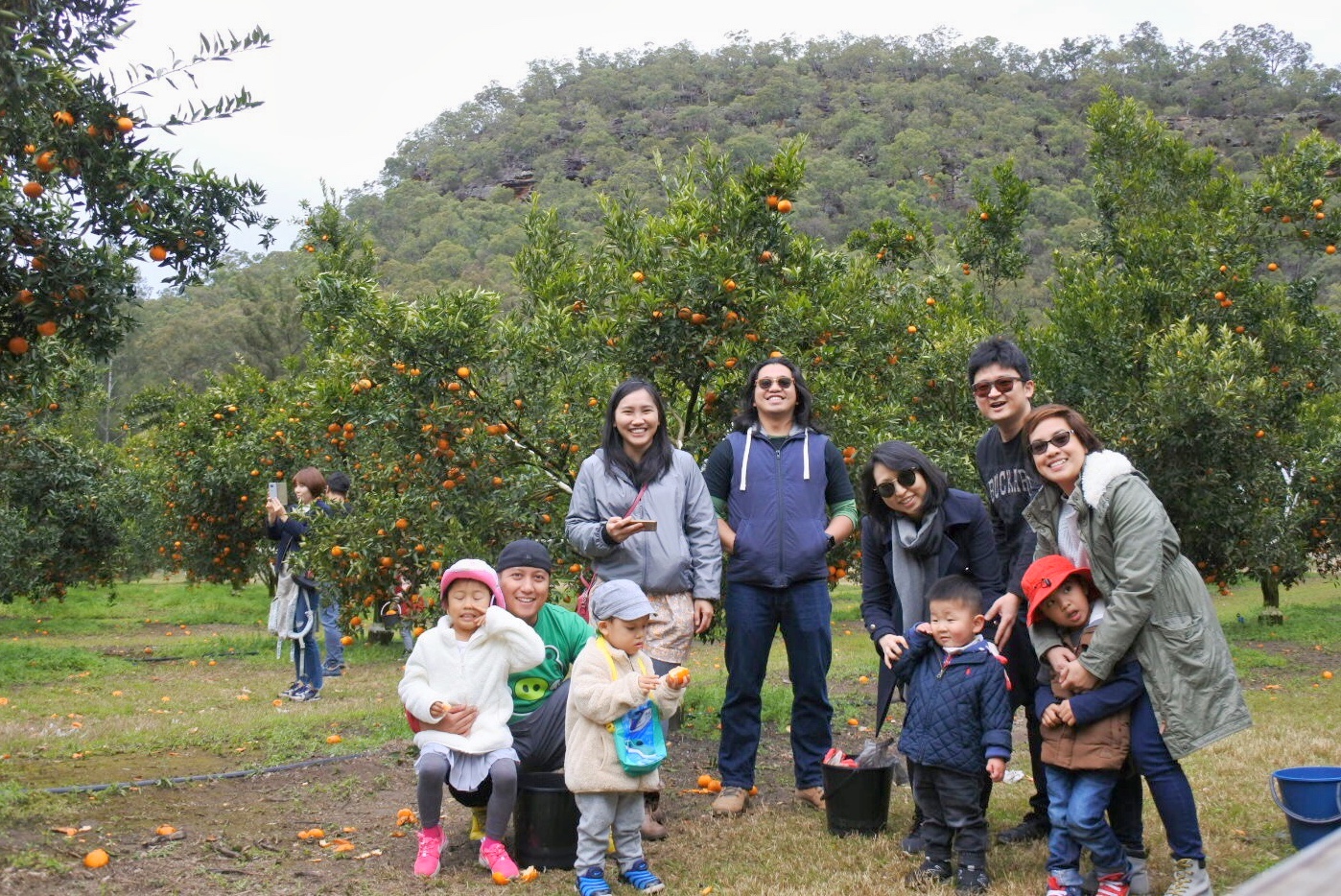 The only dilemma in the farm was the lack of clean toilets. The public toilets are really messy and it gets even worse during the later time. But overall, it was indeed a pleasant first-time encounter.
Watkins Family Farm is open every Saturday and Sunday during winter months from 10 am to 4 pm. For more info, you may visit their site.
Meanwhile, here's our fun Mandarin picking video. Don't forget to subscribe! 😉
*some photos grabbed from Tita Edel and Tito Billy 🙂