Hello guys! How are you? 😉
It's already July! Time flies! I'm already on my 4th week at my work place! Ambilis ng panahon!
I'm almost done with my supernumerary shift and I will have my solo roster soon. Waah! Scary but exciting! But I am so grateful that I have very supportive colleagues and encouraging mentors. Thank you Lord! 😉
We'll also be sharing my stories on how I am adjusting with my current workplace and the challenges that we are facing as a family now that both Dada and I have a full time job here in Australia.
Abangan nyo yan guys so don't forget to subscribe to our YT channel and turn on the notification bell – Click here! and like our FB page too so you will be in the loop with our stories! 😉
Anyway, there's a number of people sending messages and asking us how much would it cost to become a Registered Nurse in Australia. I actually didn't realize how expensive it is until I enrolled to an approved bridging program institution. Click here for my IRON program experience.
So eto na guys, malalaman nyo na na hindi lang isa o dalawang bulsa ang nabutas samin hehe! Madami daming bulsa ang nabutas! haha!
So if you're planning to become a Registered Nurse in Australia, brace yourselves for the following list of expenses that I will share with you. Read more to find out how much did it cost for me to become a Registered Nurse here in Australia! Ready nyo na yung listahan nyo guys at calculator na din! haha!
Sharing my personal expenses back in 2017 so there may be changes with the current fees. Mine is a DIY application through Bridging Program.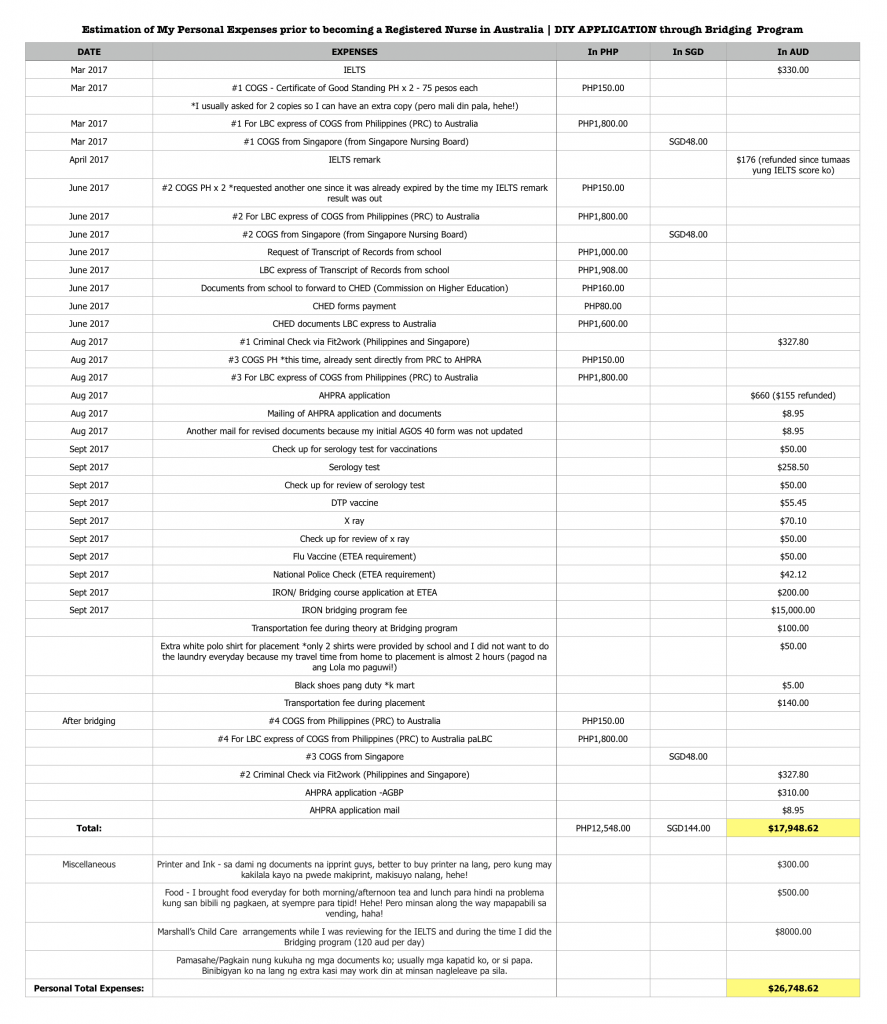 For those who are starting their journey, there may be additional expenses like visa application, air fare ticket, food and accommodation here in Australia, and probably some more other miscellaneous.
If you have the time to do research about the requirements and application, it is possible to do it on your own, like what I did. Otherwise you may opt to inquire to an agency keeping in mind for additional payment.
Watch my video here for a detailed story of my expenses before becoming a Registered Nurse in Australia!
Hope this helps my fellow nurses! Mahaba habang listahan kaya kelangan ko na magtrabaho ng makabawi na! haha! Click here guys for possible nursing interview questions that might help you!
Madami dami pa din tayong kwentong nurse kaya abangan nyo yan guys!
Don't forget to subscribe to our YT channel and turn on the notification bell – Click here! 😉
and like our FB page too https://www.facebook.com/tobringtogether/ so you will be updated with our stories! Yay! 😉
Thank you for taking time to read this story. Feel free to comment for any questions and other topics you might want us to share and we will try our best to reply as soon as we can. 😉