Jan 12, 2019
As a New Year's resolution, I am trying to quickly upload our family adventures. Though it may seem uncertain, I will make every effort to consistently share our empirical stories as I still have heaps from 3-4 years ago. Haha! *Cross fingers*
This year, we're starting our yearly escapade with our first ever Australia camping experience. 
We were already eyeing on various campsites from last year but we're quite indecisive on which one to opt for. Thankfully, our friends invited us to go with them, and we agreed instantly. Though it was an abrupt decision, we considered several factors on choosing the campground.
Primarily, we thought of safety and security considering we're going with kids.
Second, since we are frugal, we wanted somewhere less costly. Free is possible. haha!
Lastly, accessibility. Newnes campground is more or less 3 hours drive from the city, which is not bad.
We went on a Saturday morning. We initially planned to leave at 4 am. But since we were pretty much occupied with packing the things and slept late the evening prior, we were too lazy to get up early so we left home at half past 6 in the morning.
Btw, here is our camping list:
Tent – Our tent is good for 2 people. However, we managed to fit in. (3 adults and 1 child)
Yoga Mat – It's good to have some cushions to lie down as the area might be rough. Otherwise, choose to build the tent on a grassier part.
Blankets/Pillows
Drinks and Water – The night before the camping day, I placed all the bottled water in the freezer and so the next day, it was all frozen. We kept it in a cooler bag and it was still cold until the evening. It serves as a cooling pack for the rest of our drinks (juice, soda)
Chair – Beach chairs may do.
Clothes and Towels – Aside from clothes to change the next day, we also brought our heat techs, just in case the temperature drops in the evening.
Mosquito Repellent & Mosquito Coil – Mosquitos were surprisingly unnoticeable. It's the flies that mostly piqued us.
Emergency Kit – includes band-aids, scissors, bandage, betadine, panadol, antidiarrheal pills, extra batteries, gauze,  – Basically some first aid for cuts and wounds.
Power Banks – There's no internet connection on the site but still useful to charge our phones since most of the time we capture photos and videos, in addition to playing music.
Glowsticks – Kids were thrilled to have it considering the entire campsite was practically dark.  Hanging the glowsticks was also a good recourse to prevent trips over your tent.
Food (lots of it!) – Aside from reading, unwinding, sleeping, or strolling around, there's nothing much to do during camping. Oftentimes, we see ourselves grabbing and devouring food.
Marshmallow and sticks – An entertaining activity for the kids!
Toiletries
Plastics – There's no bin on the campground so you have to bring your own trash. Better have lots of it as you will be needing to keep it on your way home.
We decided not to bring a sleeping bag because mainly we do not own one, haha! We also wanted to try if we can survive the cold temperature during camping. It was 16 degrees around 4 am which was the peak of cold temp, but not bad though. If it drops lesser than that, we would probably get cold. Though we also brought our heat techs, just in case.
There wasn't much traffic considering it was a Saturday, so we reached Lithgow at 830am. We had a stopover at Woolies Lithgow to meet our friends and had a toilet break as well. Before heading to the campsite, we ate the sandwiches that I made on that morning good for breakfast.
At half past 10, we reached the campsite! Hurray!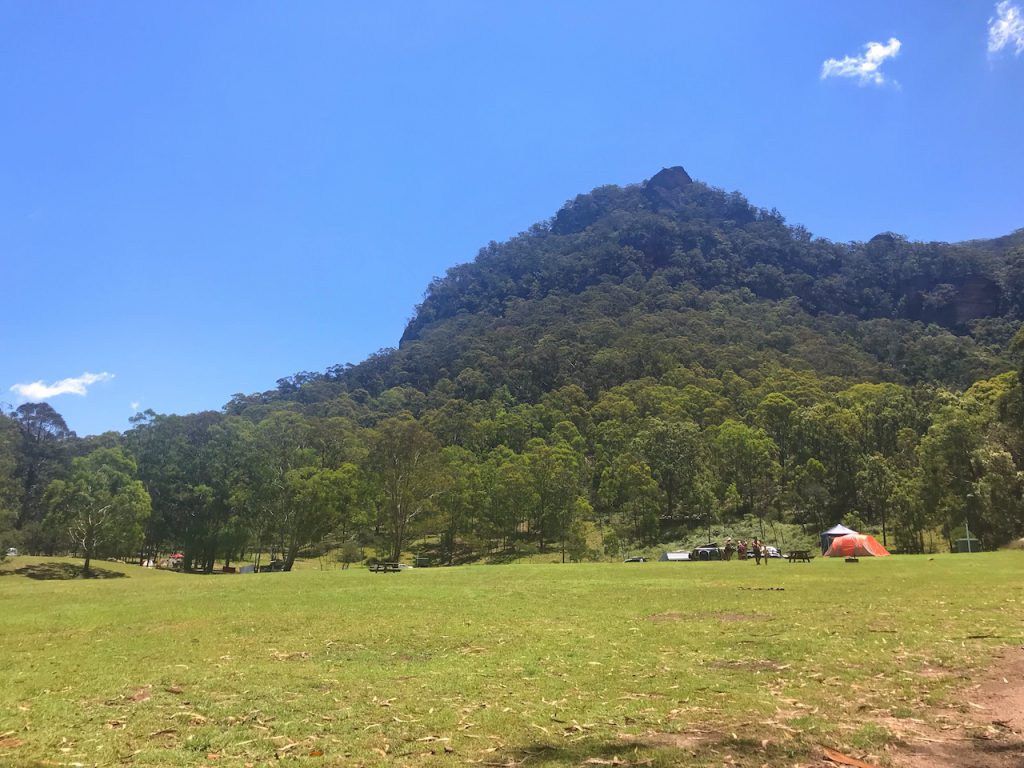 The sun was up and we reckon it was a good day. In fact, the neighbor campers told us we were lucky to arrive on such a good day cause for the past 3 days, it was raining and even had a thunderstorm.
There was a slight number of campers at that time. As a matter of fact, we were ambivalent on where to put up our tent since there were still lots of camping areas available. After careful thoughts, we spotted a very good location, with a picnic table and a fire pit.
There was even some play corner for the kids.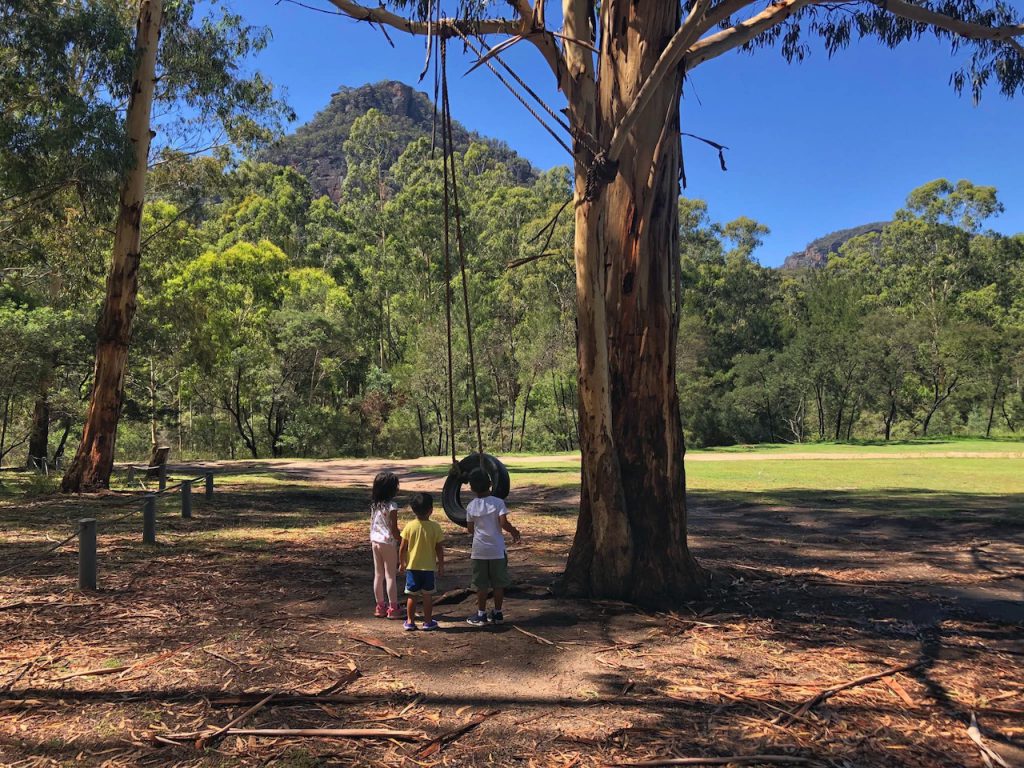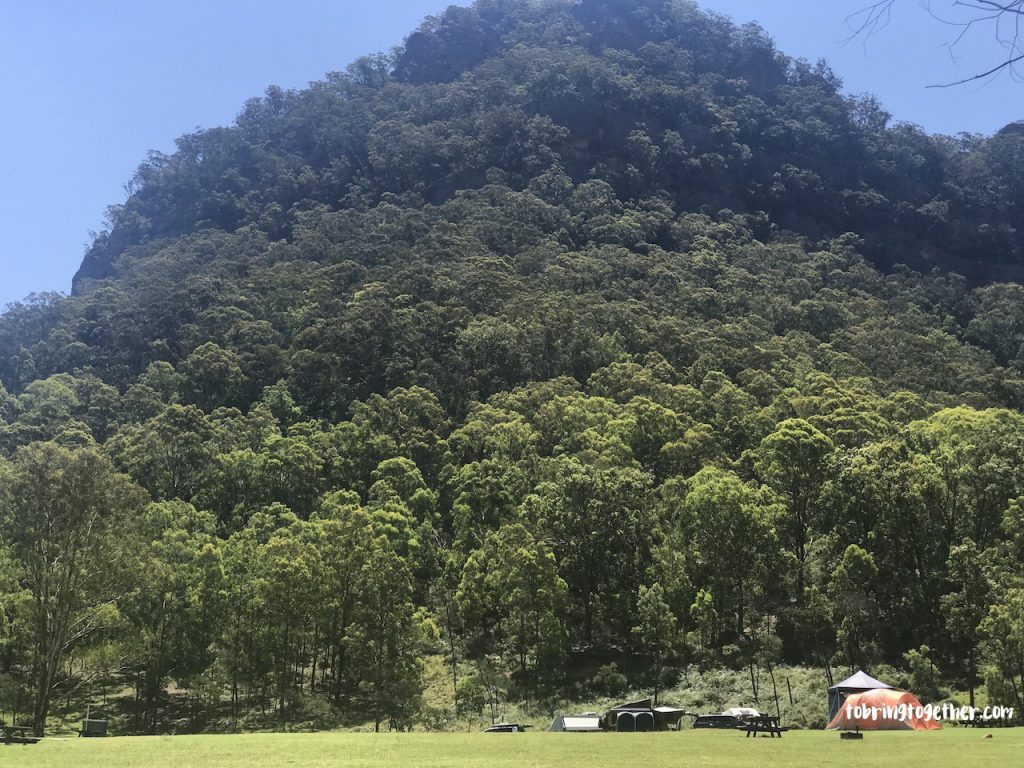 Look at that amusing shades of green!
When we're done setting up the tent, we all had our lunch first. The kids were, of course, too busy to play. We packed some rice and grilled chicken good for our lunch, and dinner as well. Our friends brought with them a portable stove to reheat our food.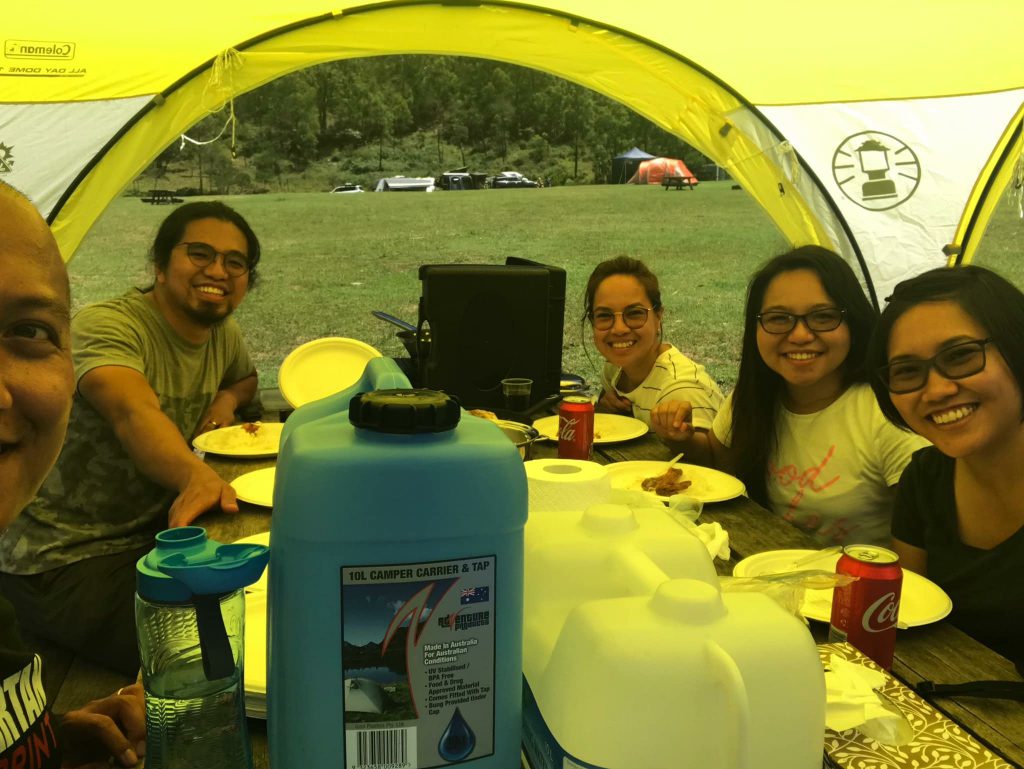 After lunch, we rested for a while. The kids were patiently waiting to splash at the river.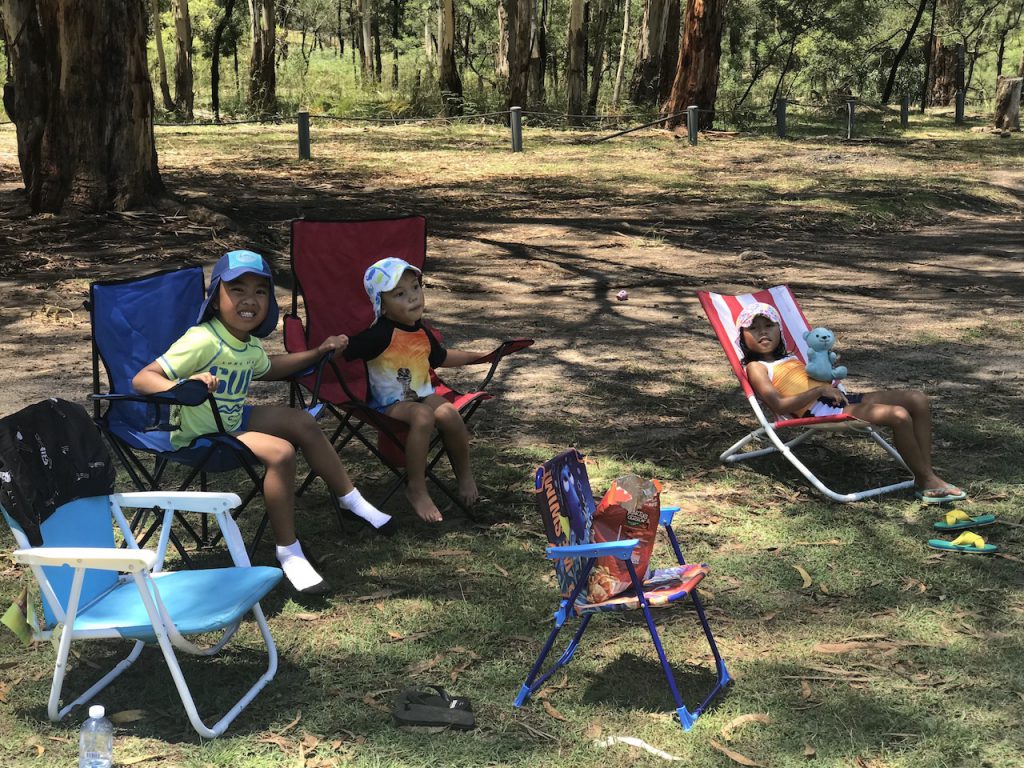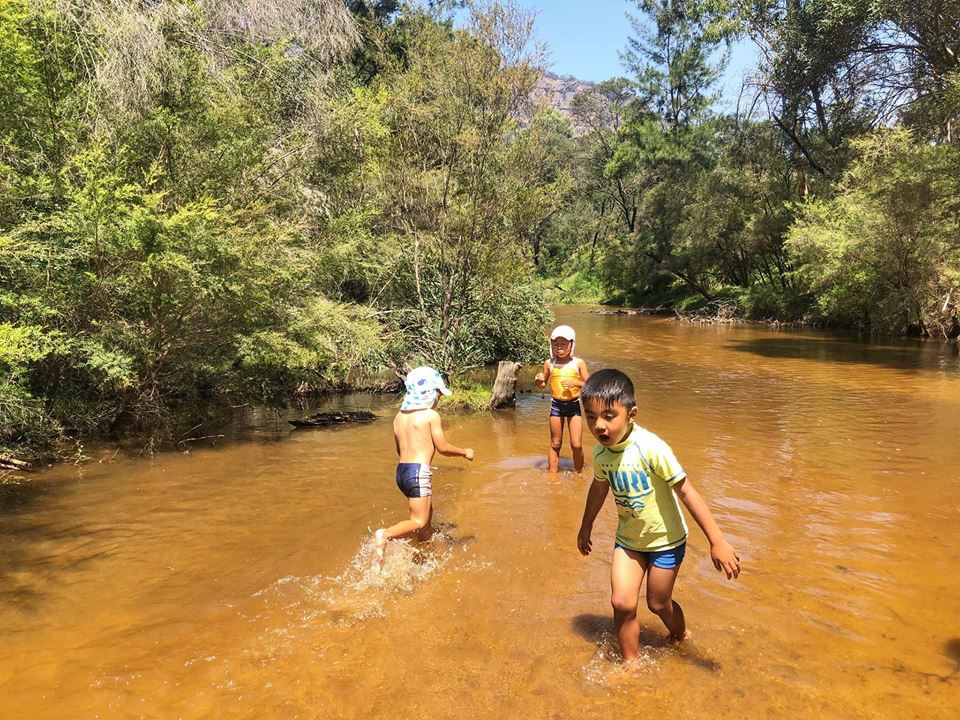 Thereafter, we had fried banana for snacks. It was a full day of relaxing, and gobbling!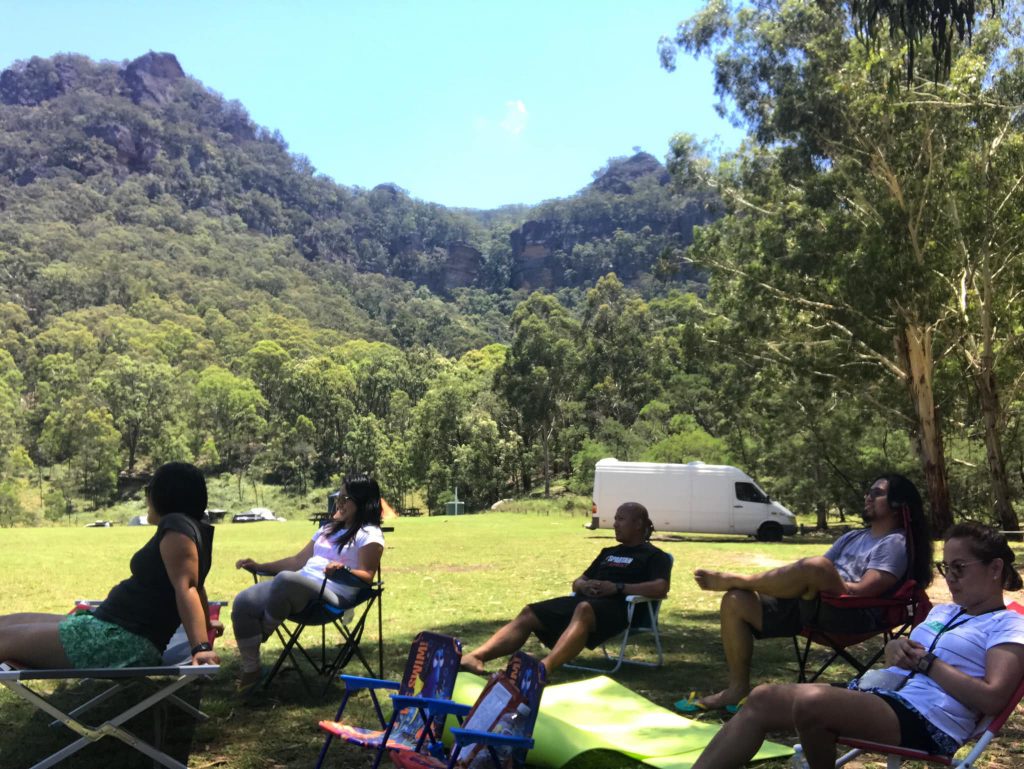 Before it gets dark, we strolled around the area and purchased firewood at the hotel. We had a short chat with the caretakers. They were very informative of the history of the place.
One of the caretakers, Sarah, even instructed us to be watchful with our kids touching the stinging nettle as this causes skin irritation.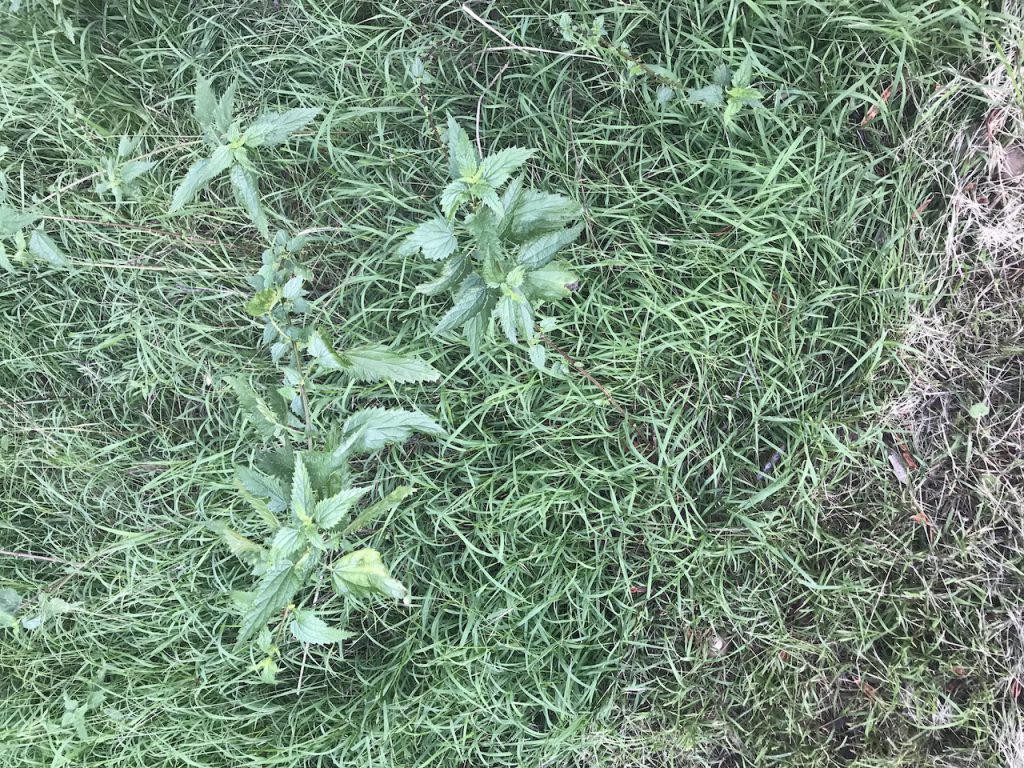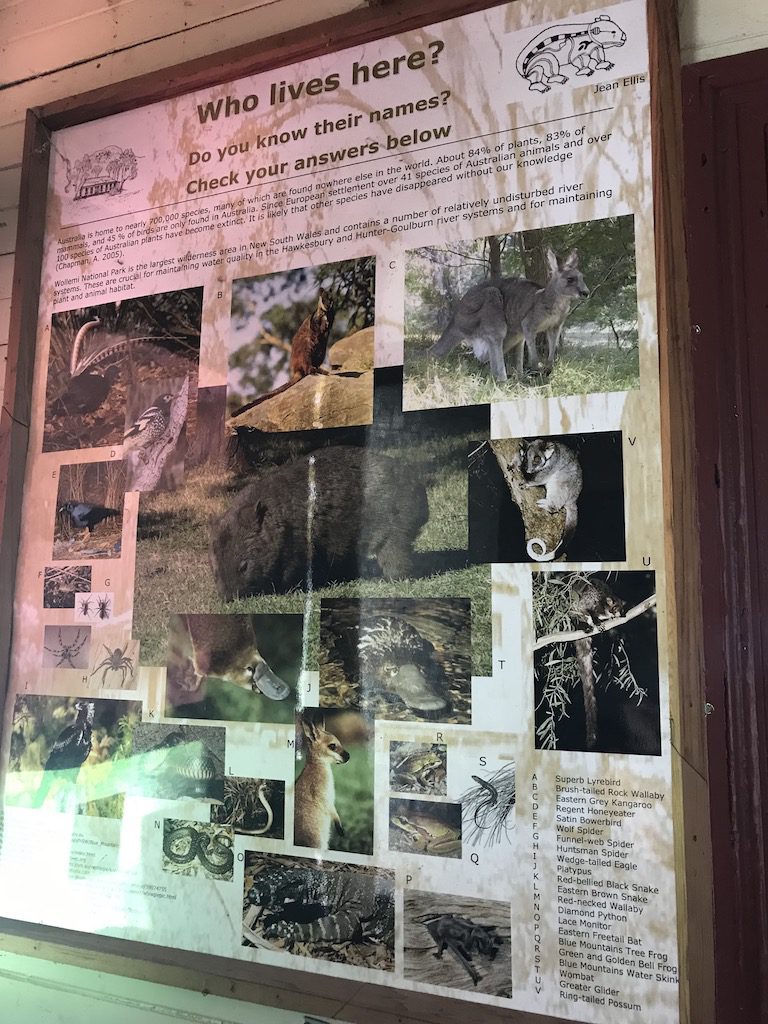 From the list above, this might be the lace monitor that we spotted nearby our camping area.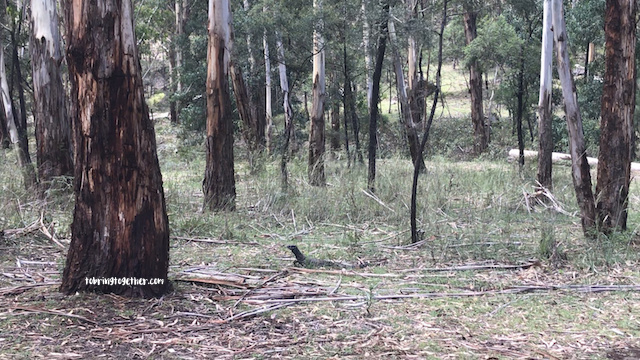 We also saw wallabies and kangaroos.
When we came back, we prepared dinner then started lighting up our fireplace.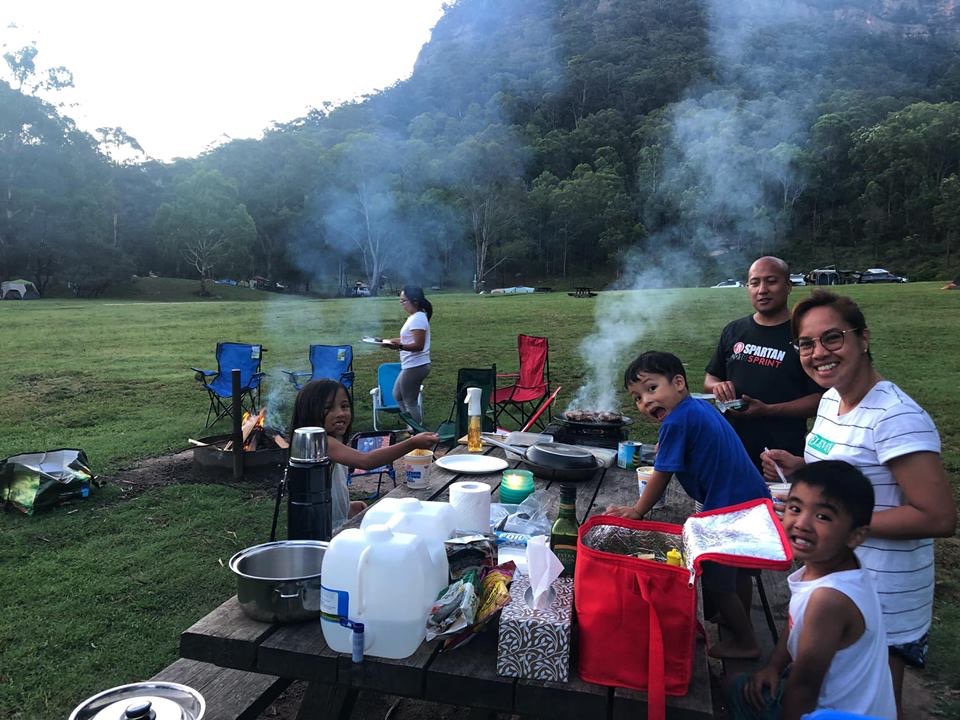 Once it got darker, the kids started to play with the glowing sticks.
After dinner, we quickly had roasted marshmallow before preparing the kids to 'bed'. It was definitely a long day for them.
Marshall stayed up a little bit though. He wanted to do star gazing with us. Looking at the dark sky with all those bright stars was truly magnificent. Too bad we can't capture a good shot.
The next morning we woke up at 7a m and had breakfast. At first, we planned to go to the Glow Worm tunnel, but we reckon it would be a long walk. Instead, we searched for the Newnes Ruins. Unfortunately, we weren't able to find the way.
We tried crossing the river.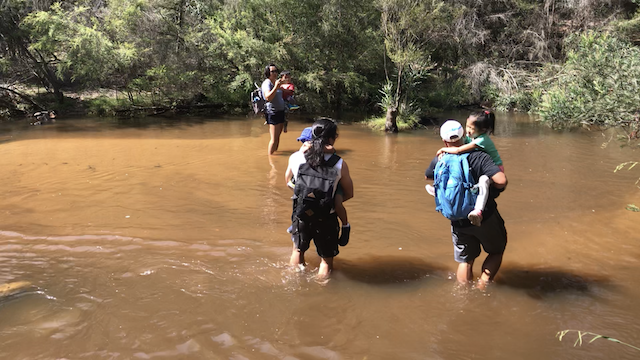 We even attempted to walk around the bushes and brave the forest.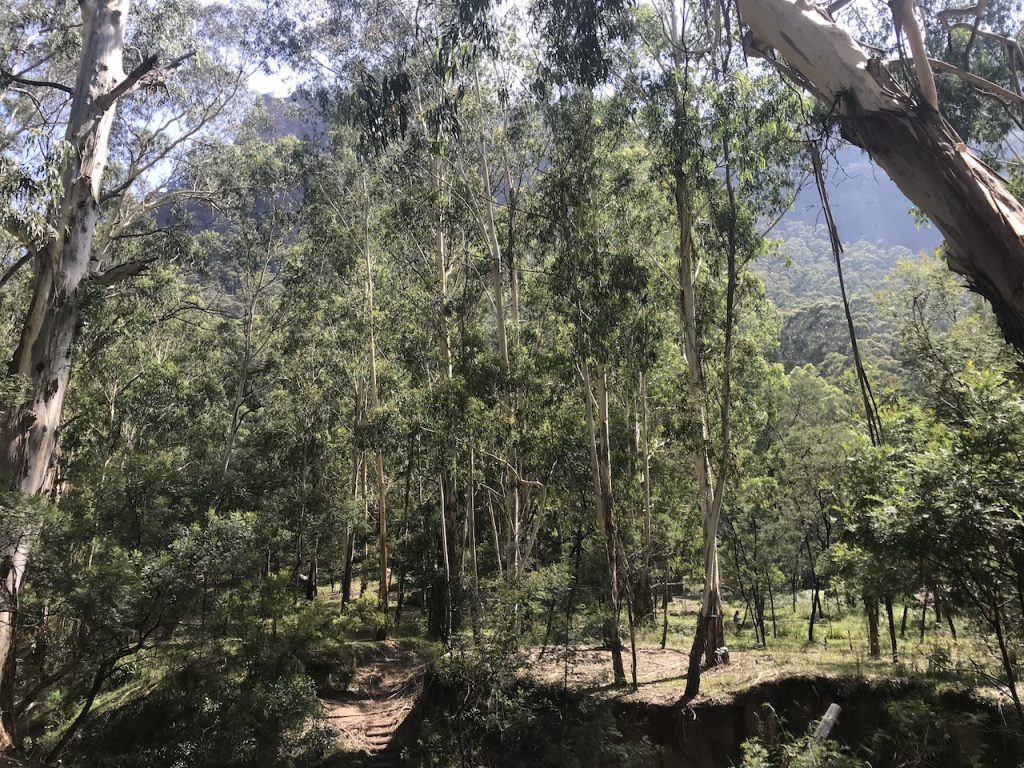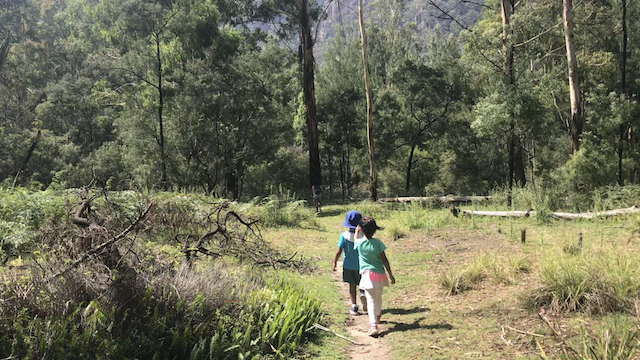 But we weren't fearless enough. We were scared that there might be camouflage snakes, spiders, and other dangerous species around the forest. In the end, we went back and had a dip at the river.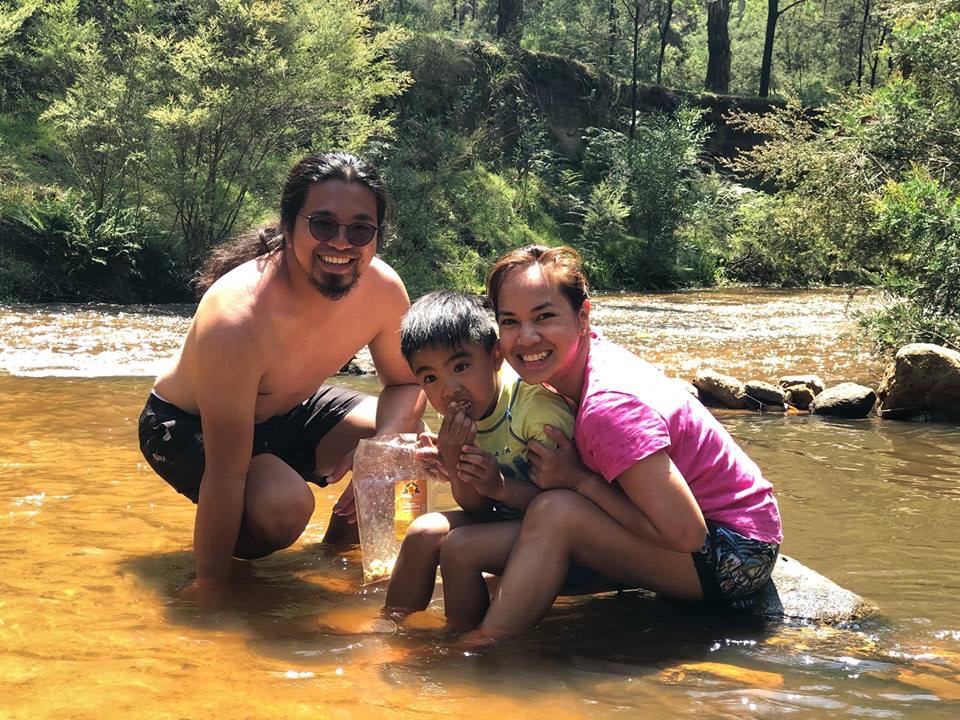 We left the campsite at 1 pm. We had lunch at KFC Lithgow, an hour away from Newnes. Then went to Lincoln's rocks. Click here for more of our Lincoln's Rocks pics. 😉
Newnes is a lovely place of wilderness. The main drawback is the lack of facilities, especially the toilet. There were public toilets around the campsite but we were scared when we saw the note saying there was a red-bellied snake seen on that toilet. Though there was no snake, still we cannot use the toilet as it was grossly dirty. As a first time camper,  I'm guessing that most of the campsite toilets are the same. Well, one of the purposes of camping is to connect with nature, so that's what we did. If you know what I mean! 😉
Our first camping experience may seem like a quiet place/bird box kind of camping, yet it was a success! Looking forward to our next camping destination sooon! 😉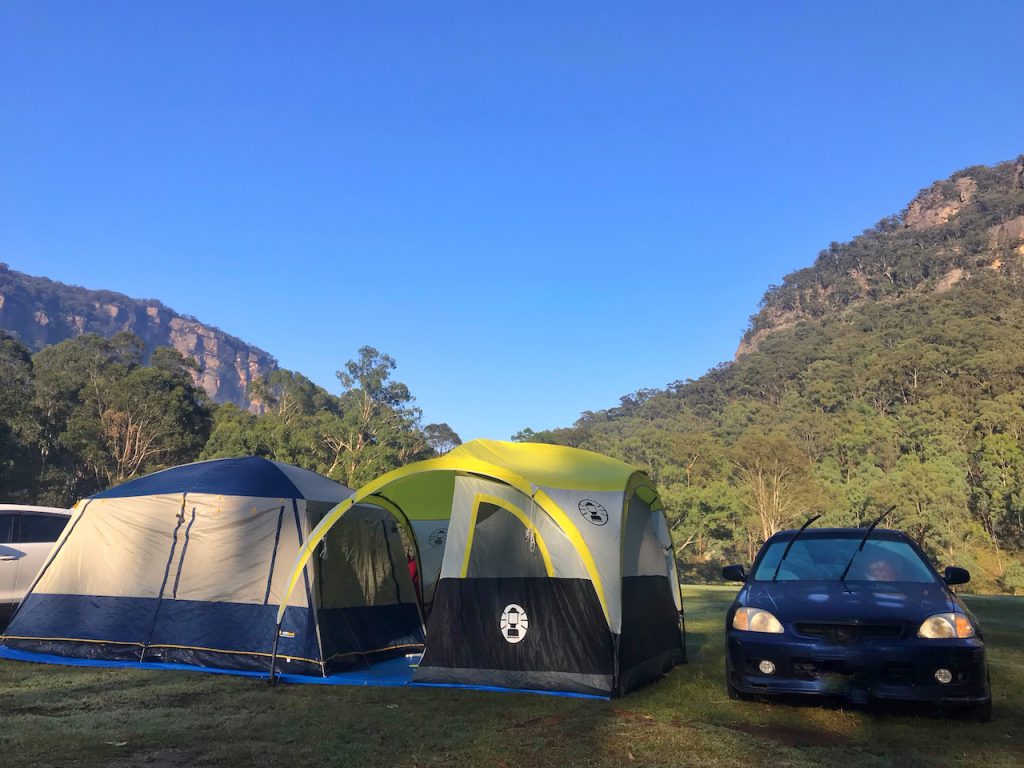 Here's a video of our first camping experience! Enjoy! 😉
Credits: *Some photos and videos grabbed from Mommy Edel* 😉