Seems just yesterday when I was literally carrying a heavy pouch on my tummy. My 9 months of (i can say) not so tough pregnancy. It wasn't that hard for me as I claim it because I just had some mild dizziness and vomiting only on the start of my 3rd trimester. I didn't experience any edema though I had a high fever on the 38th week due to UTI. Nonetheless, it all went well.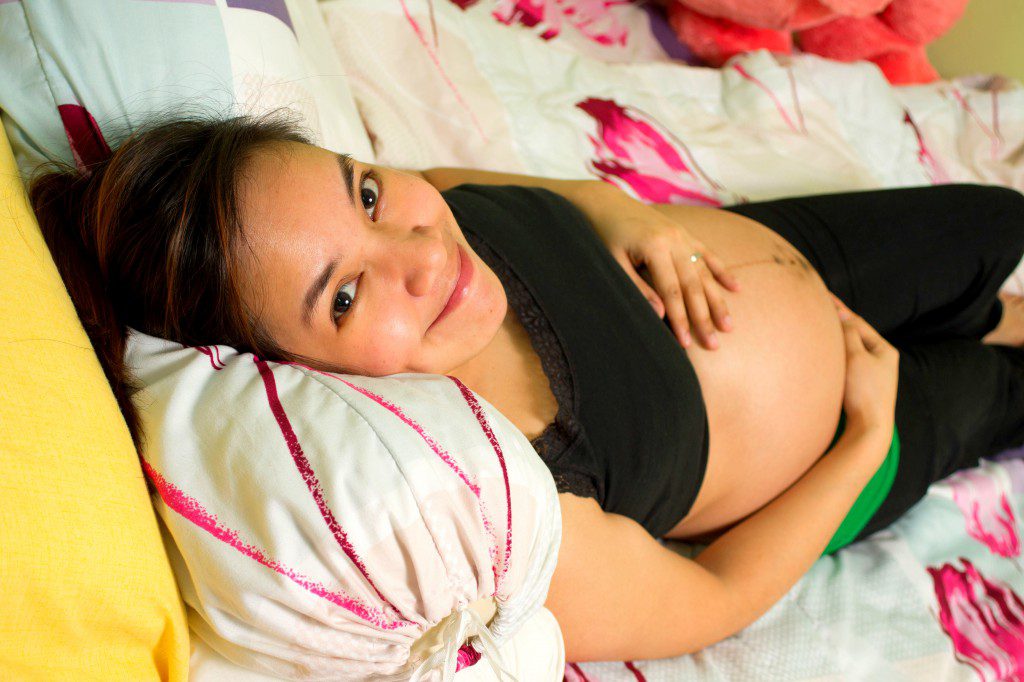 Read more to find out my pregnancy and delivery story 😉
The morning of November 7, I went for my usual prenatal check up. The gyne said my cervical opening was 1 cm then. I was quite depressed because I was already on my 39th week, and I was thinking that the "walking" I was doing then wasn't helping me at all. In addition to this, my gyne endorsed me to another gyne since she'll be going to an out of town seminar and will not be around for a week.  Quite worried, I went back home.
After lunch, I was lying on the sofa while watching the Napoles hearing. haha si Napoles pa talaga! Suddenly I felt some pain on my lower abdomen. Uh oh! The pain was something similar when I was having dysmenorrhea. I wasn't sure yet if it was the beginning of my contraction but I remember something I read saying contractions are like pain during menses. Initially the pain was still tolerable. Until I observed that it became more frequent and more painful, although it was still tolerable. I went to the toilet to pee, and upon seeing some blood spotting, I knew that it will be "the day".
I called my sister and informed her of my status. She is also a nurse so she knew what to do. I prepared myself while she was telling my mom that we should go to the hospital. I was still calm at that time. I brushed my teeth and even managed to put on lipstick hehe! My things were already prepared so we immediately went to the hospital.
It was around 4pm when we arrived at the Emergency Department. When the doctor did the internal exam, my cervix was 2 cm. The doctor actually wanted to send me home, saying it might took me another 16 hrs before the actual labor. What?! I knew for myself it wouldn't take that long because the pain became worse and more frequent. I insisted on staying, and tried to get a room to stay in. While waiting for the room to be available, I was lying on the ER bed. The pain became more and more severe. Although I can still tolerate it because it was the same feeling when i was having dysmenorrhea.
Around 6pm, they brought me to the Delivery room. Relax. Just for monitoring. The doctors wanted to check on the progress of my contractions. I can see from the monitor that my percentage contractions were 80-100%. Breathe in. Breathe out. Breathe in. Breathe Out. Repeated slowly. One male doctor came and told me that I was already having severe contractions but my cervix was still 2-3 cm. He said the baby was ok, but during the contractions, the baby's heart rate slows down. I was scared, but still trying to calm myself. The doctor said he could help me by manually opening my cervix if I would allow him. Alarmed that it would be very painful, I still agreed. I didn't think of the pain at that time. I did not even felt shy on the thought that it was a male doctor. My focus is to deliver safely. And then he said, "deep breath…" wheeeeeew…… reeeealllyyy painful I wanted to shout, but i just let the tears do the talking. Then, few minutes later, it was already 6-7cm. Then they started to put me on oxygen. Gave me some IV (intravenous) hydration and I don't know the rest. I slept.
Mama and Tita Belbel were with me in the hospital but they stayed in the room while waiting. It was a single private room. We didn't opt for a bigger room since we were positive that I will have a normal delivery and we would not be staying long. The room has a single bed and a couch with TV and fridge.
De La Salle University UMC – tobringtogether.com
I woke up from the voice of the doctor saying they would already bring me to the actual delivery room because I was already 8-9cm. I did not know what time it was.  I remember I became restless. They even put a restraint on me. Probably, the anesthesia. I wanted to get out of bed. I peed… a lot… but I think it might be my bag of water. I heard a baby's cry. But no! Not mine! Not yet.. It was from the other room. I felt pressured upon hearing it. I prayed.. In my mind I was talking to my baby, "we can do it!" Few minutes after, I felt i already have the urge to push it all.. I pushed once.. then i heard my OB saying, "good try Jen.. do it one more". Second time I pushed.. doctor said, "one more try Jen, I can see the baby's head already, little bit more.." Deep breath, pushed……. and finally….. thank God. It was a sudden gush of everything! After 8 hours of labor! It was 1157pm then. Muntik na maging Nov 8! haha! F I didn't get to see him right away because unconsciously, I slept right away. F
When I woke up, I was already in the recovery room. I was brought to the room at 330am and saw my mother and sister waiting for me. I walked to the toilet right away to pee although I was still dizzy. I couldn't sleep then because I was waiting for the baby to be roomed in.
At 6am, a nurse came and brought this 2.75kg little human. This time was during the Yolanda typhoon in the Philippines.Muntik ng maging Yolando si Marshall eh. hehe!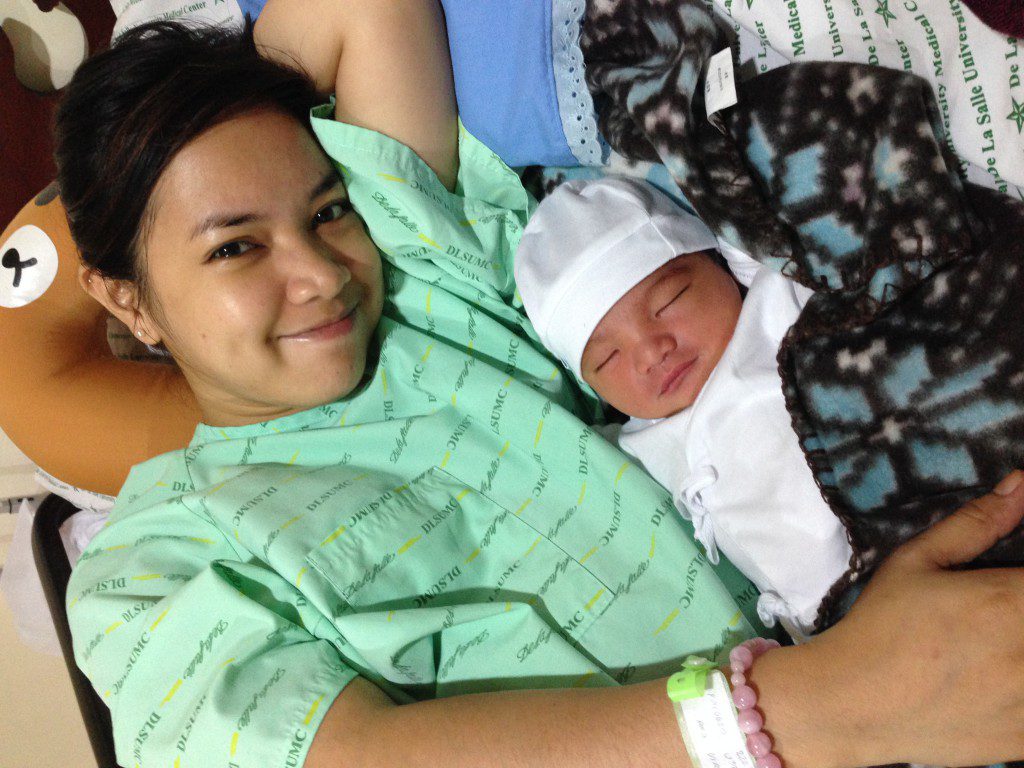 During this time, Dada was in Singapore for work. He would actually went back to Philippines every weekend anticipating I would deliver on those days, but did not. Sakto pagbalik nya na sa Singapore, dun pa lang ako nanganak. hehe!
We were visited by our family in the morning.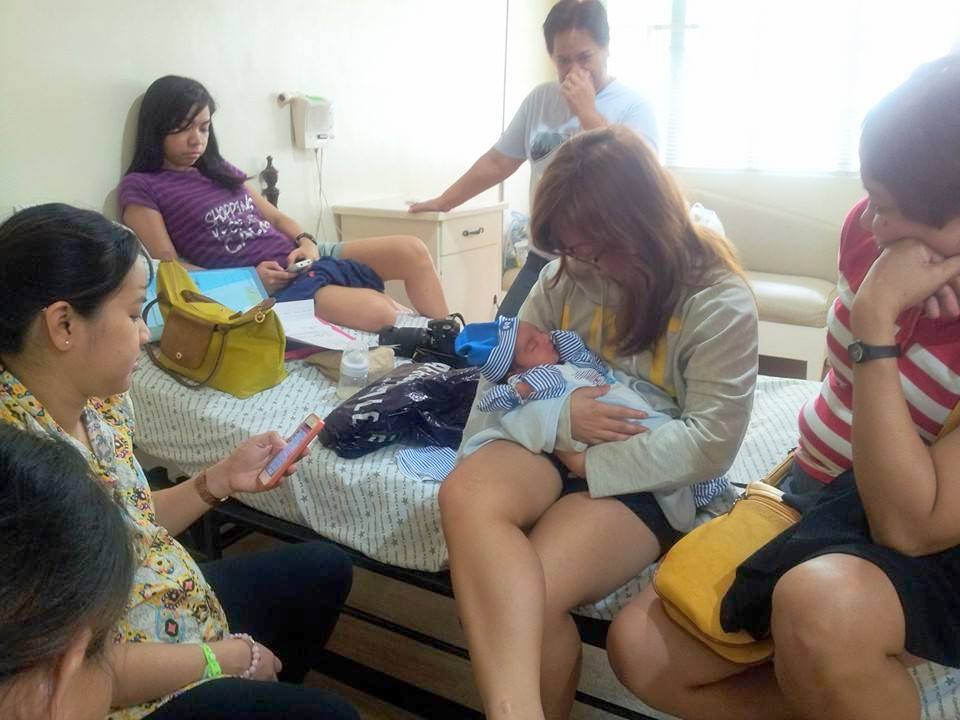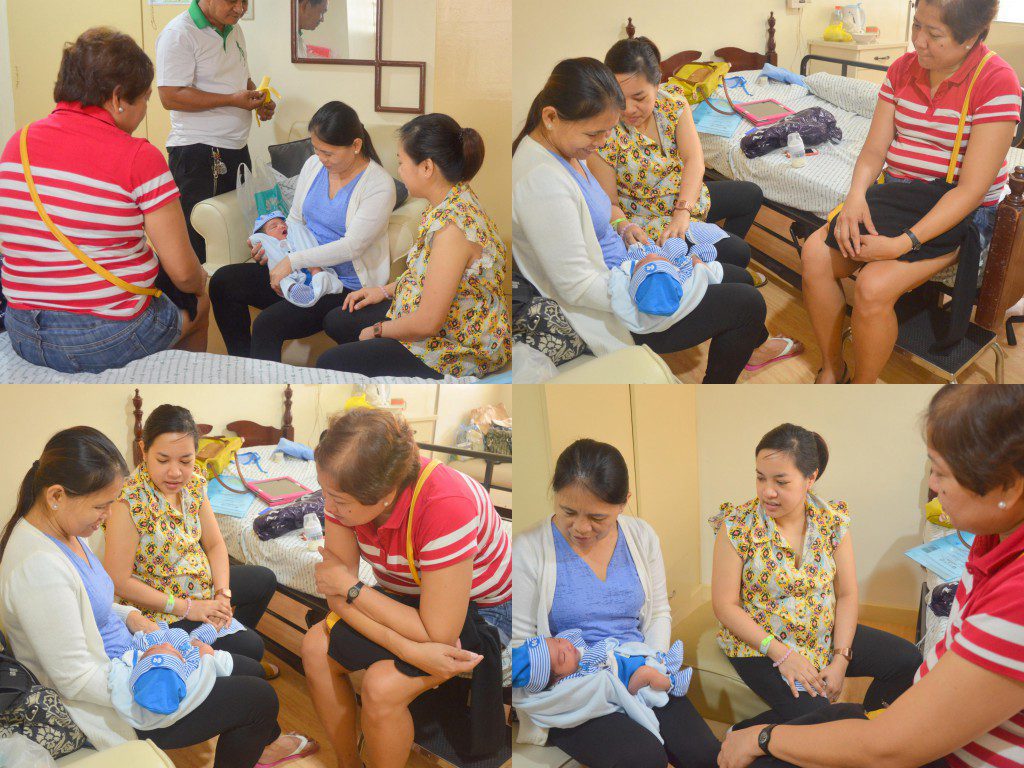 That same day, we went home. Thank God for the safe delivery of this healthy boy.
Thank you for taking time to read this story. Feel free to comment for any questions and other topics you might want us to share and we will try our best to reply as soon as we can. 😉
Share also your birthing stories in the comment box Mummies! 😉
Click here to be updated with our family stories by liking our FB page 😉
Likewise, you may subscribe on our YouTube channel by clicking this link!