*This post is migrated from itsallaboutwitwiw.com
———————————————————————————————–
This is it! On my 34th week now and just a couple of weeks, we will be meeting our little man! weeh!
Excited? Definitely! Scared? Sort of.. uhm.. Honestly, yeah, im scared much! But i want and i need, to be calm and steady so it would be much easier, i guess.
I keep myself busy these past few days reading books, taking down notes (in my head), watching clips and videos of what to expect during labour and delivery, breastfeeding, and other important matters for the newborn.
Been trying to recall my college days. Those days when we needed to complete cases of observing and assisting in the delivery and care of babies. oh.. i can still remember that first time when i personally saw with my two naked eyes how the baby was expelled from a mother's womb. It was really a surprising scenario.
Sooner or later, it will be my time..
In the meantime, I have started to pack my hospital bag so anytime this angel knocks off my tummy, we are all prepared.
Here are the list of what's in our hospital bag: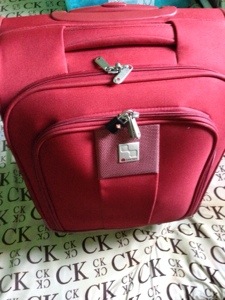 *Mommy's bag
– rosary (for Catholic like me)
– cash (just few cash on hand if ever needs a hospital deposit)
(include coins, might need for some little errands, or vending machine, probably)
– cards (ID, atm card, insurance card, health card)
– copies of my lab reports during my antenatal (hospital should probably have the records as well, but just for personal reference)
– comfy sleepwear/outfits (hospital provides patient's gown anyway but just in case i don't feel comfortable with those)
– 2 overall sleeping dress (preferrably the one with sleeves so i wont be conscious with the increase melanin on my armpits)
– 2 loose shirts and comfy pajamas
-pair of slippers (1 bathroom & 1 roomy slippers)
– robe (double purpose: cold environment & breastfeeding)
– undies (leave that VS or la senza at home! it'll be probably stained or won't fit yet; just to make sure the maternity pads can snug on it)
– nursing bra, nursing pads, nipple cream (breastfeeding purposes)
– maternity pads (i know hospital got it, but to be sure, i don't want to mess around)
– toiletries (shampoo, conditioner, soap, toothbrush, toothpaste, deo, lotion)
– beauty kit (not really the whole make up kit, but just little something to brighten up my face even during contractions and upon discharge)
– lip balm/lipstick
– compact powder
– ponytails
– comb/brush
– blush on
– gadgets
– camera (to snap that firsts..)
– video cam
– cellphone
– ipad
– chargers and adaptors
-snacks (bisquits, nuts, sweets, mints, bite-sized bread/cupcakes — for me and for my husband/ or my mother/ or whoever will stay with me during the admission: im sure not only me will be starving for food especially in the first few hours of delivery)
– water/juice (with straw) to minimize/prevent dehydration especially during contractions
– going home outfit (i'll still probably look like 4-5mos preggy)
*packed few shirts, shorts/pants, undies as well for my partner* (believe me, he'll be grateful that i have also thought of him during my delivery)
*baby's bag
– receiving blanket
– wrap around shirt with pants
– booties
– mittens
– caps
– bibs
– few diapers (hospital will provide as well)
– small stuff toy
– 2 swaddling blanket
– cute going home outfit (yes! i totally mean cute!)
Leaving the pregnancy cruise soon! All aboard! 🙂