18th of last month, I and Rod celebrated our 3rd year anniversary. Weeh! 🙂 Yeah, it's been quite long. We were both lucky that we were granted leave from work so we really wanted to make the most out of it. Originally, we wanted to go to Bangkok, but because there wasn't enough time to plan for it, we just thought of going to some place nearby and that somewhere we could easily plan for.
Malaysia is the closest place to go to from Singapore. I was having second thoughts of going there for the reason that we recently got there for his birthday. However, Malaysia has so many spots to visit to, so we mutually decided to have a short vacation there. Together, we agreed to go to Kuala Lumpur because we never been there despite of our frequency going in and out of Malaysia. In proximity of KL is Genting, known as City of Entertainment, which we payed a visit, likewise.
I initiated on getting a tour package for KL-Genting so that we will not have any problems in booking hotels and other stuffs. Fortunately, there were still available coach seats and hotels for both places. The package includes coach bus from SG-Genting, Genting-KL, and KL back to SG. Hotels for both places are also included. City tours are not included in the package; nevertheless, it was not a dilemma.
First day was quite early since we need to depart from SG to Genting by 630am. We were almost late because we had a difficulty locating the tour bus for it was situated at the rear entrance of mall. Just in time, we were the last passengers. Whew!
The coach bus was fairly comfortable. There were a few buttons on the seat where you can decline your back seat, or elevate your foot board so you can lie down and rest. There is also an existing massaging buttons for your seat. TV monitors and playstation, with individual headphones were also seen.
We arrived in Genting at around 1pm. And we didn't had an idea that is was really cold in there. Luckily we were both wearing thick jackets. We were booked in the First World Hotel and the queue for checking in was quite long.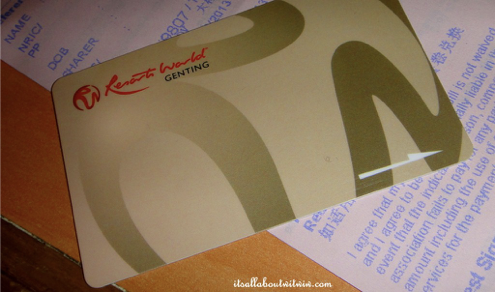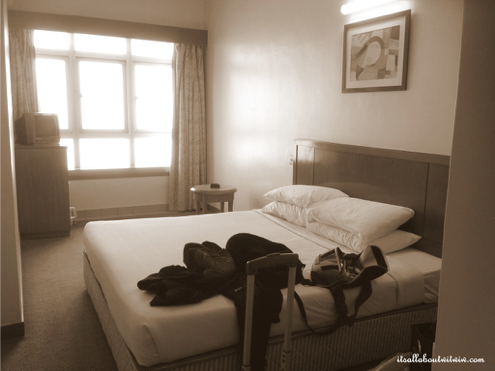 Not bad for one night stay, right?
When we opened the window of our room, look what we saw!
And I bet it was really freezing cold outside!
We had our lunch in the room since we brought our packed lunch, then had some rest for awhile. Afterward, we decide to roam around the place.
The hotel is actually adjoined with the plaza including both indoor and outdoor theme parks, shopping center, and food chains. However, both of us were not in the mood for some rides.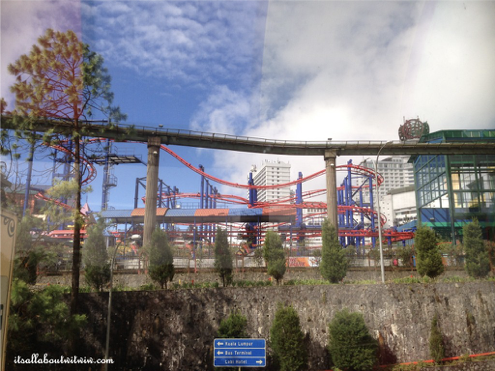 Genting theme park is said to be the biggest theme park in Malaysia. What caught our attention is the interesting Ripley's Believe it or not which is not a waste of time to go to.
Then, we were also intrigued from this Snow World and we also give it a try.
Subsequently, we went back to the hotel, rest for awhile and took a hot shower. Afterward, we hang out in Starbucks, ordered some hot drinks and welcome our anniversary with this:
"maiba man ang pangalan naten, mapadpad man tayo kahit sang lugar, malamig man o mainit ang panahon, mahal pa rin kita noon, ngyon, bukas, at sa mga susunod na araw.. happy 3rd anniversary babe!!"
Disclaimer: This is a personal family blog sharing our personal experiences. Please note that some of the links in our posts may have affiliate links and we may receive commissions when you click our links and make purchases. Whether or not you decide to buy something is completely up to you.