Category: Party Themes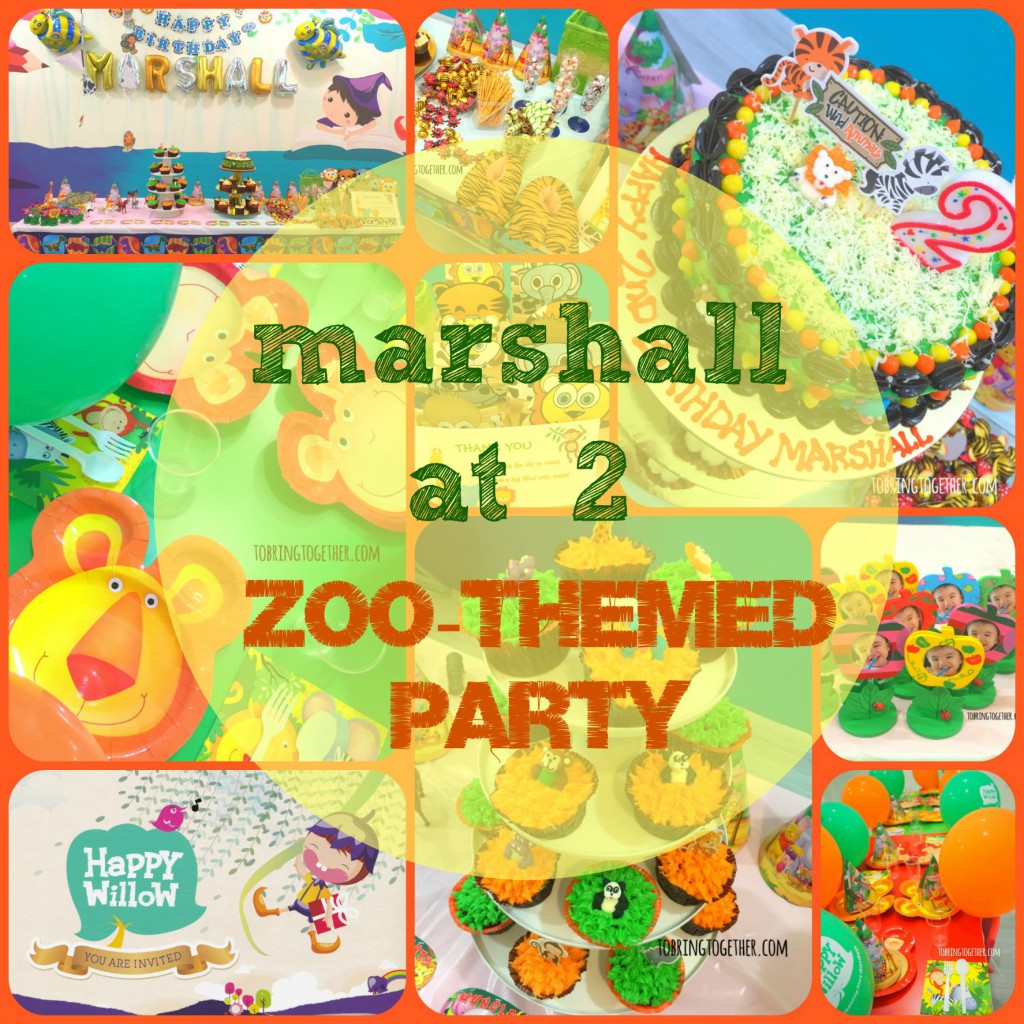 November 07, 2015 was Marshall's 2nd birthday. And yes, again this was a super late entry considering that was a year and a half ago. Anyway, he's birthday at that time fell on a weekend, and thankfully, he was with us in Singapore! Hurray! Nevertheless, I still did an open letter for him 😉
Considering it's a foreign country, we knew that it would cost a leg and an arm to throw a kiddie birthday party unless we would be frugal enough to just celebrate it at home. On the other hand, we will be leaving Singapore at that time, for good, so might as well consider it as a despedida too.
We surveyed and researched various venues to held the event and then we figured out that there's no better place to paint the town red other than he's favorite playhouse which is Happy Willow.
Upon checking their packages, we opted for the standard pixie and fun party. It wasn't that costly so we called to book right away and we were lucky enough to get the exact day we wanted which is his actual birthday. We were also blessed that we met one of the staff there, Majoy, who is also a Filipino. She was very accommodating and tried to grant all our requests for the party. The package includes 2 hours use of the party room, party balloons for all children, free flow of Ice Water for kids, customized email invites and cards for guests. But she actually handed over hard copies of the invites. yey!
and what's super cool is the Unlimited Playtime Fun in the play garden. It was also nice to know that her sister, Hazel, has a catering business, Kitchen Therapy, so we also got the contact from her to order our food and our cake. Right there and then we already hit two stones at a time.
We wanted a zoo themed party but not to the extent of spending too much. Hence, we decided to do some DIY decorations, props, and souvenirs.
We printed some images and letterings for the decors.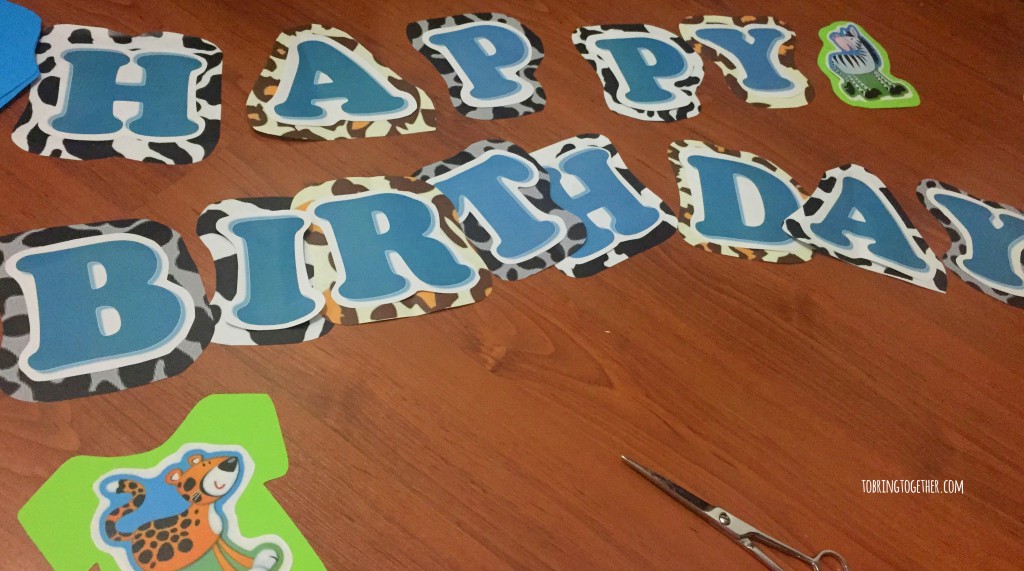 Dada and I were both hands on with the preparation.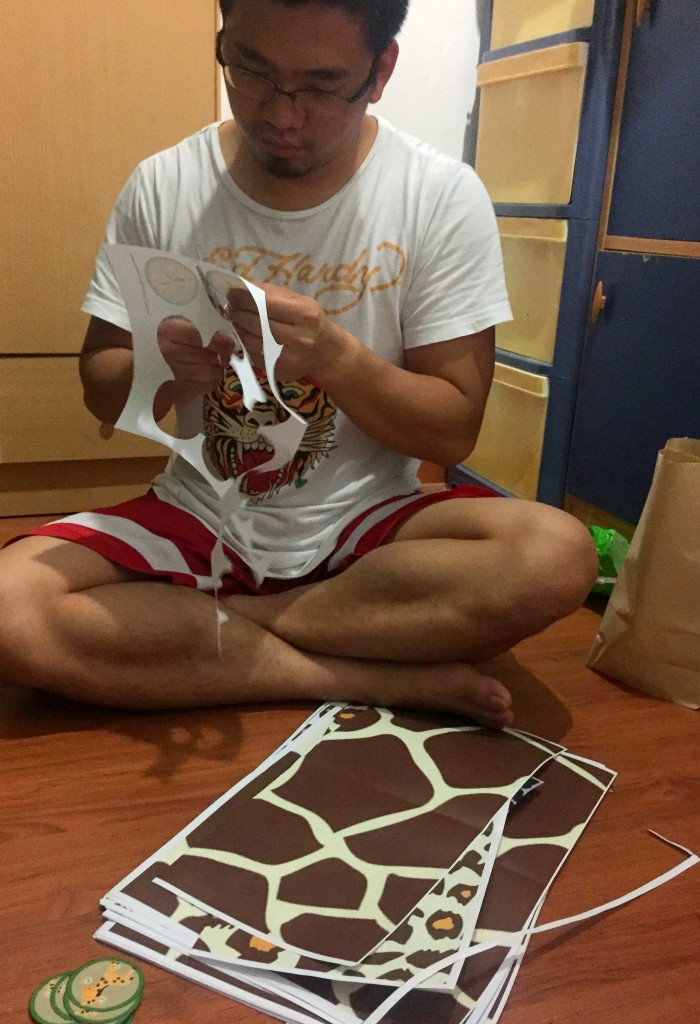 Even Marshall was also lending a hand. Good job! 😉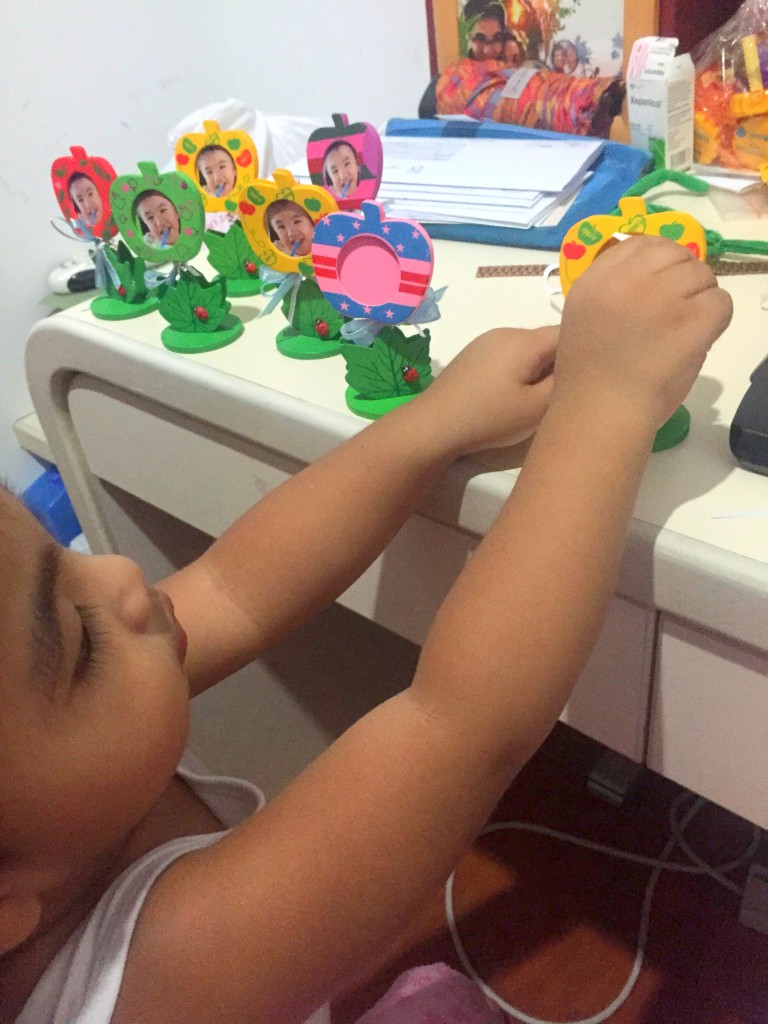 Remember these souvenirs from Marshall's christening? There were few more left, so we decided to just change the photo and give it as a souvenir. 😉
We cut out animal images and stapled it on brown bags to make it our loot bags. Yey to DIY!

Since the venue is a play house, there were already some decors, but we added some more animal printed banderitas that we cut out.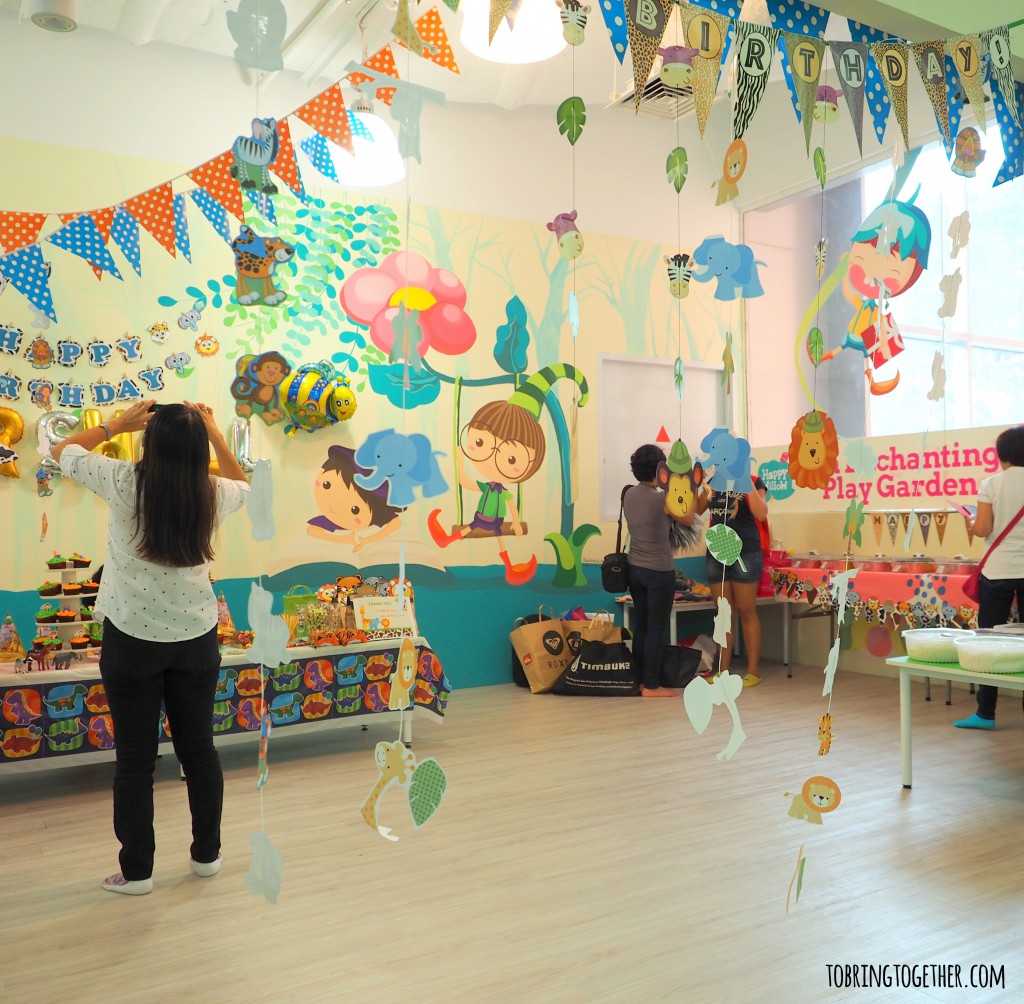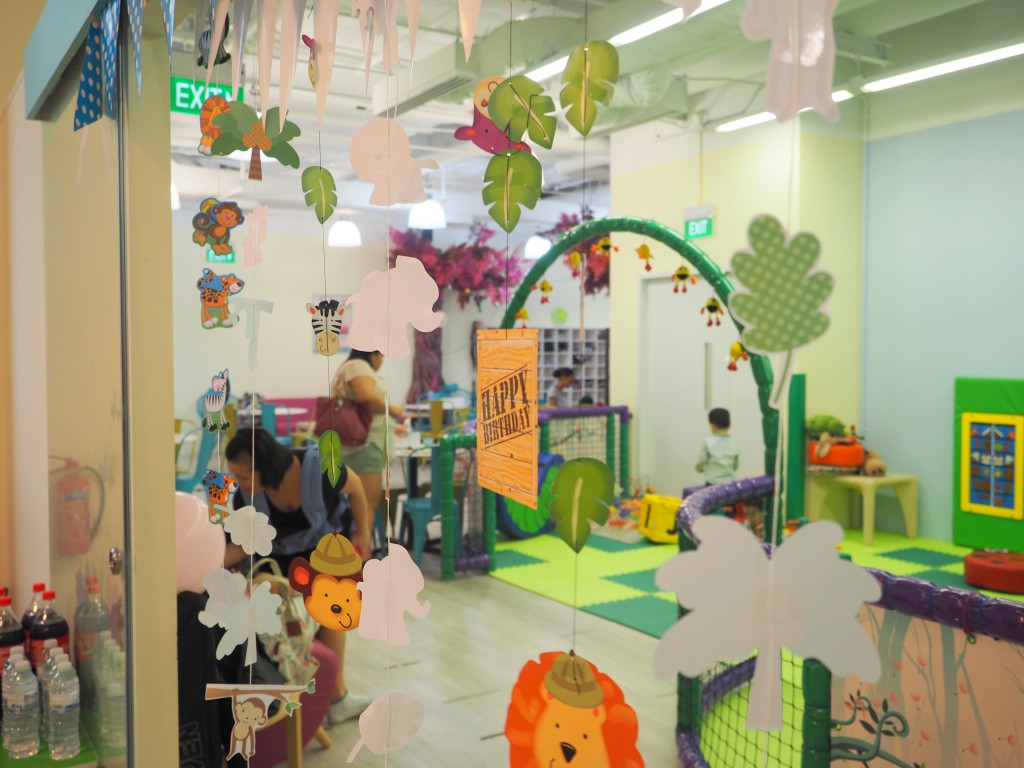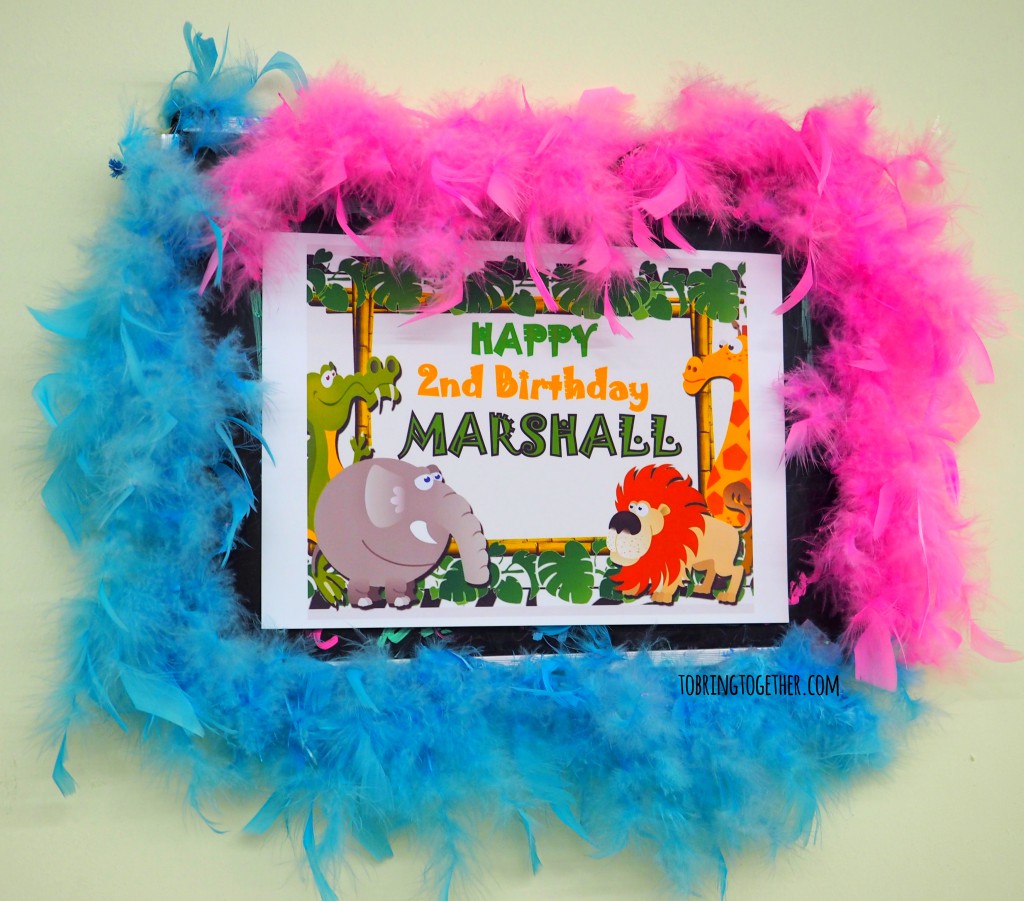 Busyng-busy ang mommy 🙂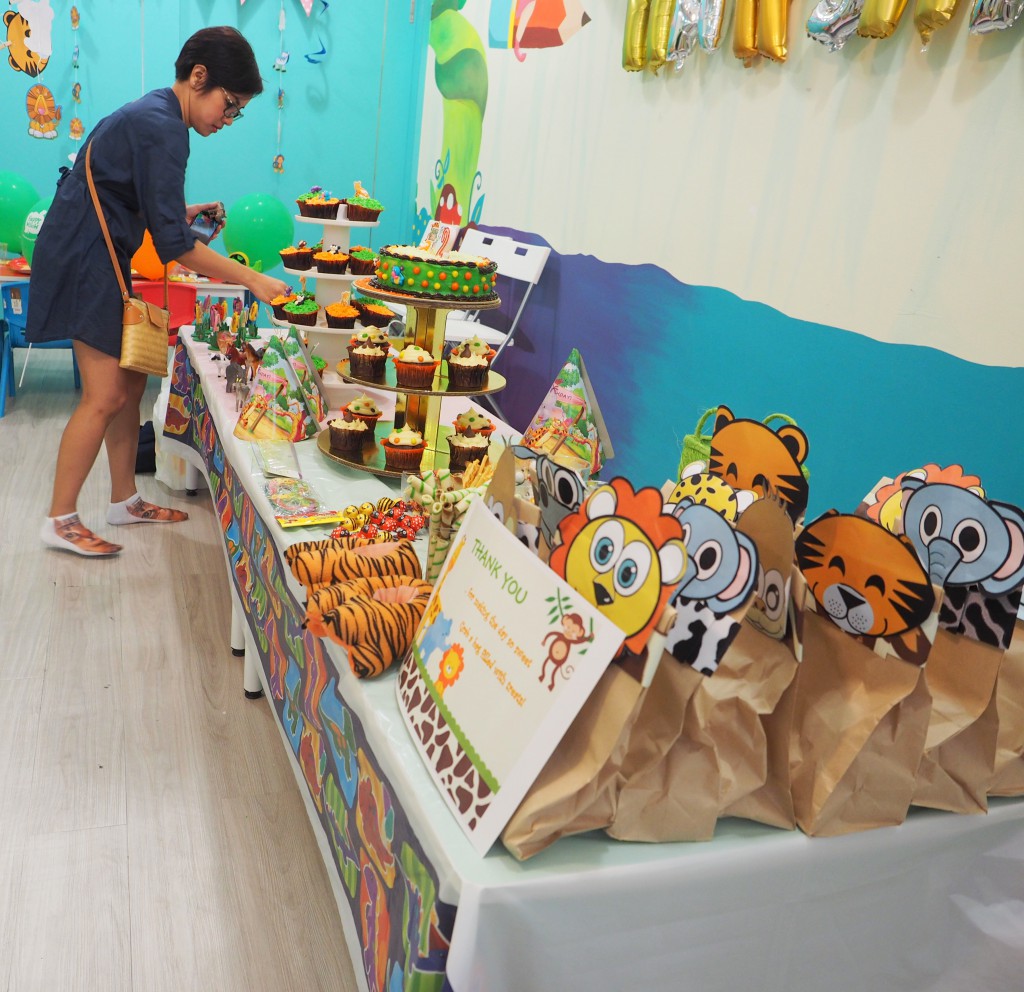 We also provided socks for the guests, and of course, it was animal printed. Remember these photo accessories? These were the same accessories we used on Marshall's 1st birthday!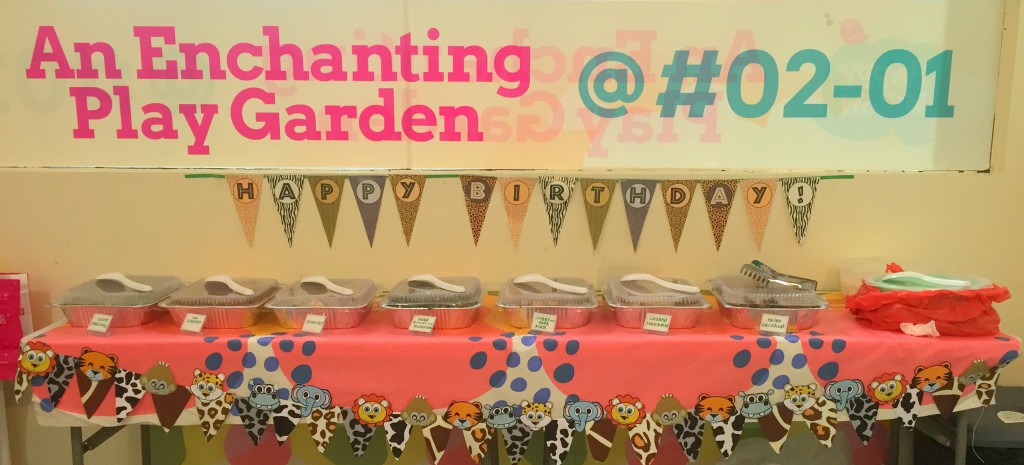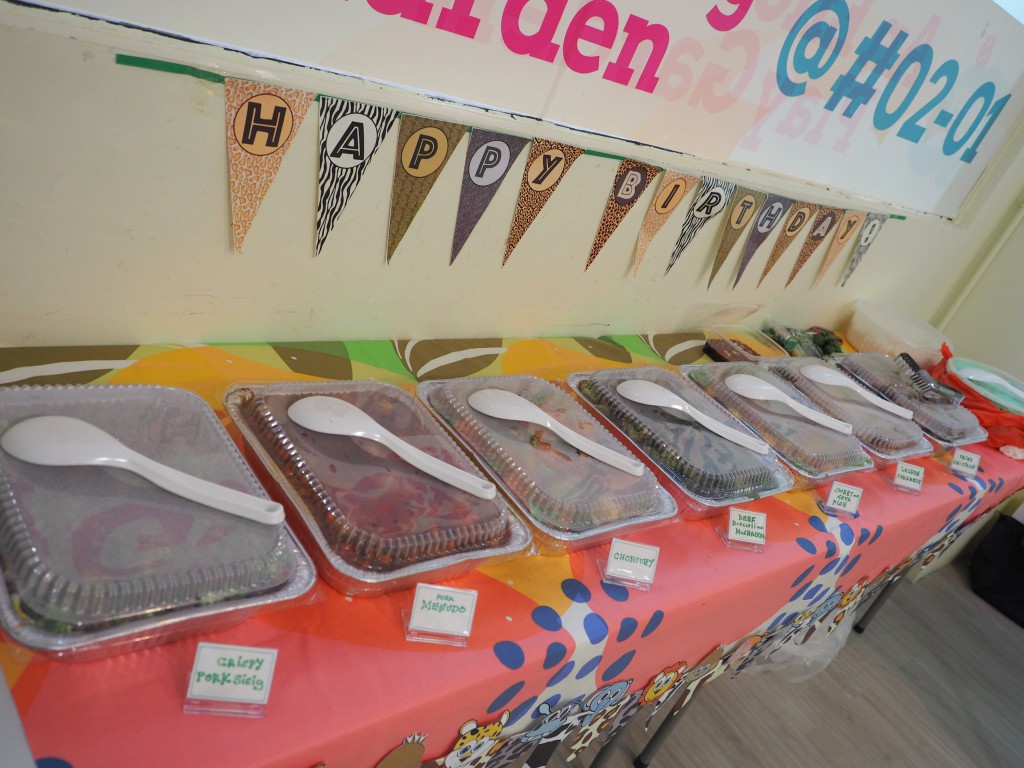 We bought animal-shaped paper plates, party hats, and tissue for the kids to make it more fun! 😉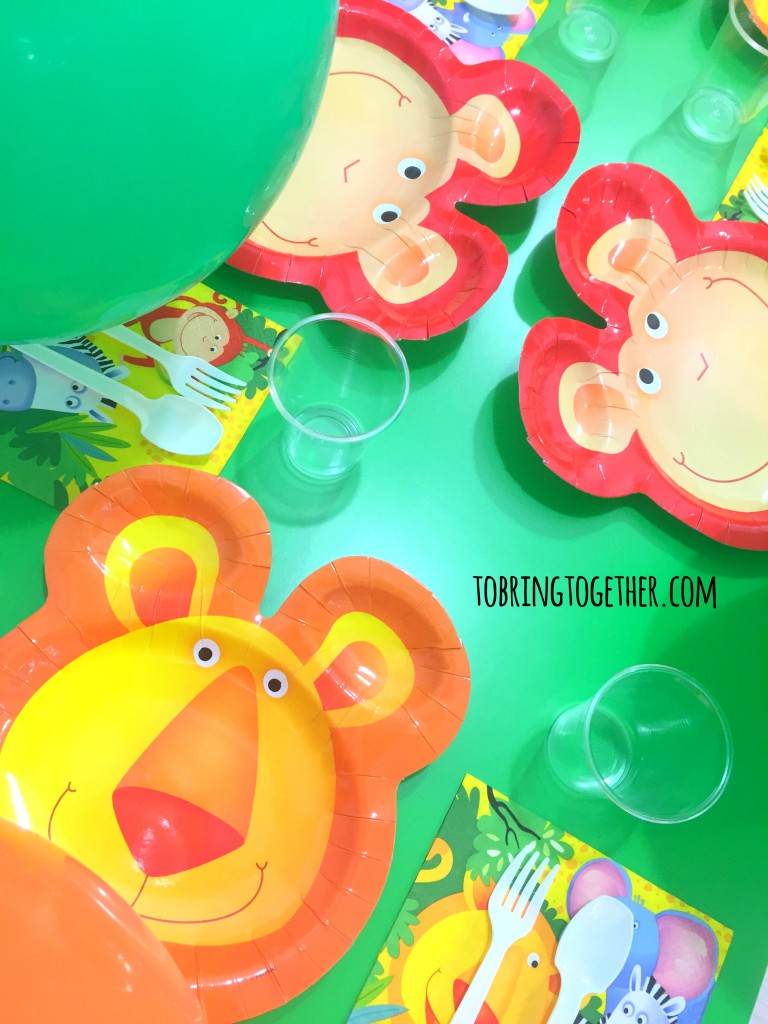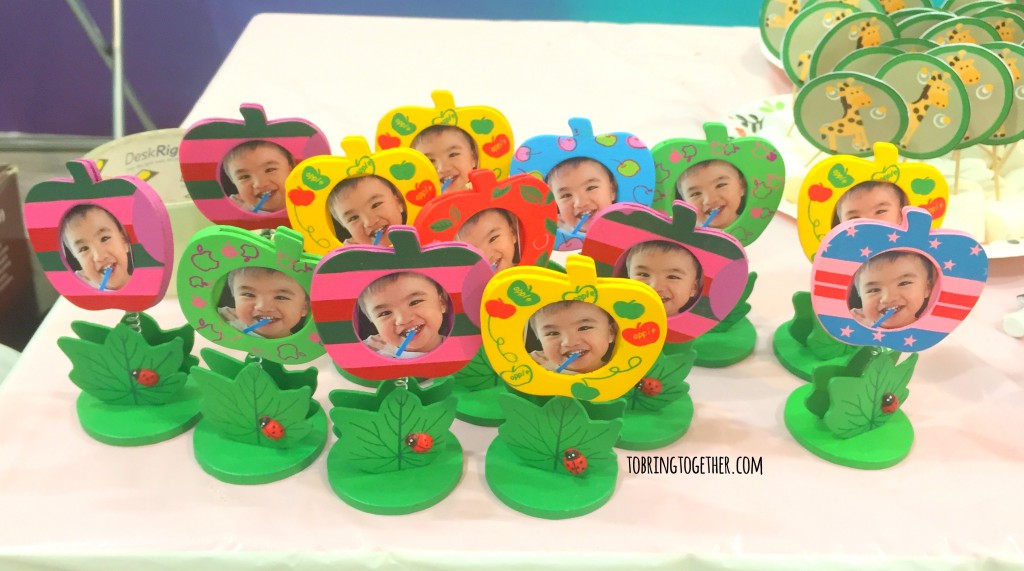 Marshmallows that we also decorated by putting a toothpick with a giraffe image. 😉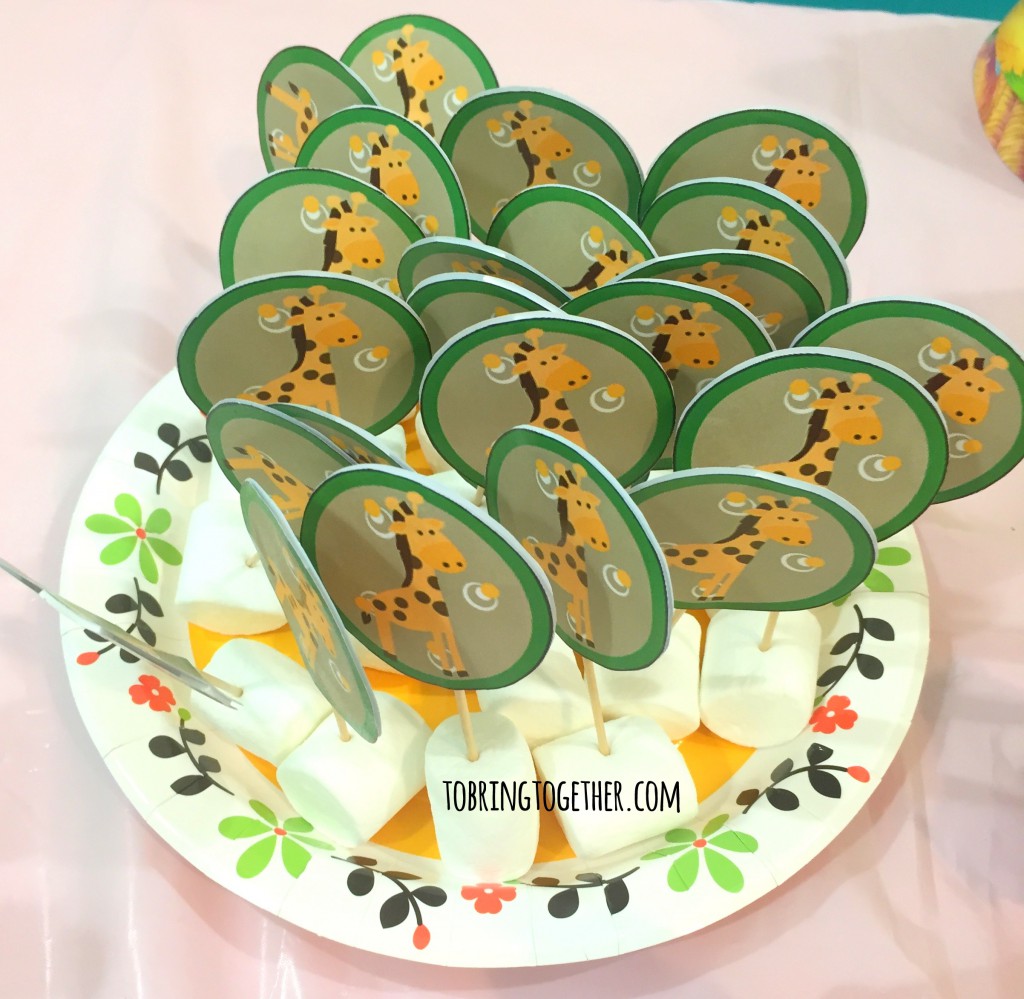 This is actually a yema cake from Kitchen Therapy. Lovely! 😉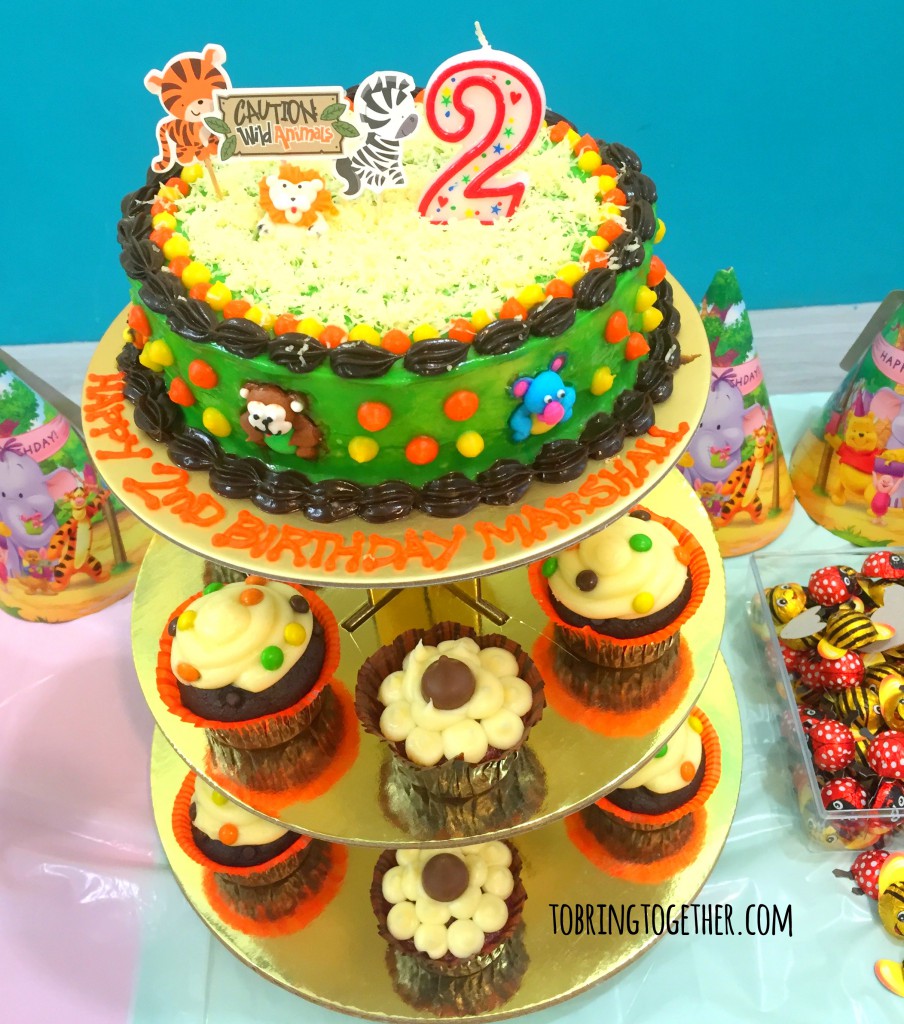 Chocolate cupcakes also from Kitchen Therapy! It's so cute right? 😉
Feeling may birthday! 😉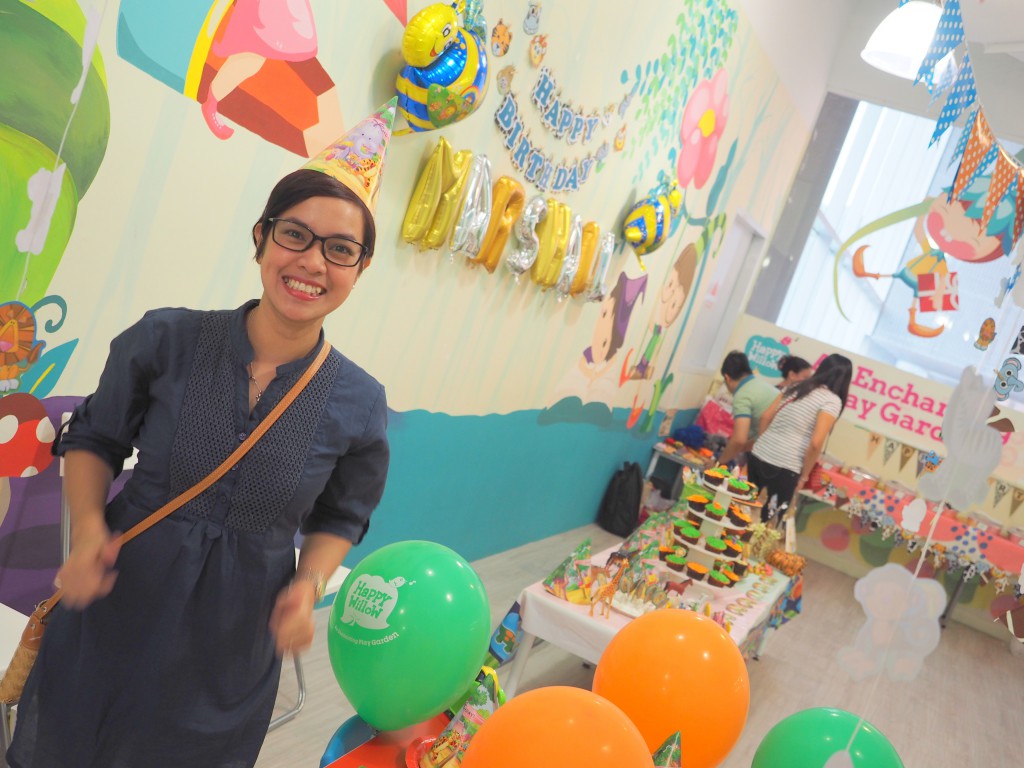 We didn't prepare for a program. It was just a free and fun event for everyone!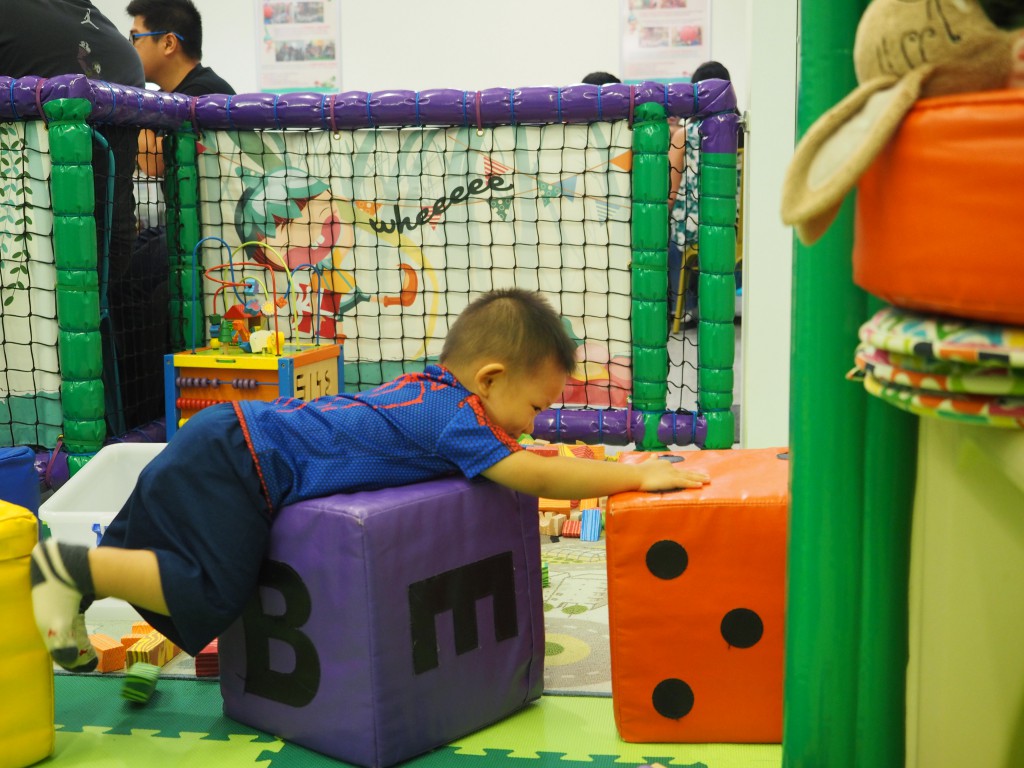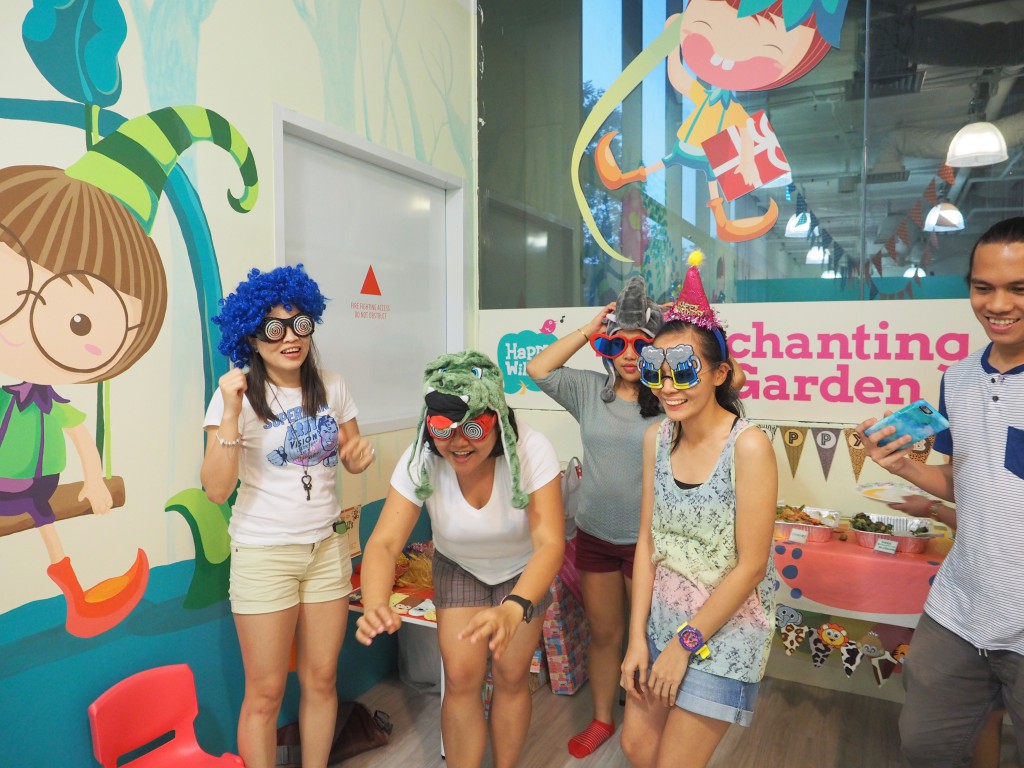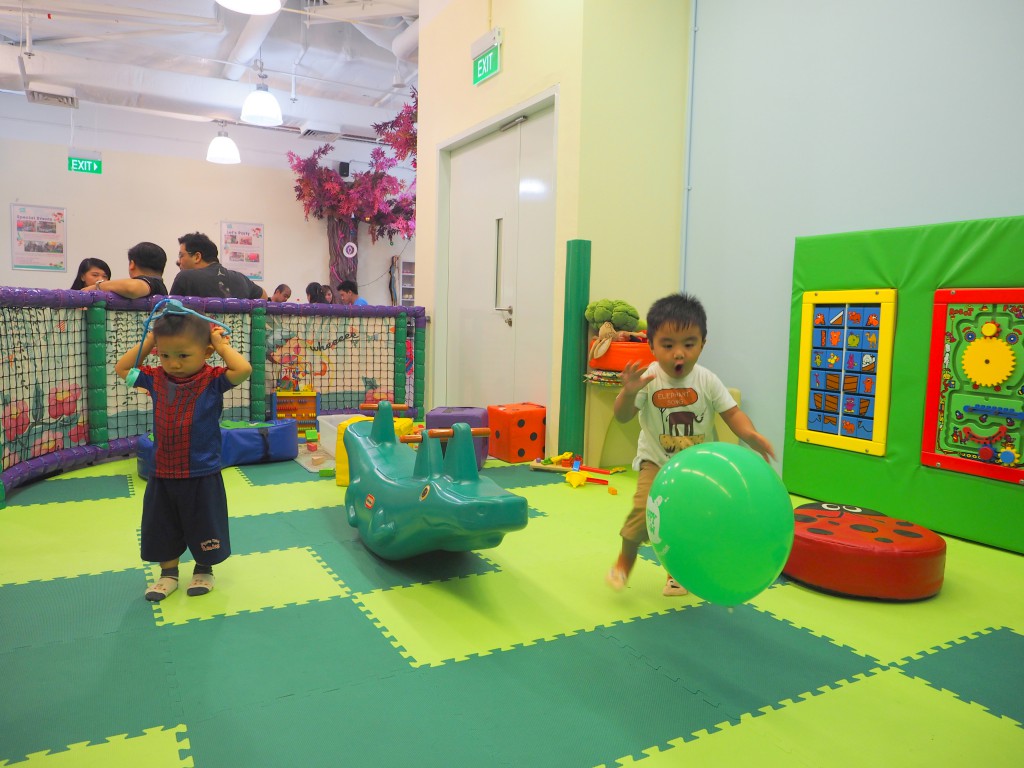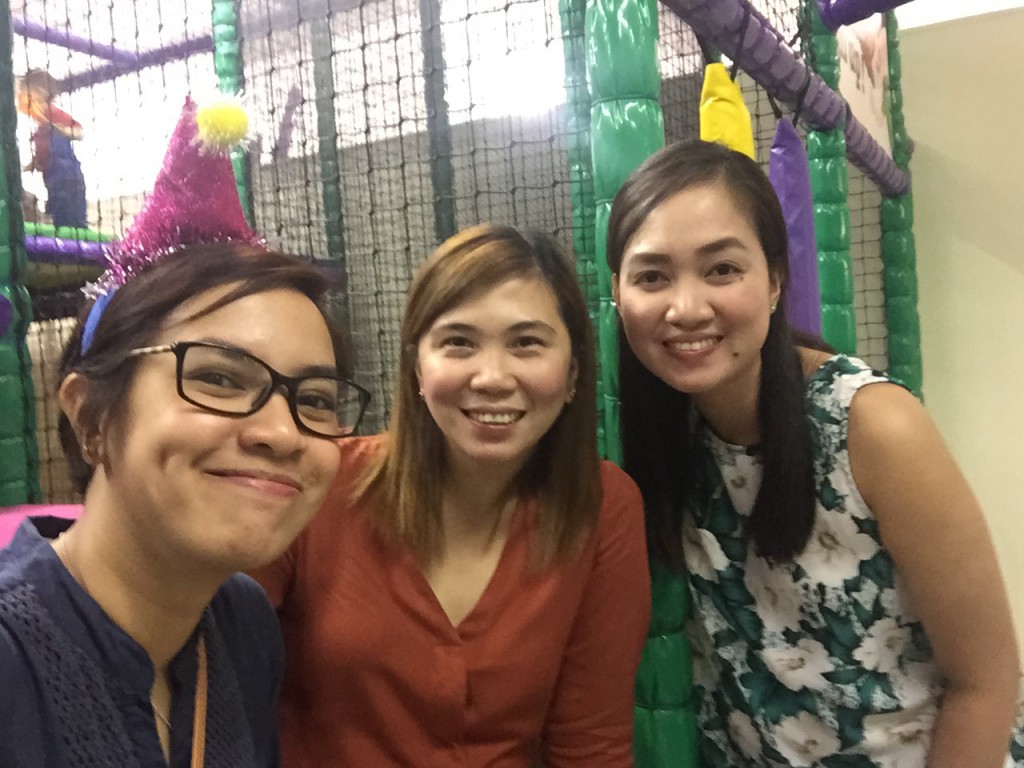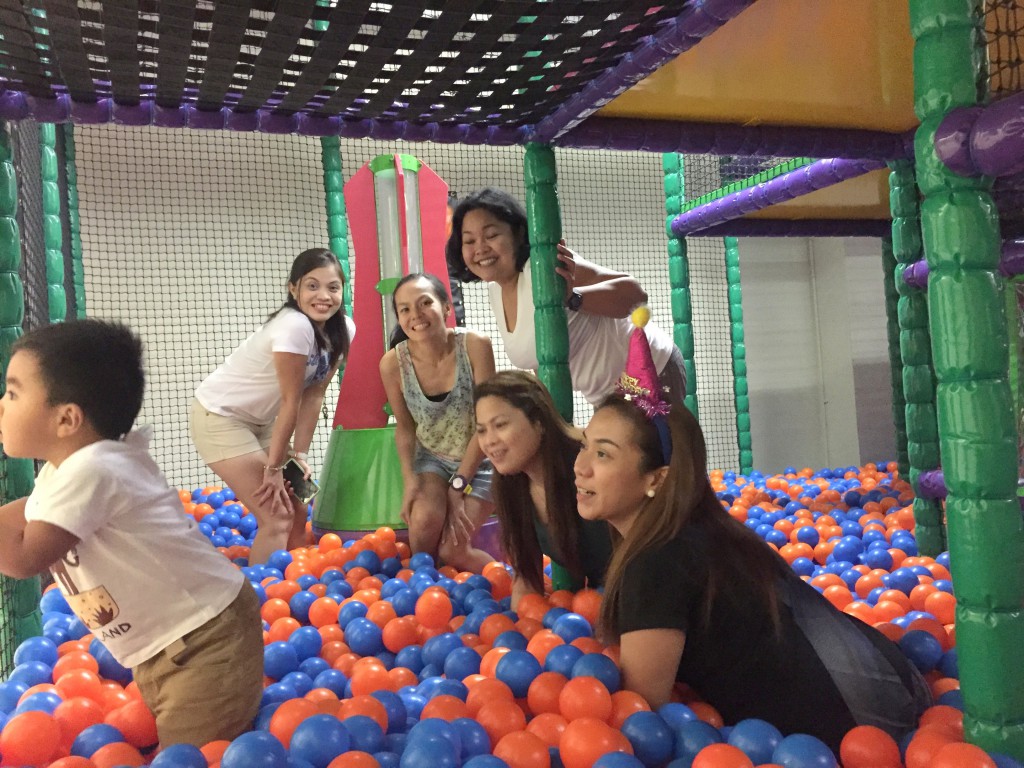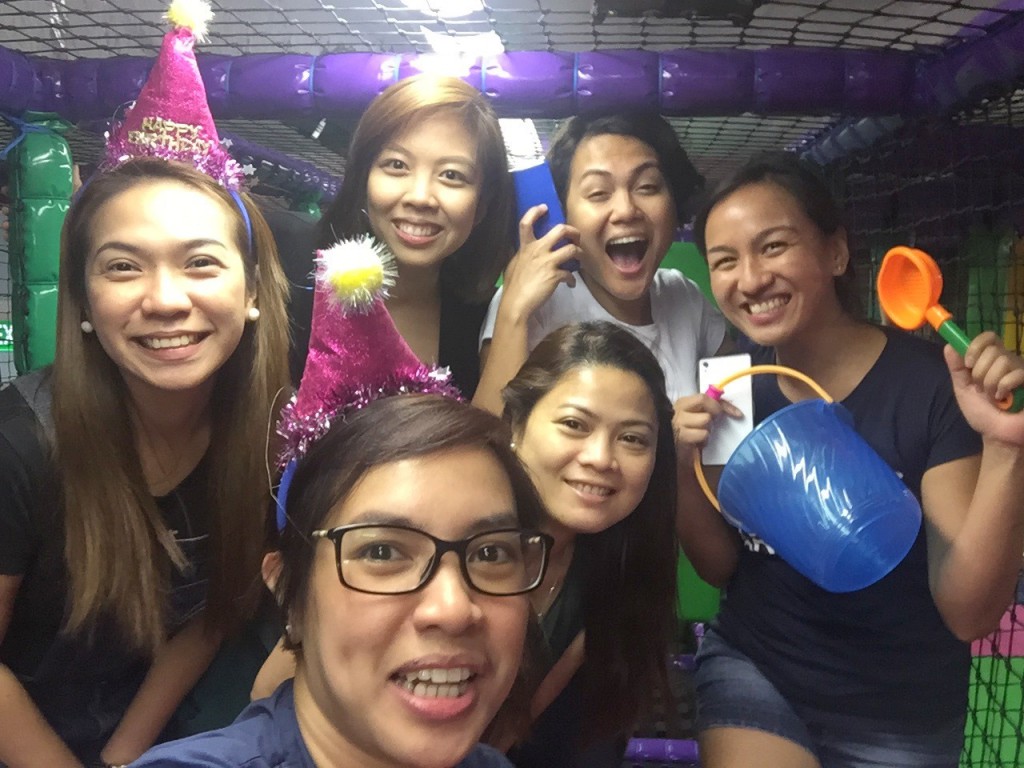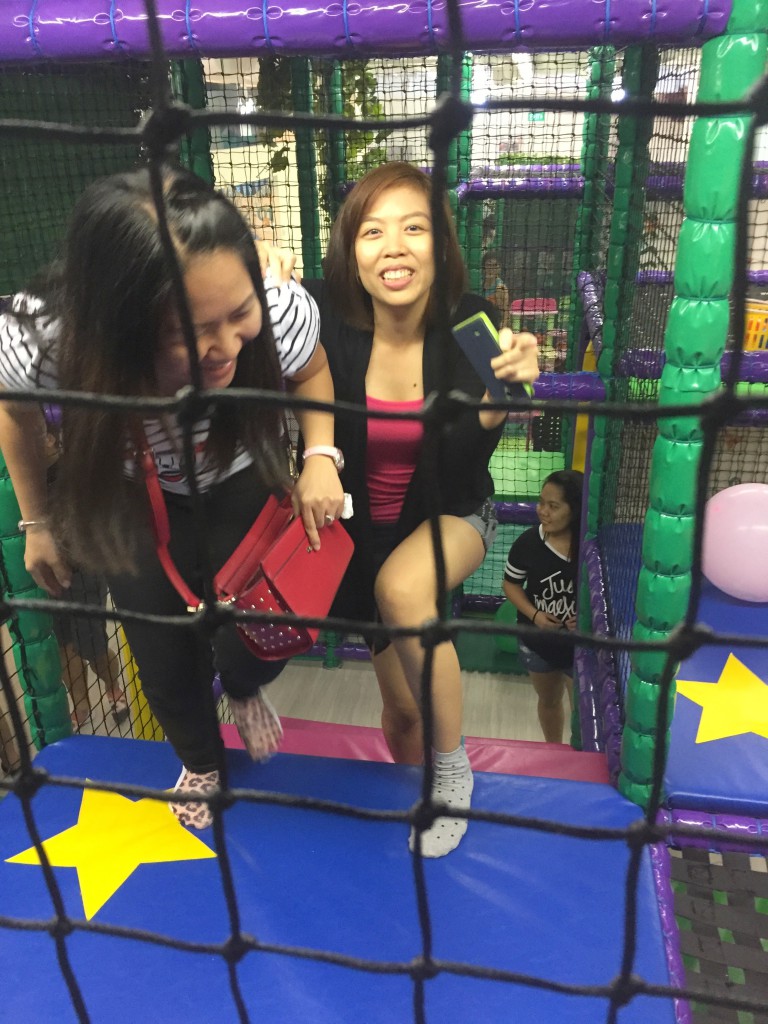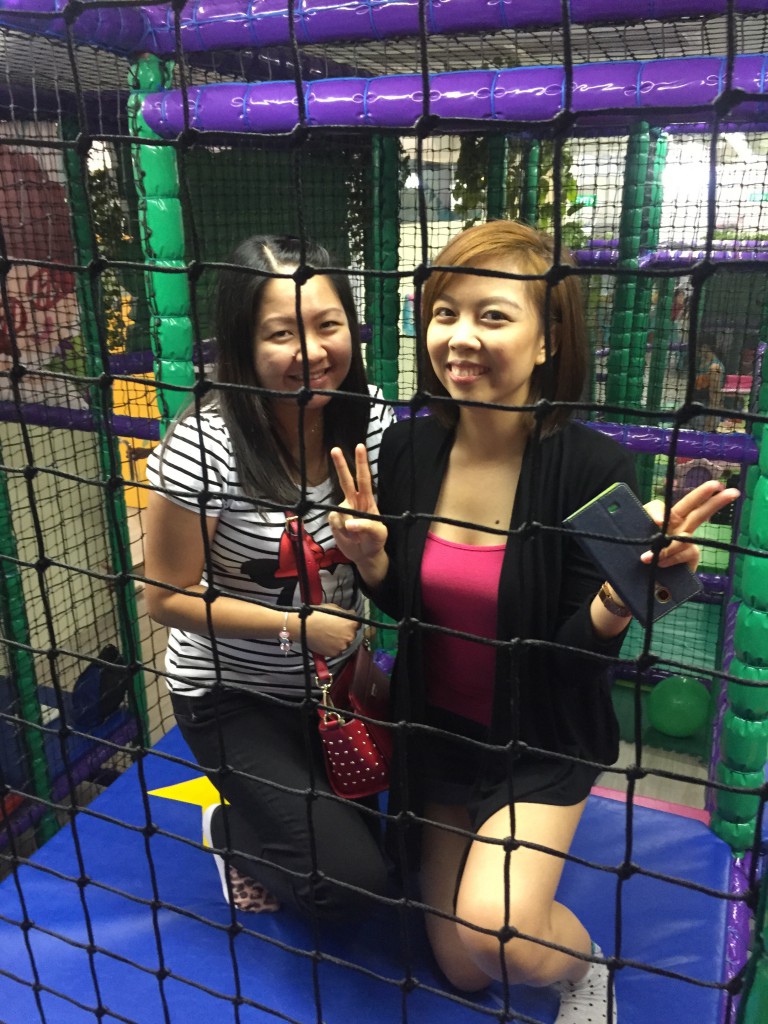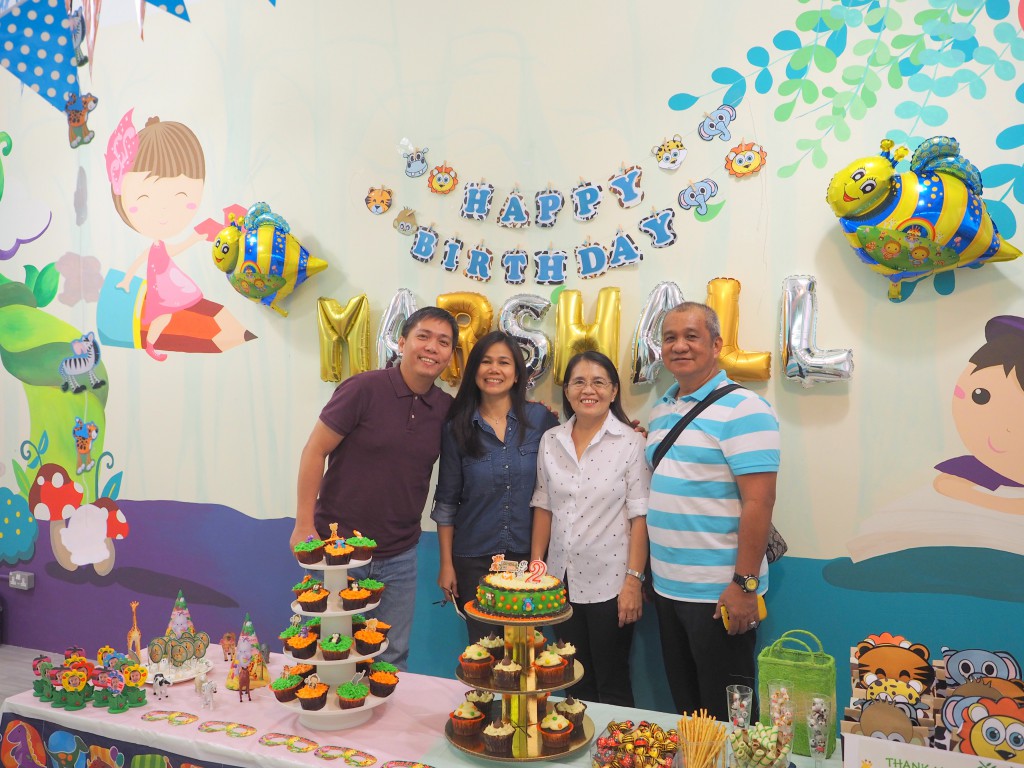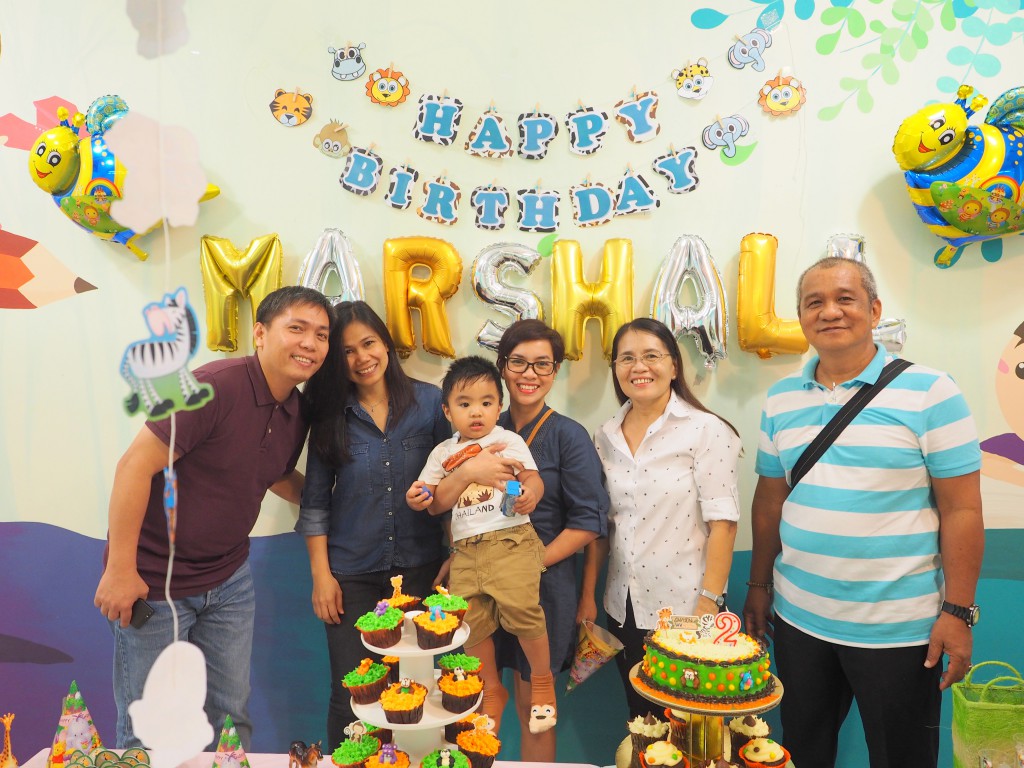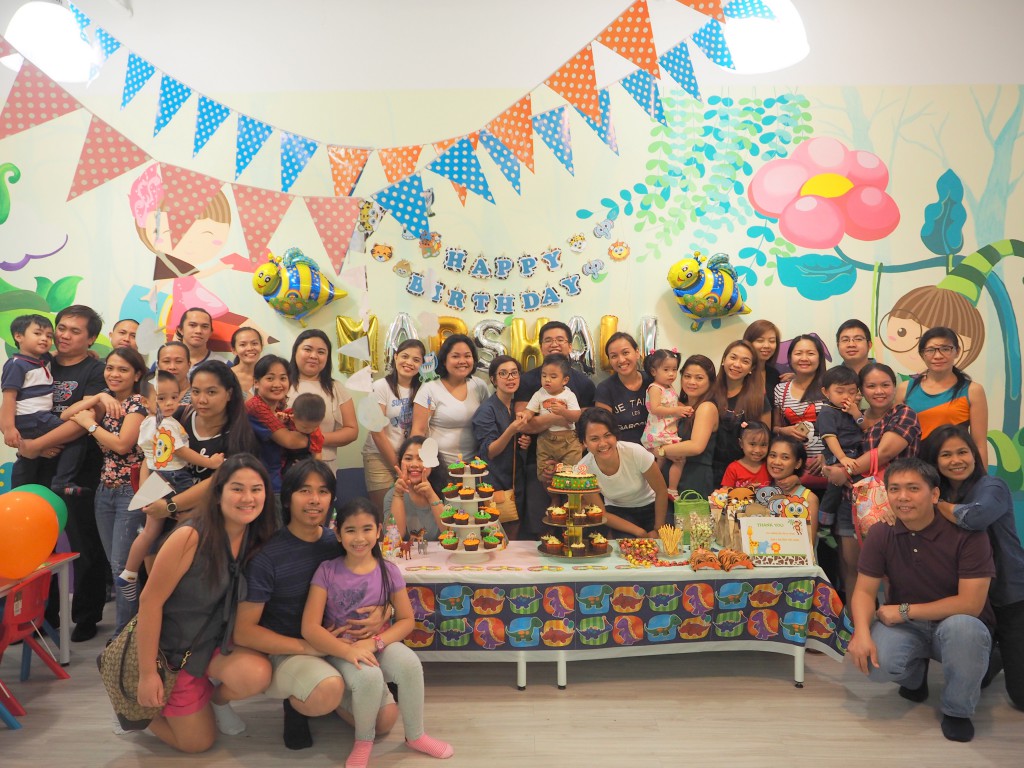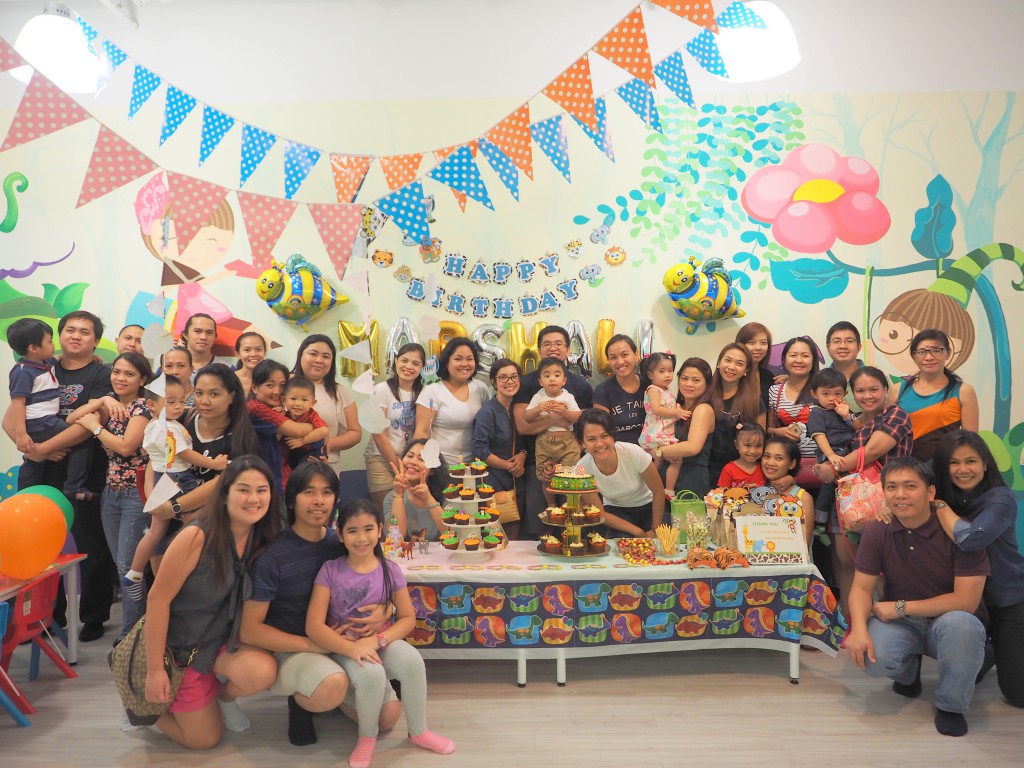 I guess everyone we're tickled pink! Thank God for this blessing! 🙂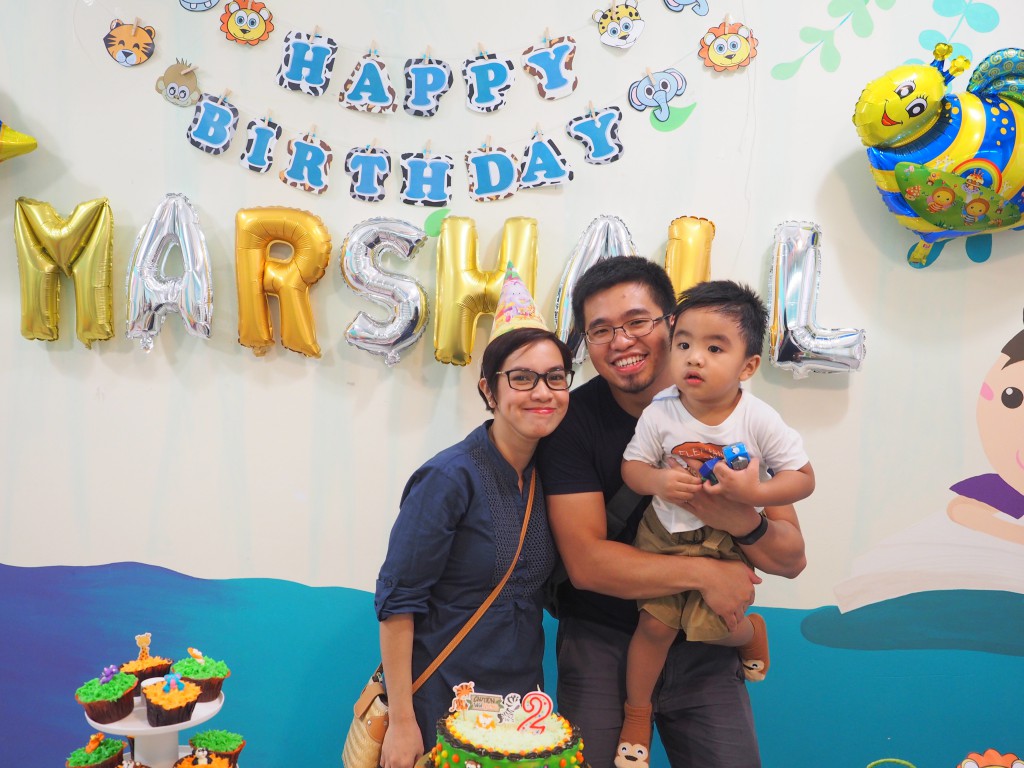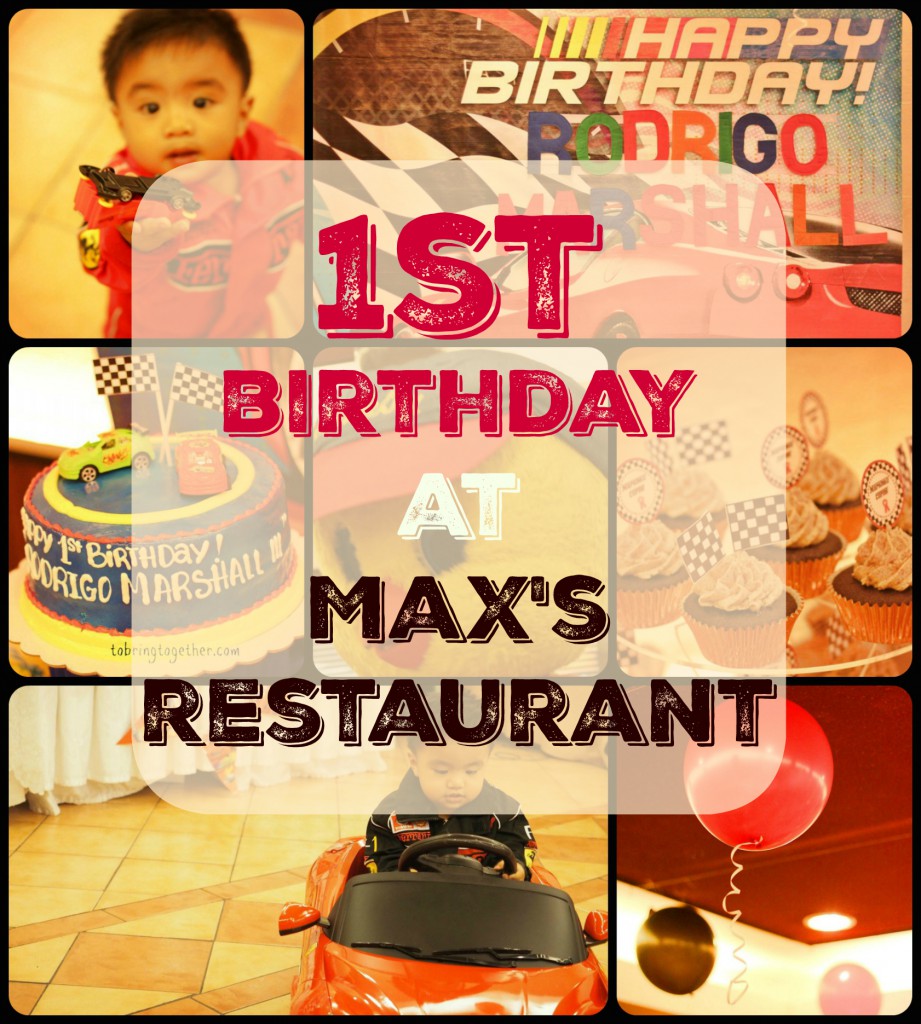 This was Marshall's 1st birthday celebration last November 08, 2014. He's actually 3 years and 5 months now. Haha! I know, I know! This is a very long overdue post and finally, I was able to squeeze in some time to check our almost full hard drive and upload these photos here. As a matter of fact, I still have a bunch of photos that are still waiting to be synced, so please bear with the busy mom.
It was more than 2 years ago, hence, it seems as though it was just a couple of weeks back. Oh.. time really flies… I can still remember the open letter I wrote to him.
Back in 2014, Dada and I were both working in Singapore while Marshall was in the Philippines. These were those moments which we were still separated by distance and it was truly heartbreaking. His first birthday, unfortunately, fell on a weekday (Friday) and sadly I wasn't granted a leave so we were left with no other choice but to celebrate it on a Saturday instead. Dada and I went back to Philippines and stayed there for 36 hours then flew back to Singapore thereafter. Imagine that!
Because of this time constraint, we planned for a hassle free celebration and glad that we found a great deal from Max's. We've been eyeing their package initially when Marshall had his Baptismal but we changed our plans that time. So for his 1st year, we decided to go ahead with their package.
I'm so lucky to have a very hands on sister in law, Tetet, as she helped us survey a location and speak to the staff for all our requests, on behalf of Dada and I.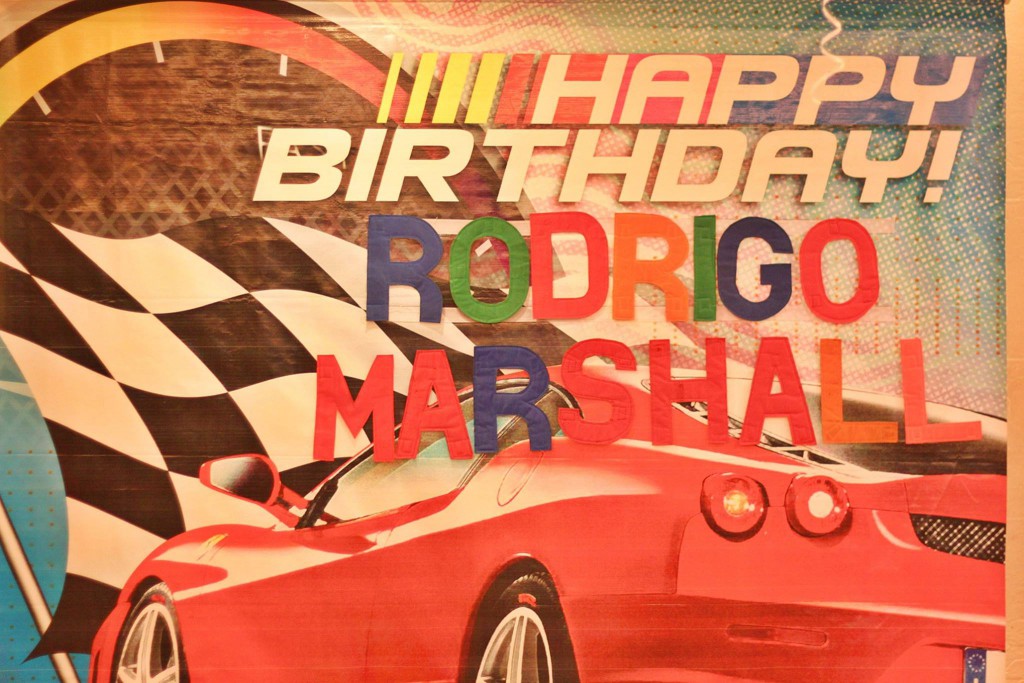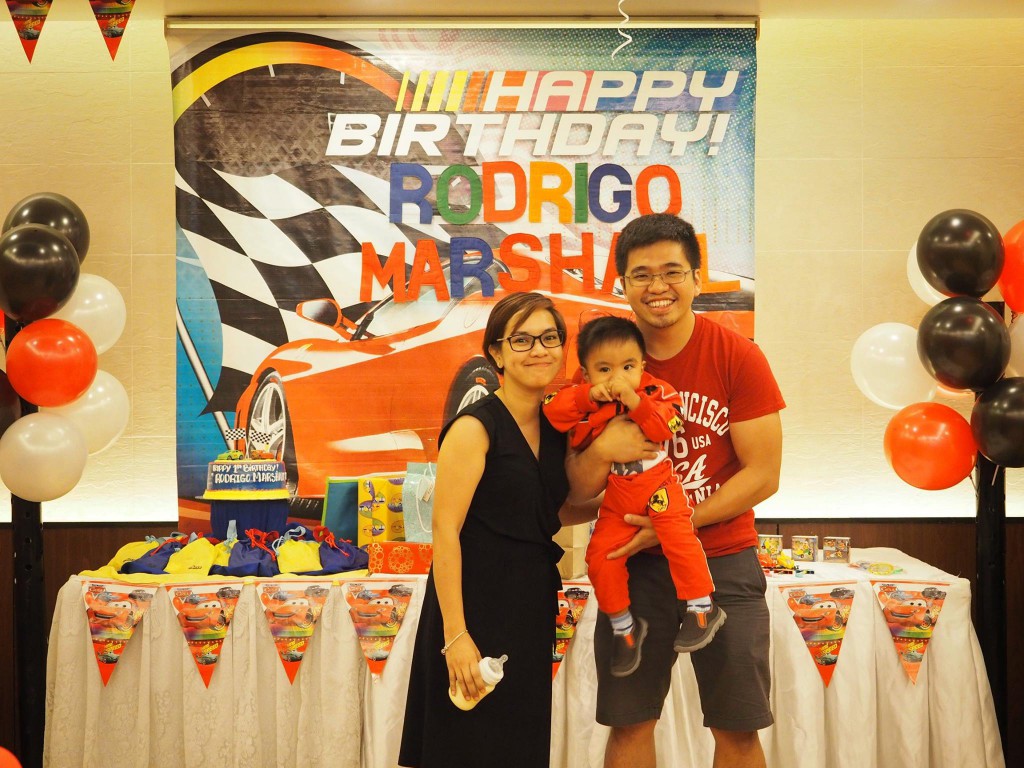 Max's have various theme package but of course, we chose the racer package and requested for black, red, and white balloons. We opted for Kids B for 20 kids.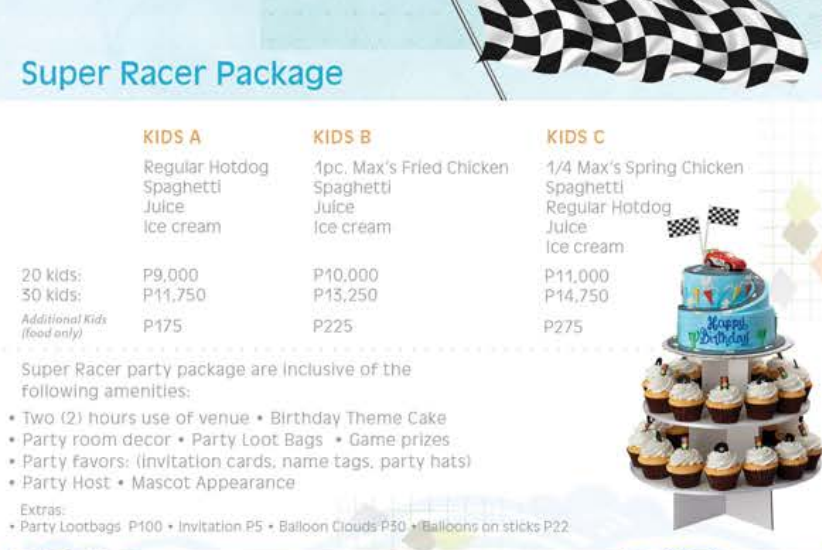 They already provided the birthday tarpaulin.
But still, we also brought ours. The Staff helped us placed it in a corner so we can use it as a photo booth area.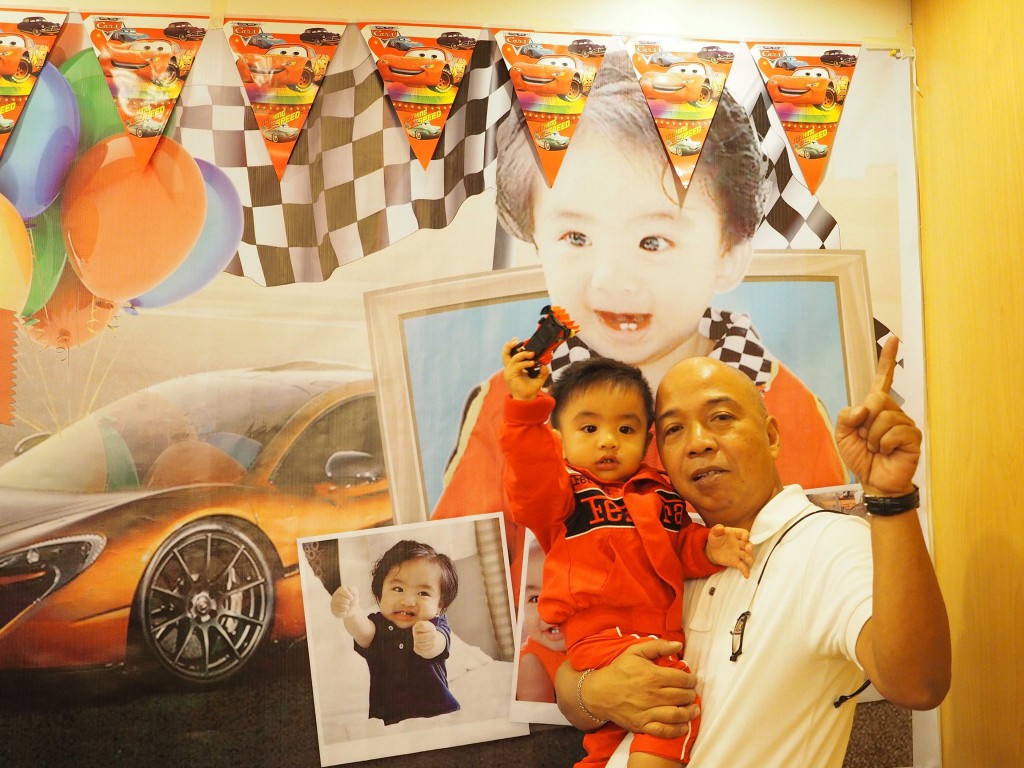 We also carried with us our own party accessories and decors which we purchased in Divi. 🙂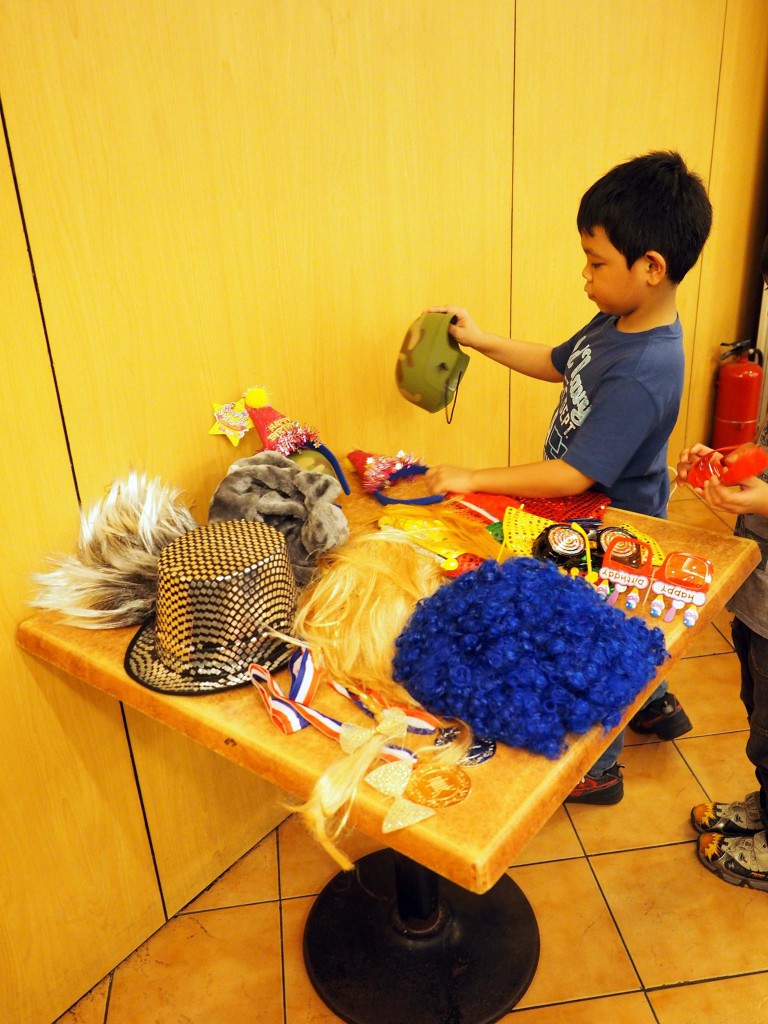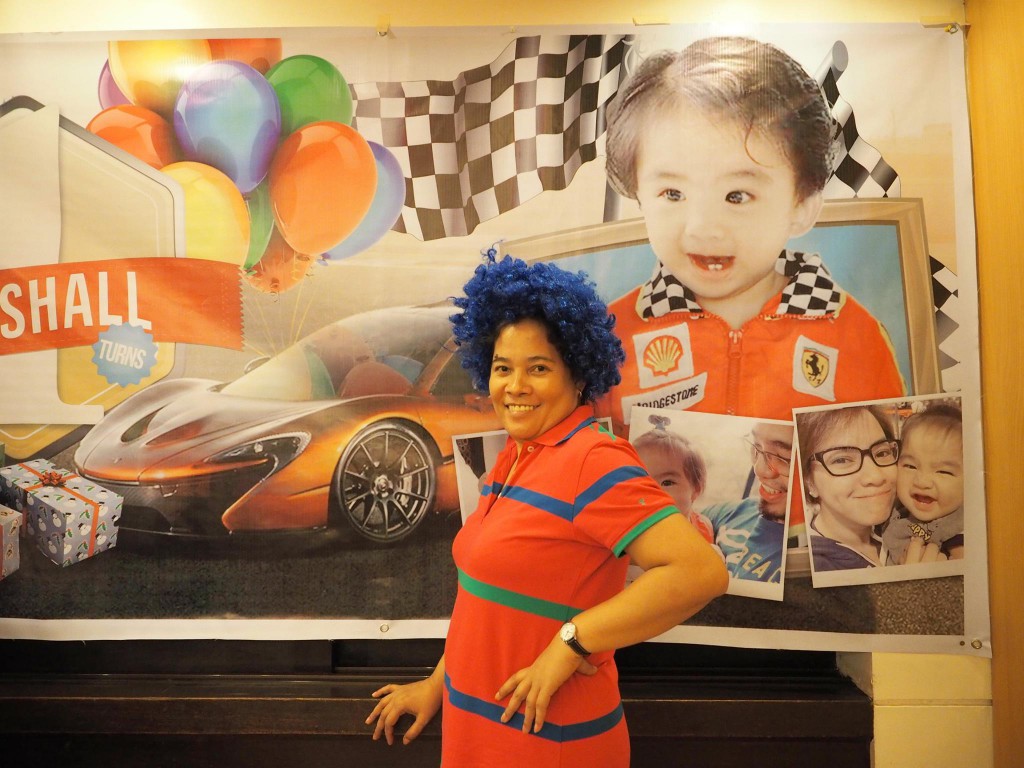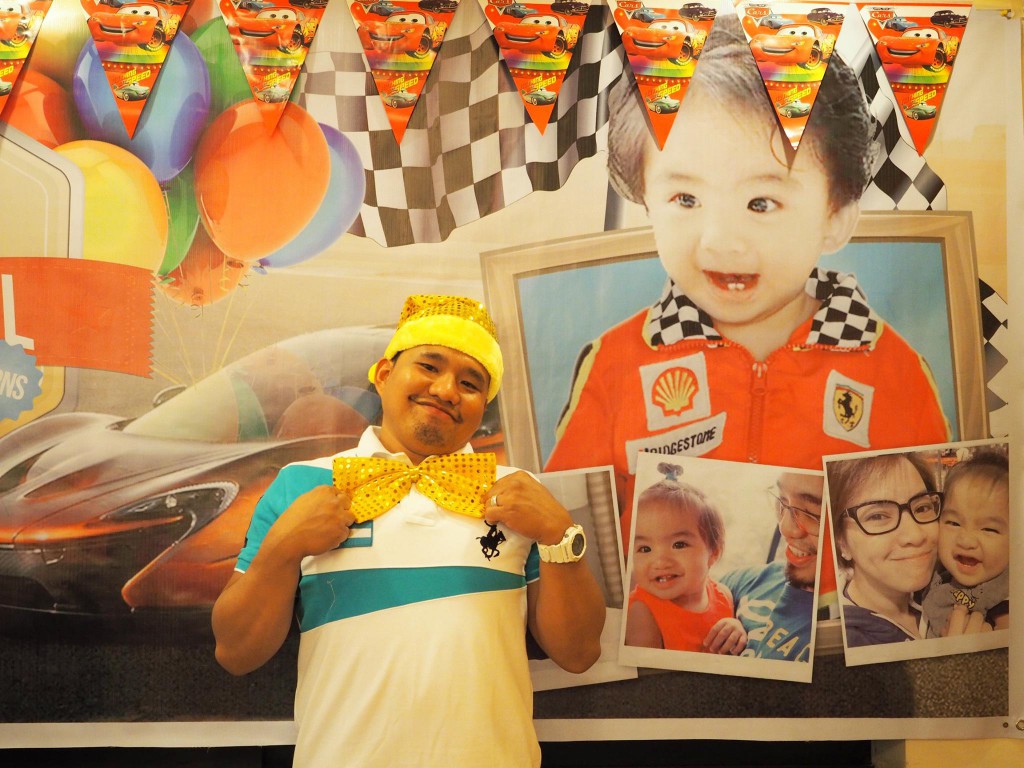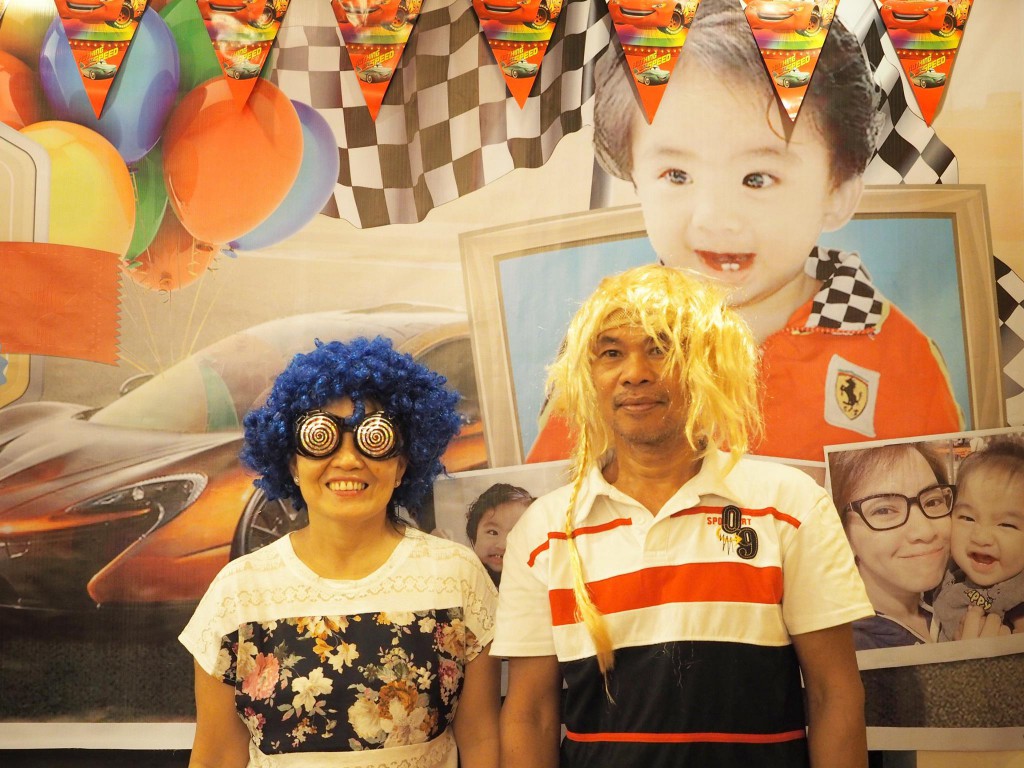 The kids were provided with their own kiddie chairs and tables.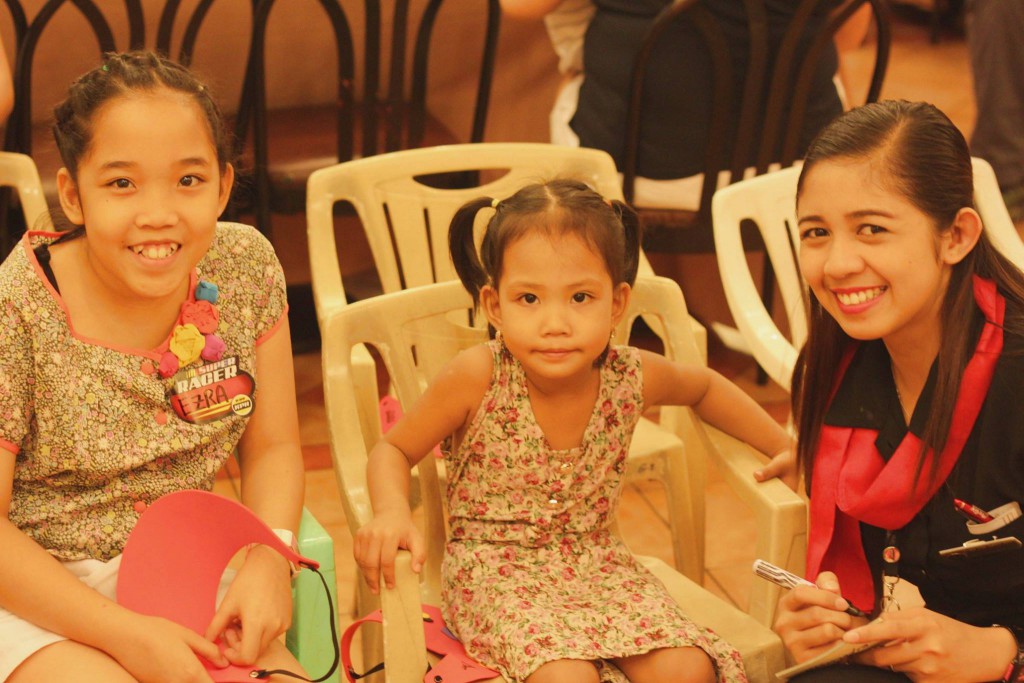 and were given name tags and party hats.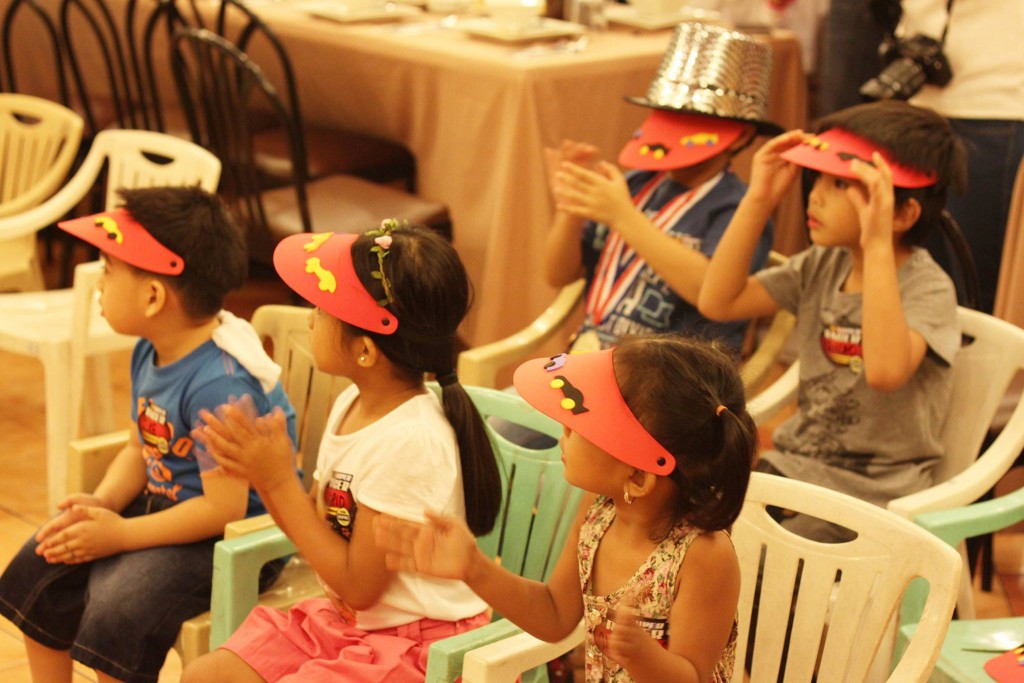 Games and prizes were included. Pulot ng coins! 😉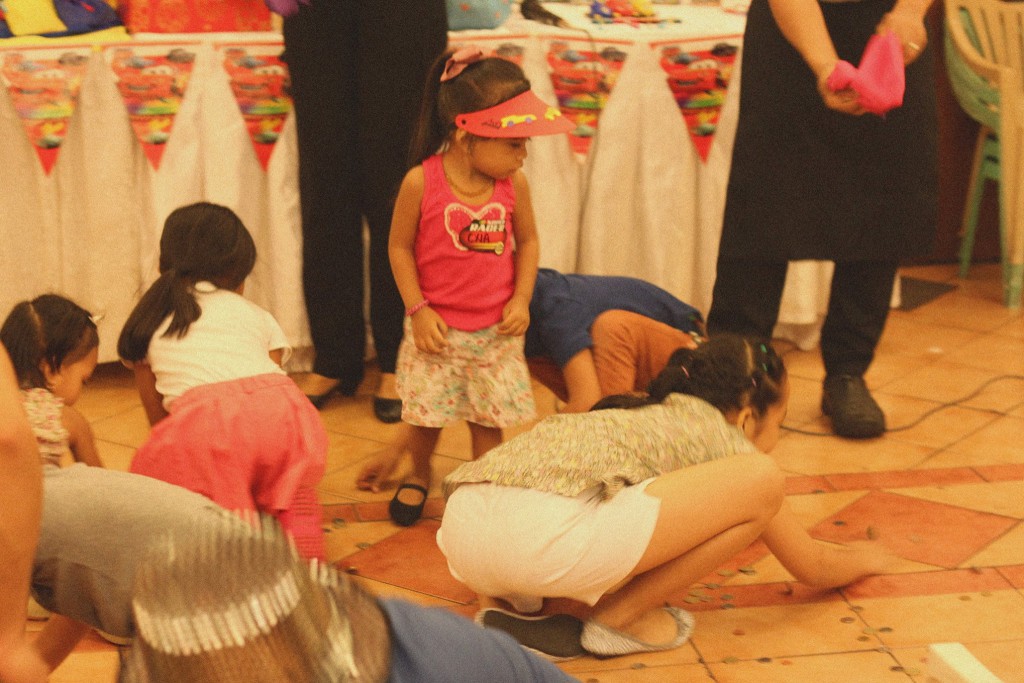 Marshall was also searching for one.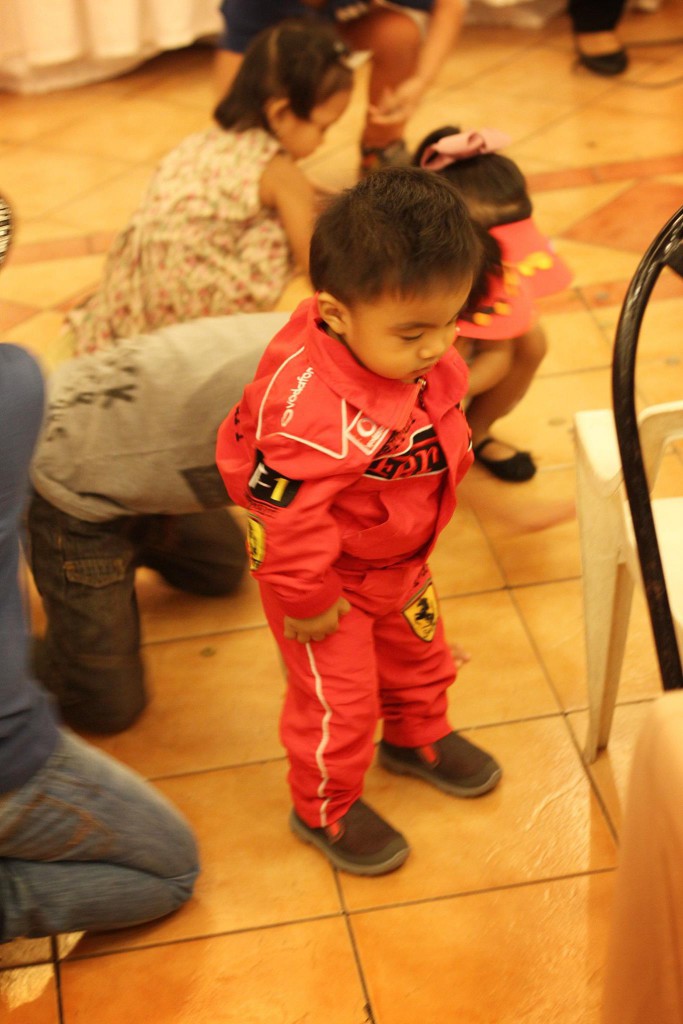 And he was able to pick one! 🙂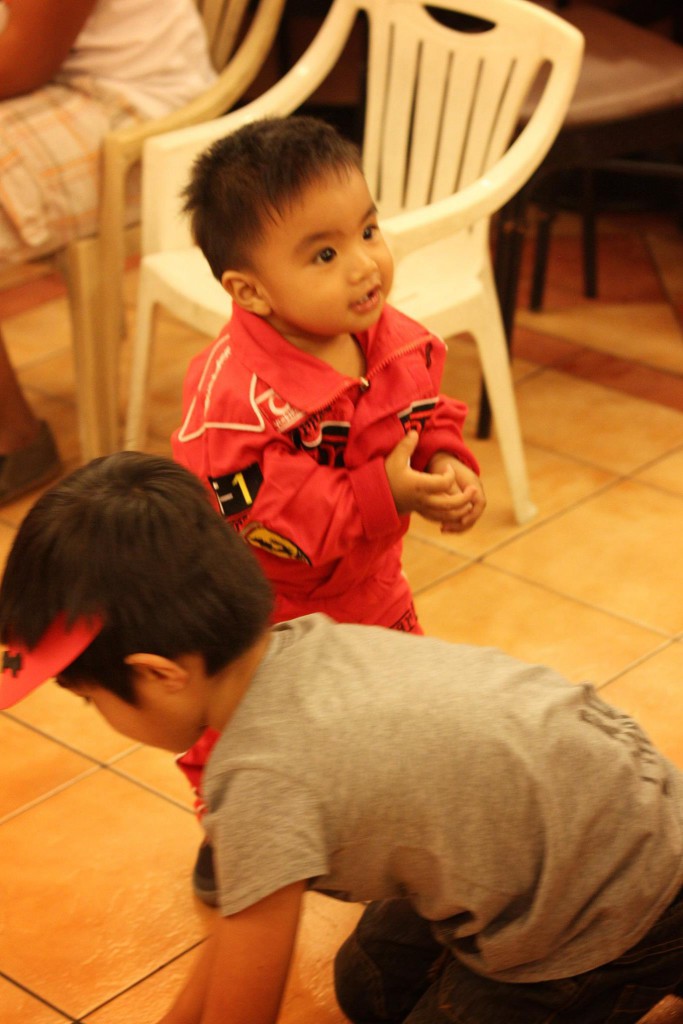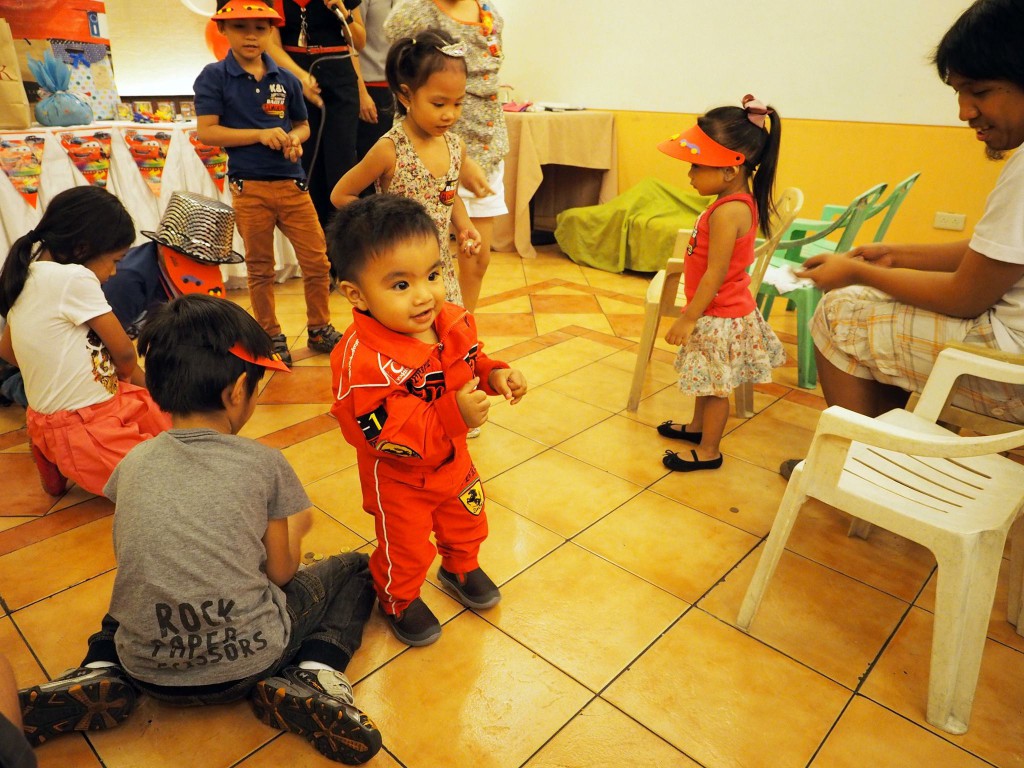 Of course, there was a game for the bigger kids too! 🙂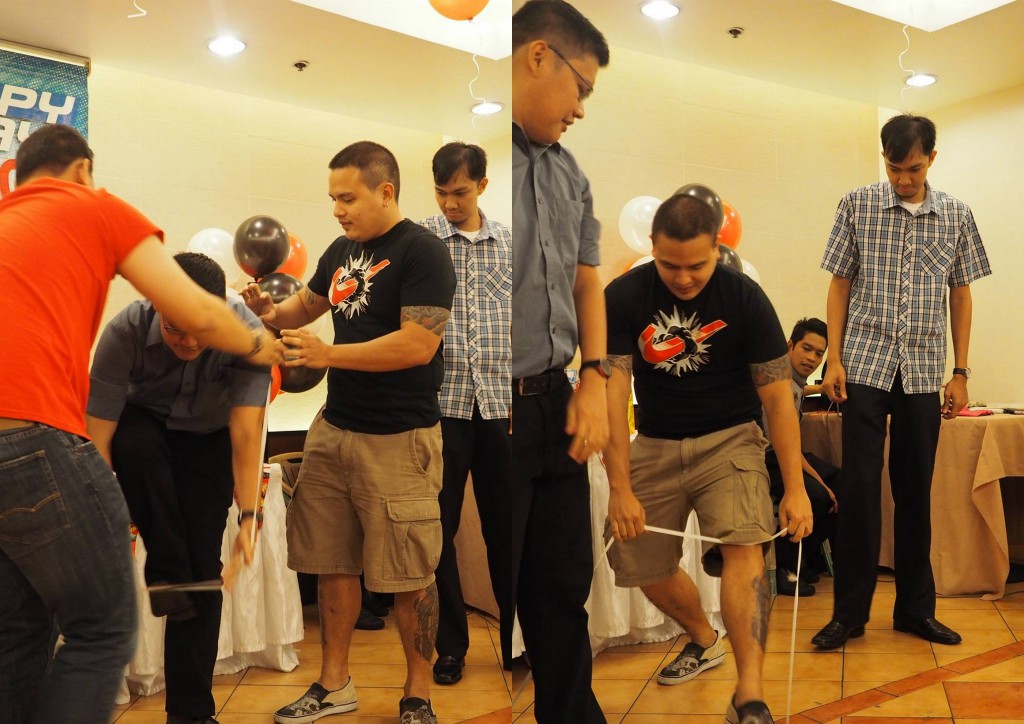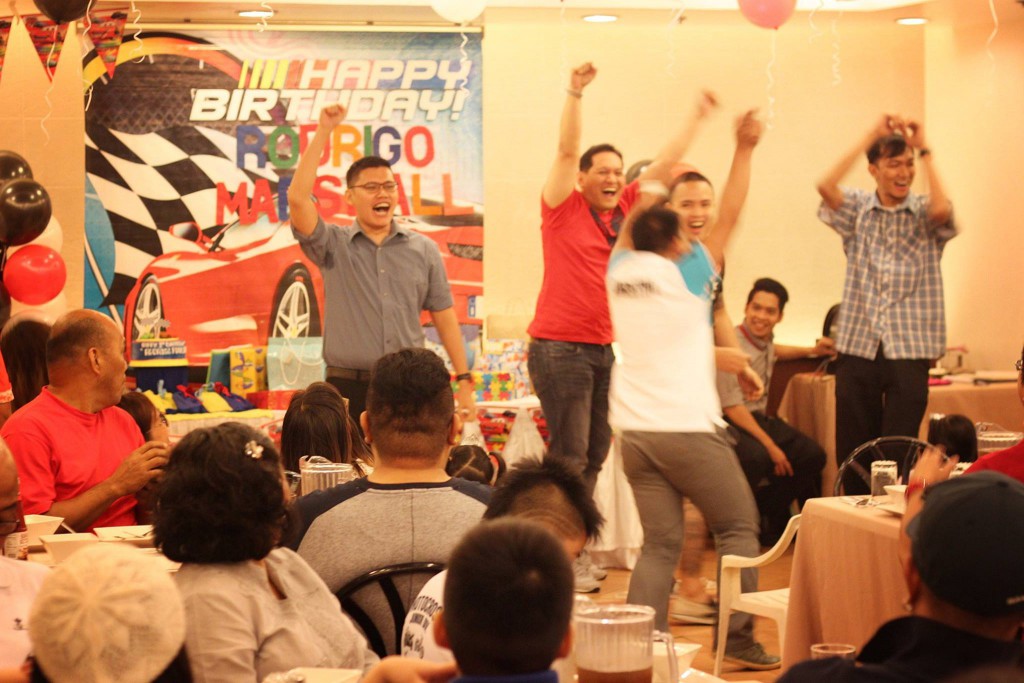 I guess they enjoyed the game more than the kids! hehe!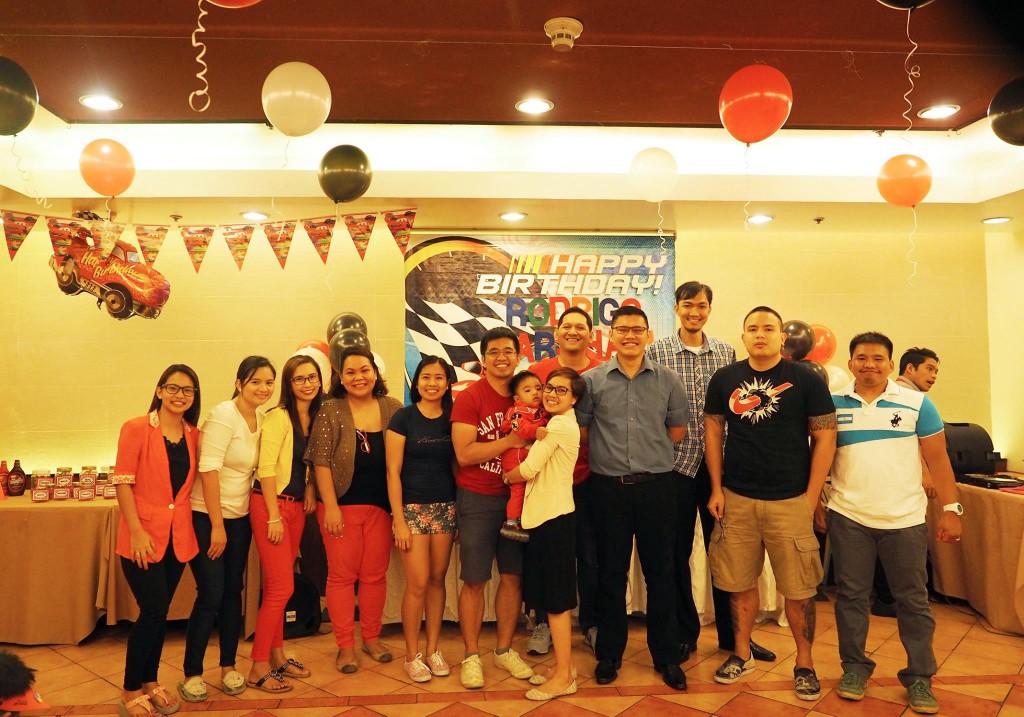 When the game was done, the food were all served.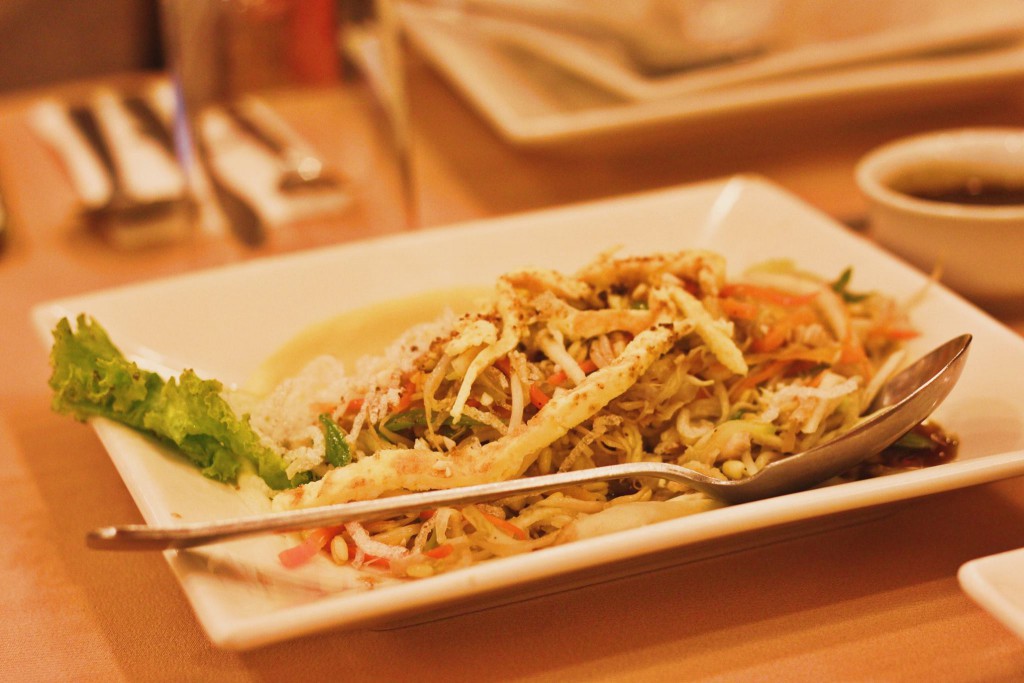 We decided to take Menu 2 for 50 persons.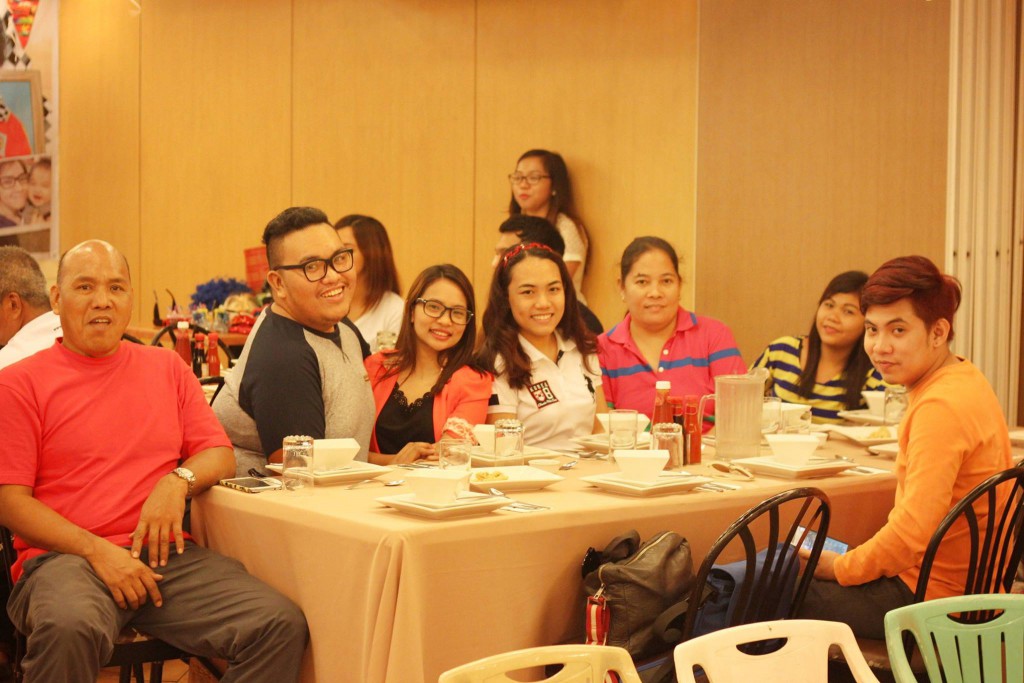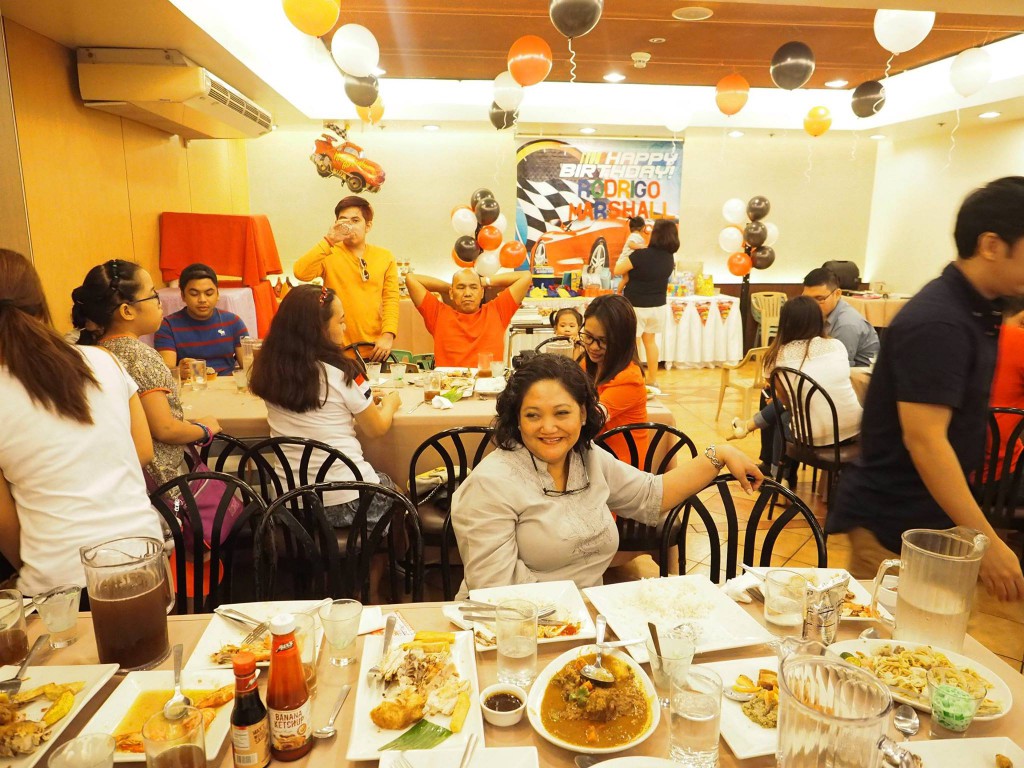 Honestly, I wasn't able to eat well cause I was busy with Marshall and was tied up with chikahan. But the guests seemed to be pleased with the meal, so thumbs up!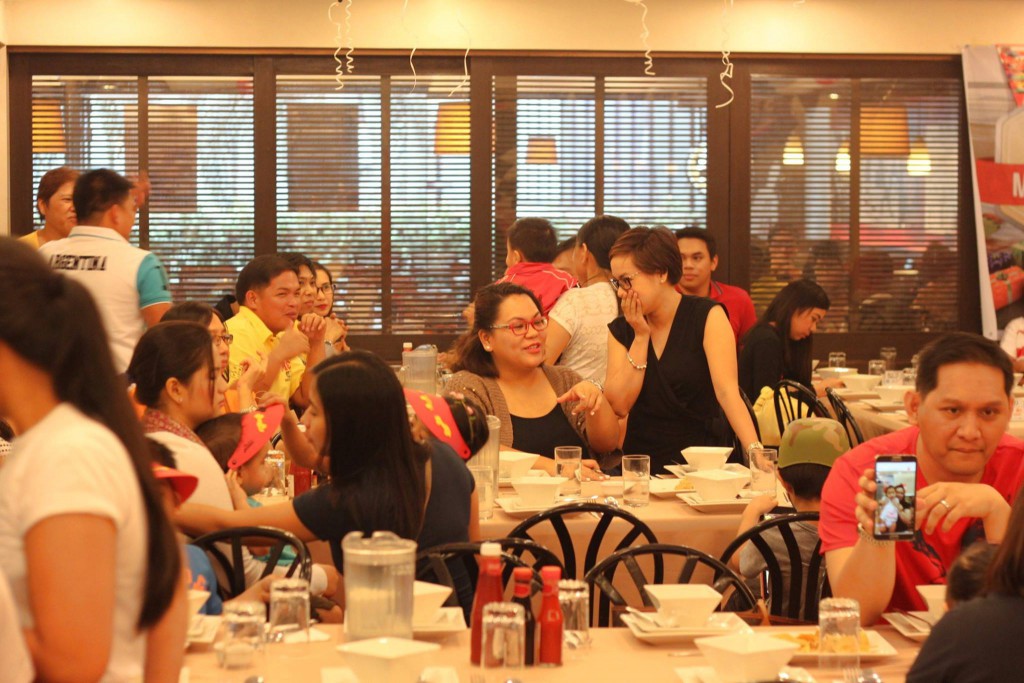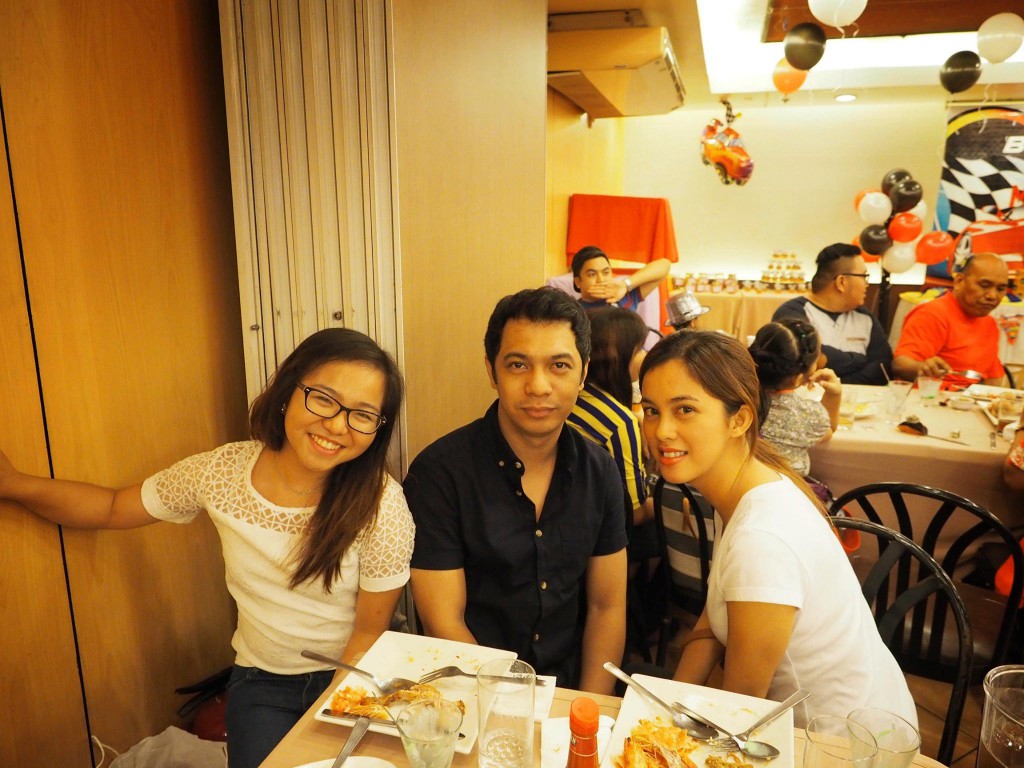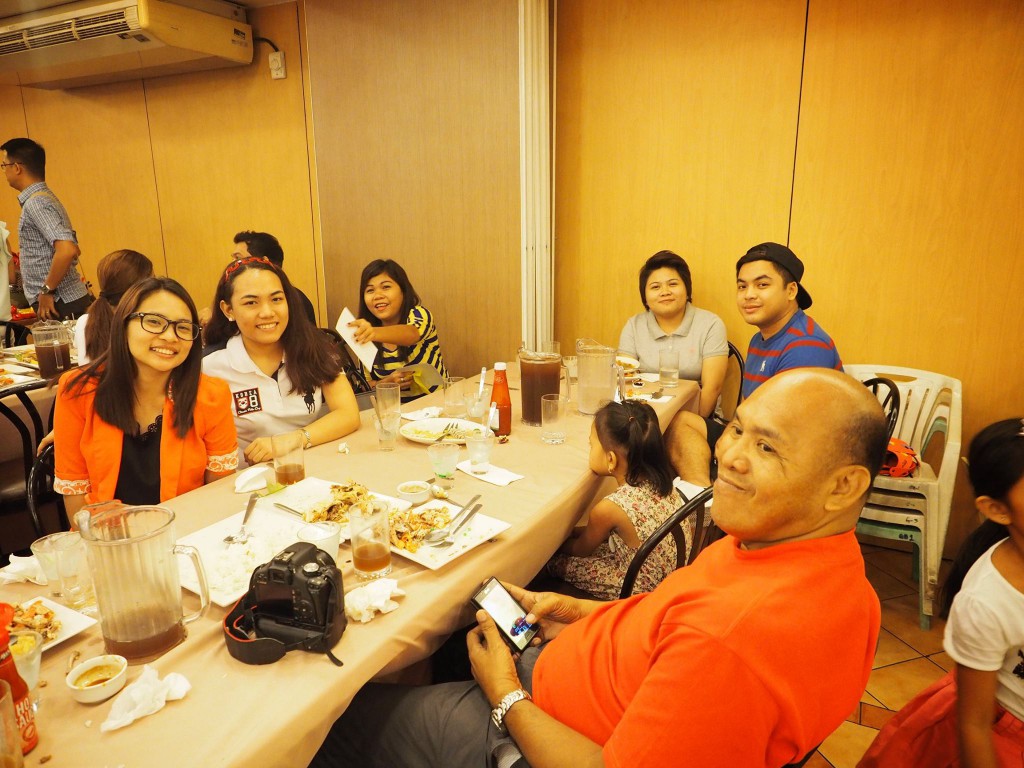 And the kids enjoyed their food as well.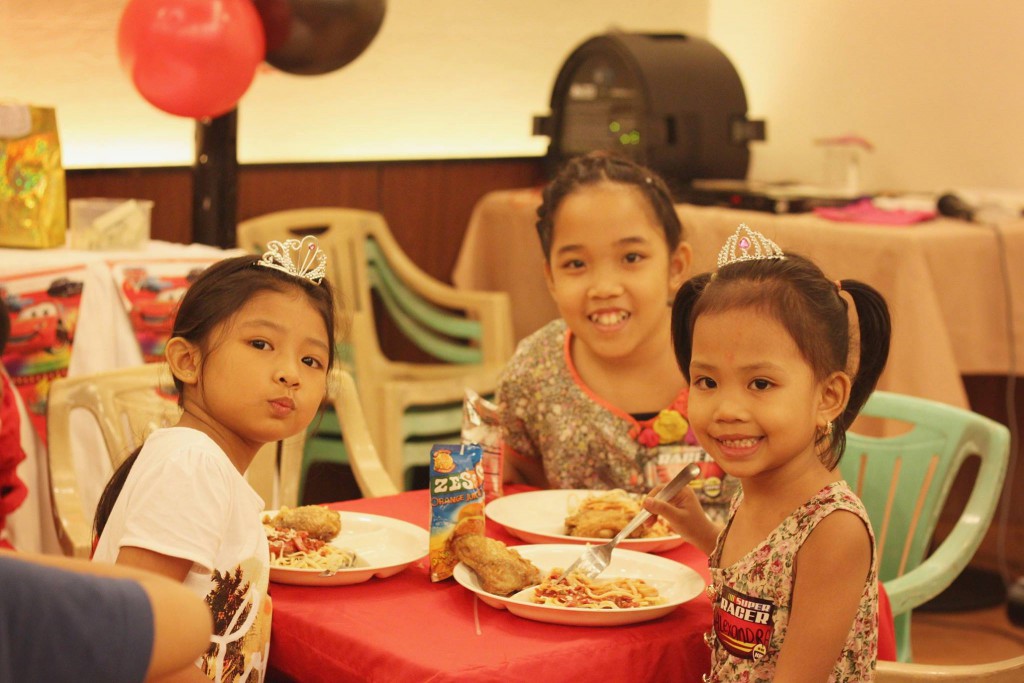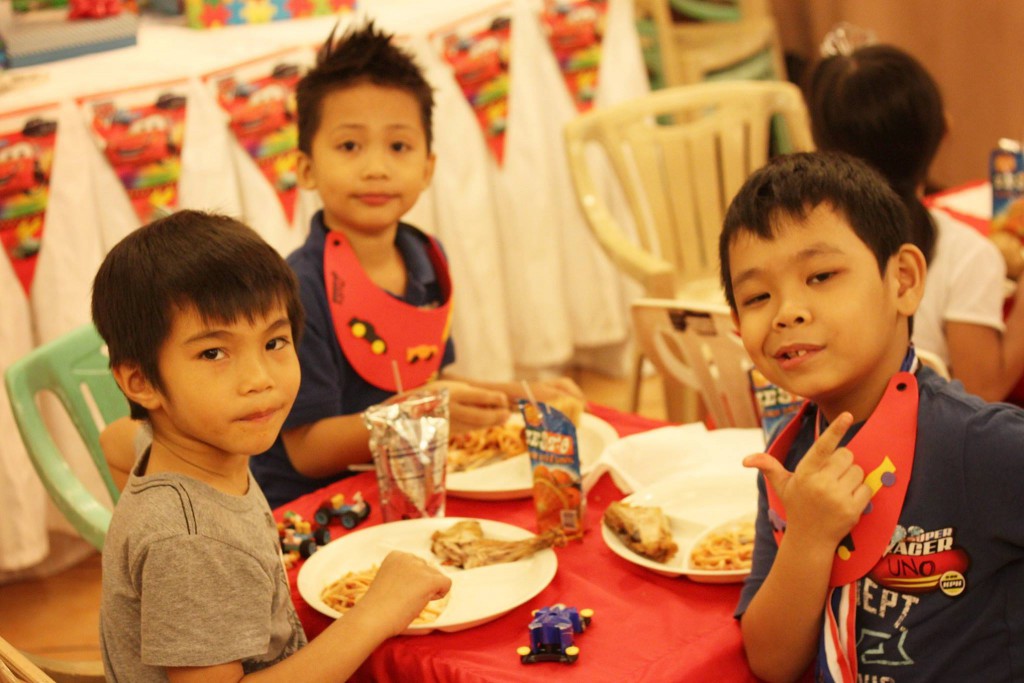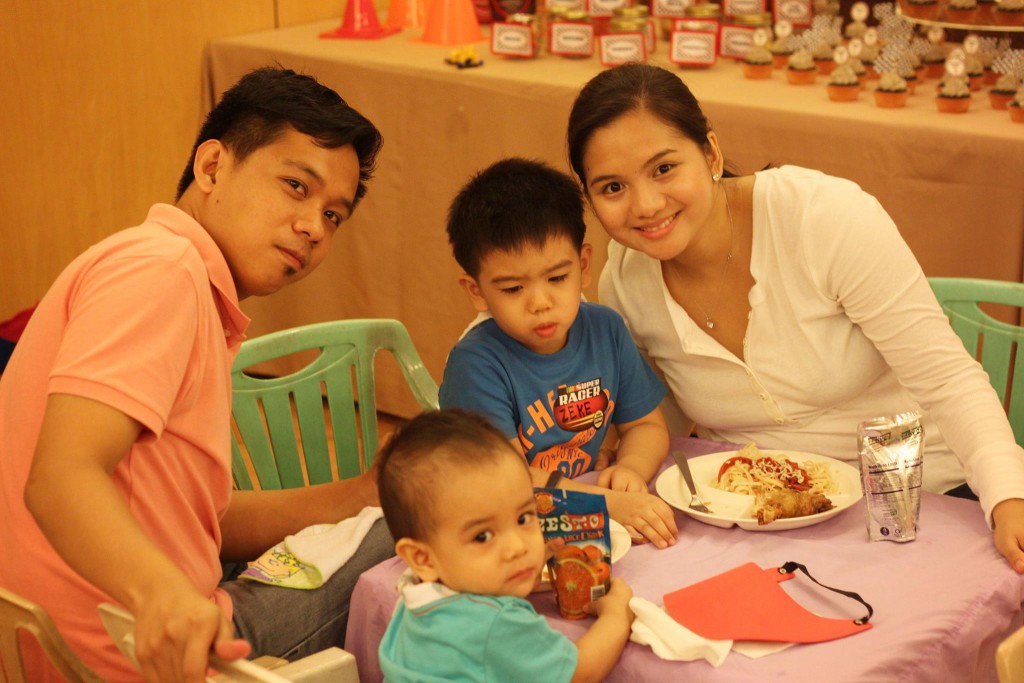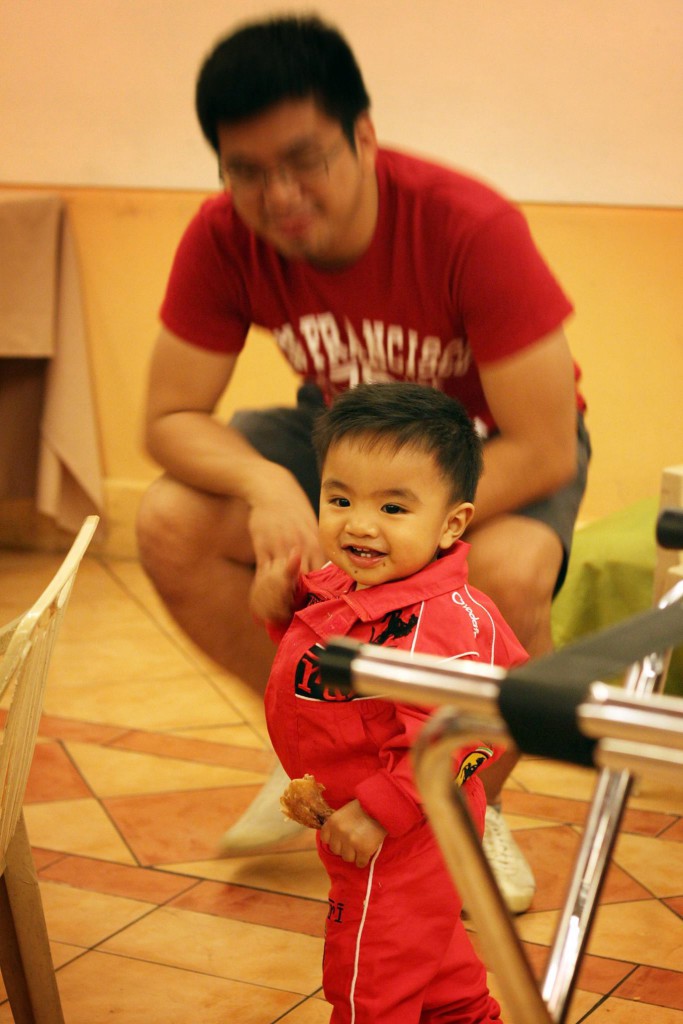 And Marshall loved it too!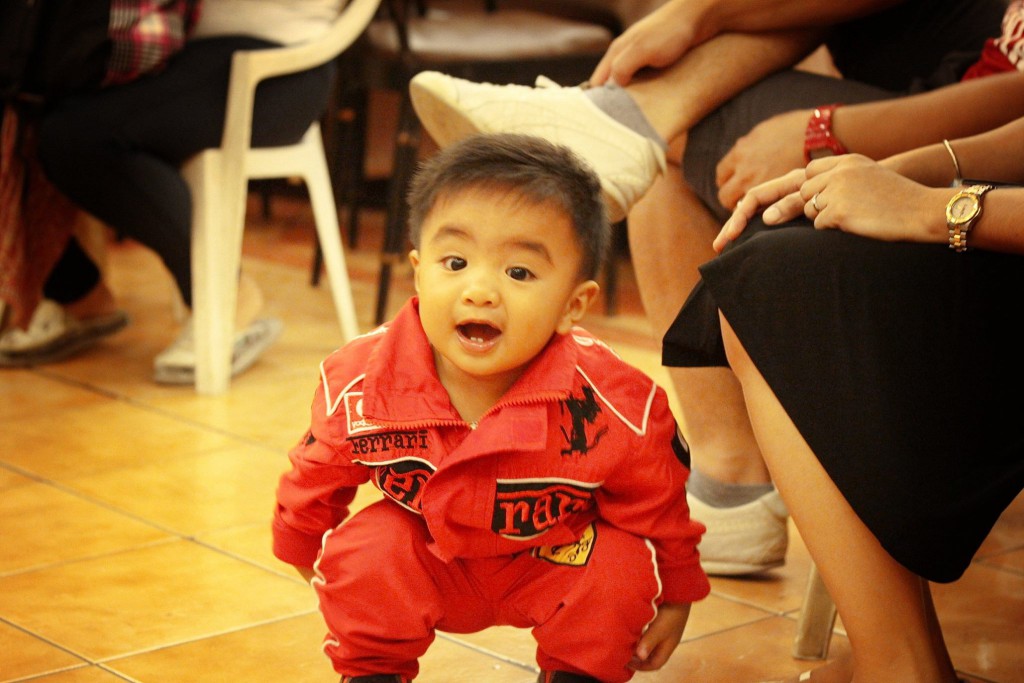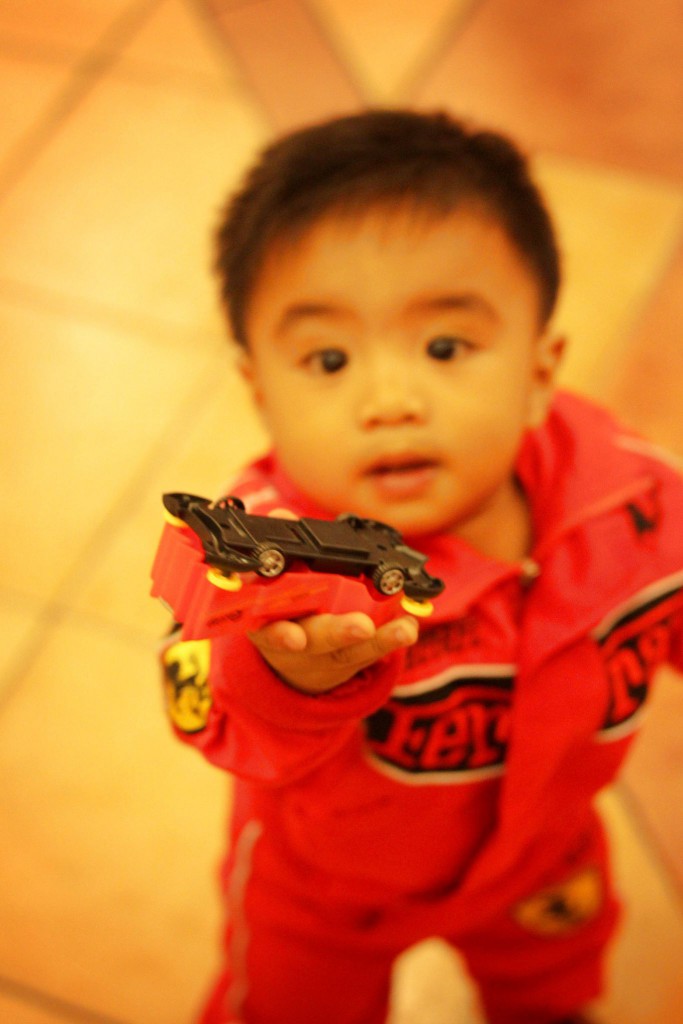 After the meal, Chickie boy came!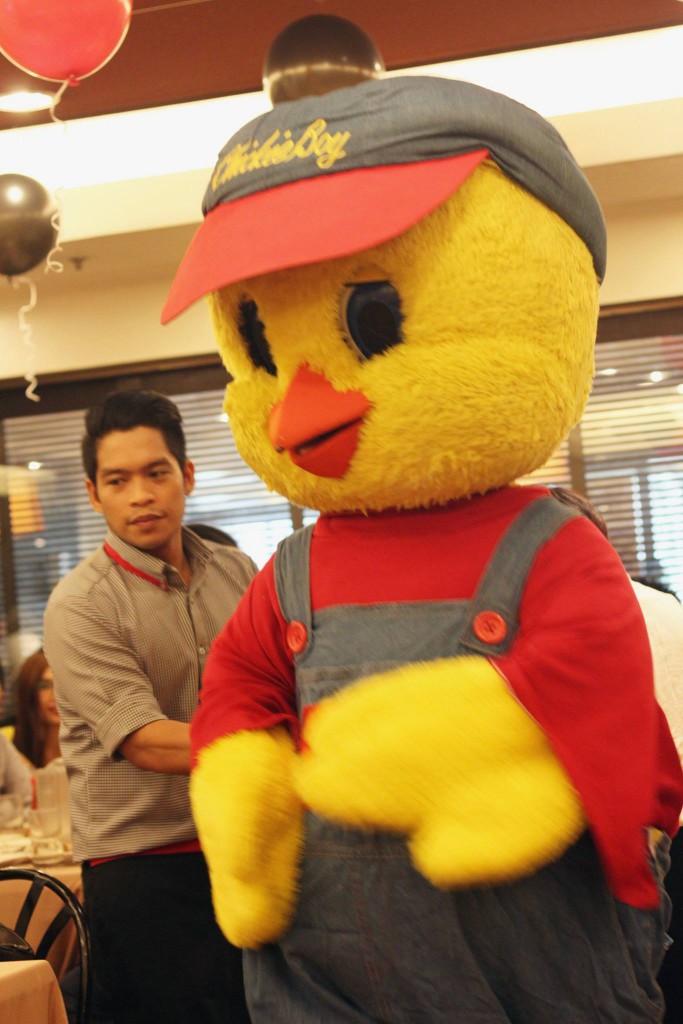 I guess Marshall was surprised with the mascot!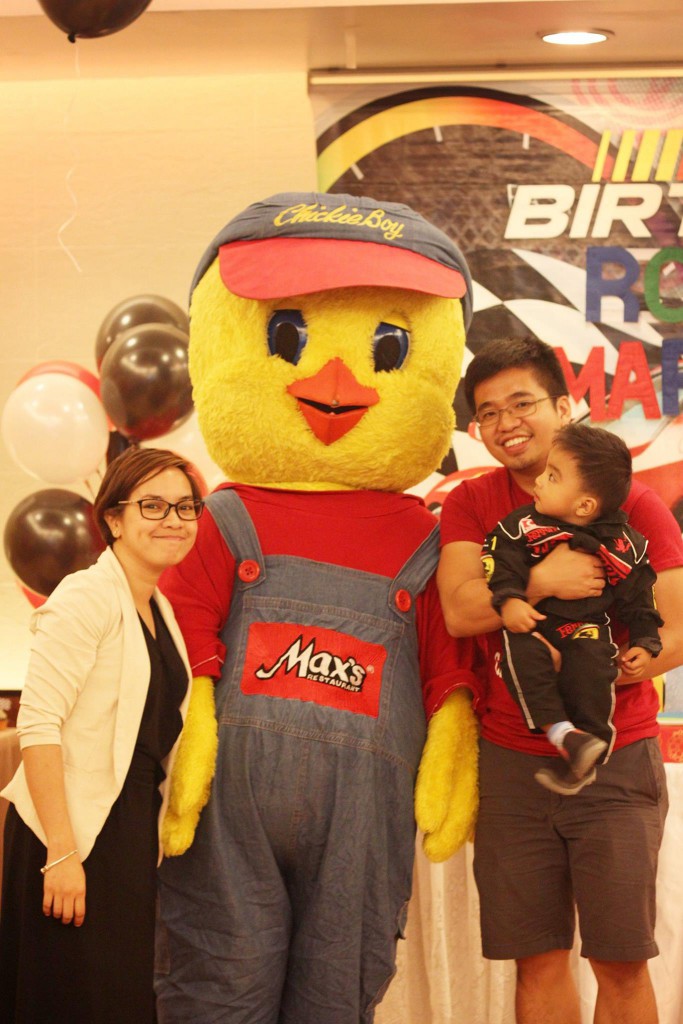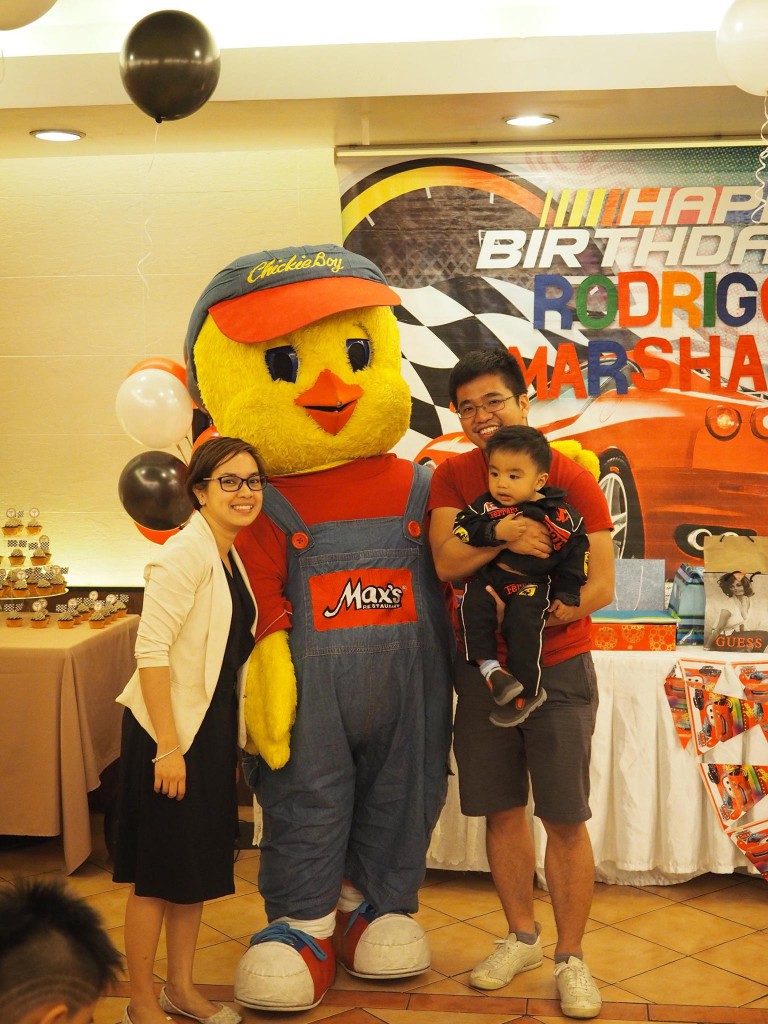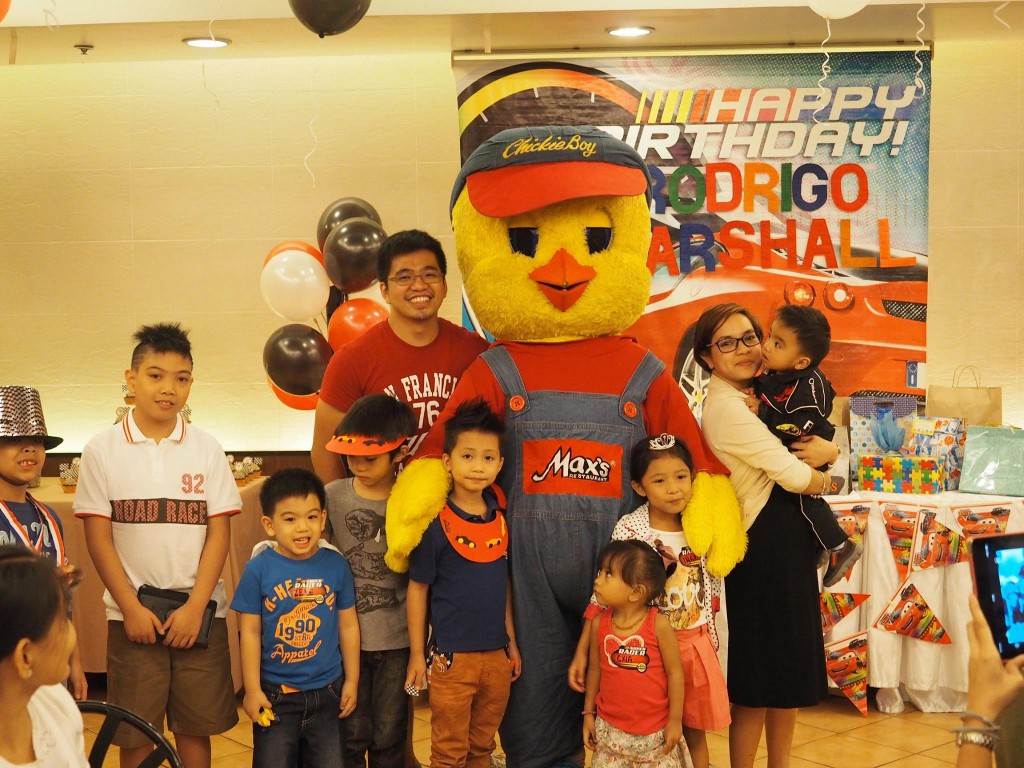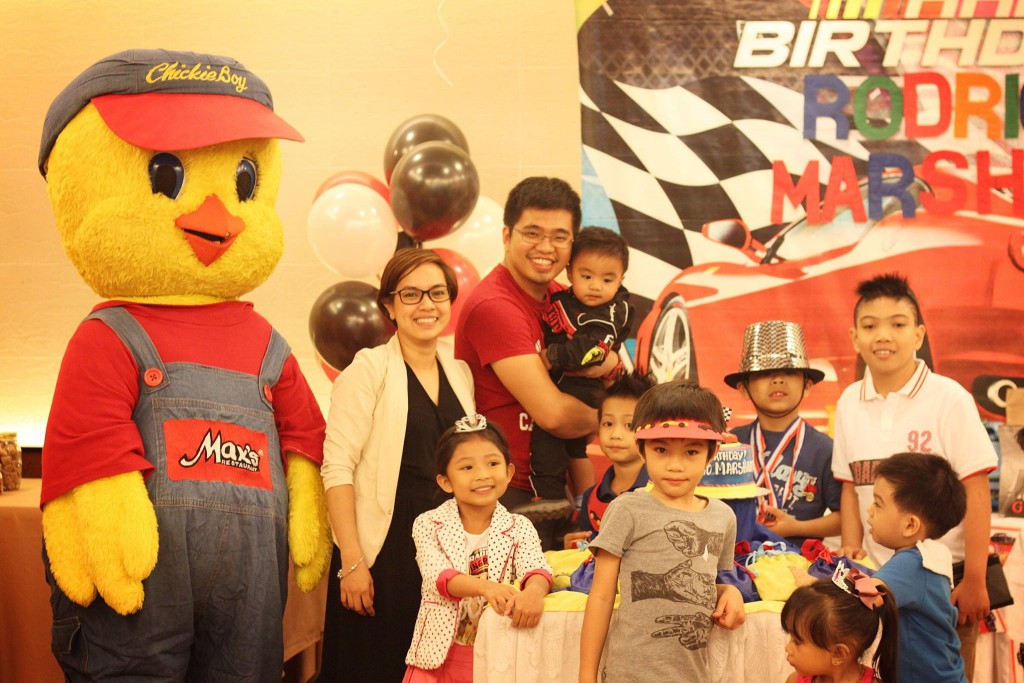 After some time, we then sang a happy birthday song for marshall while blowing his cake.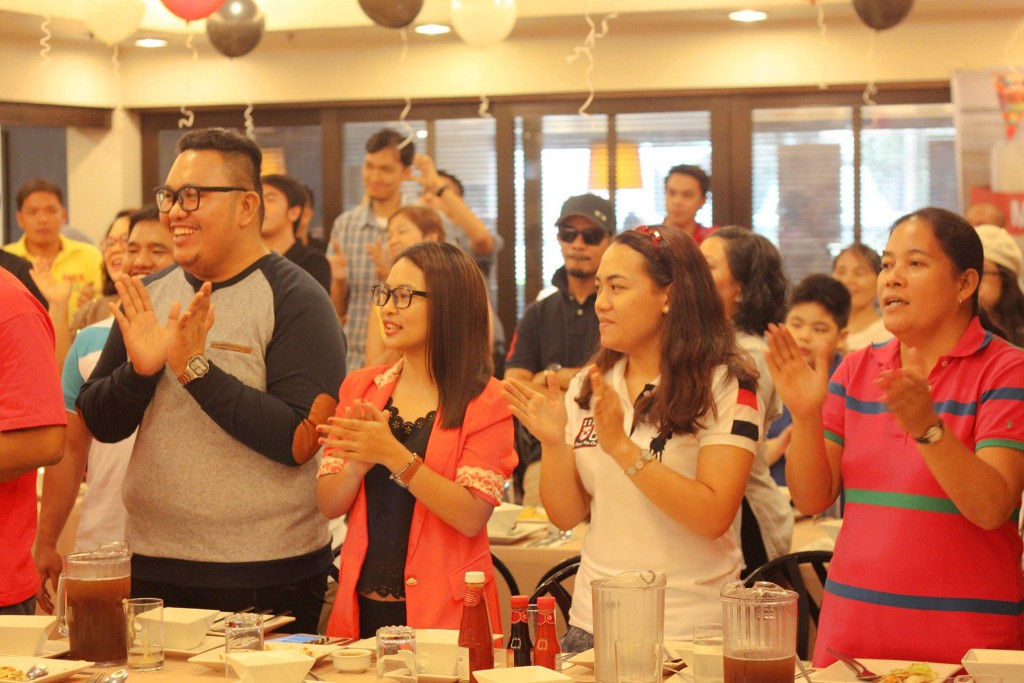 This cake was included in the package.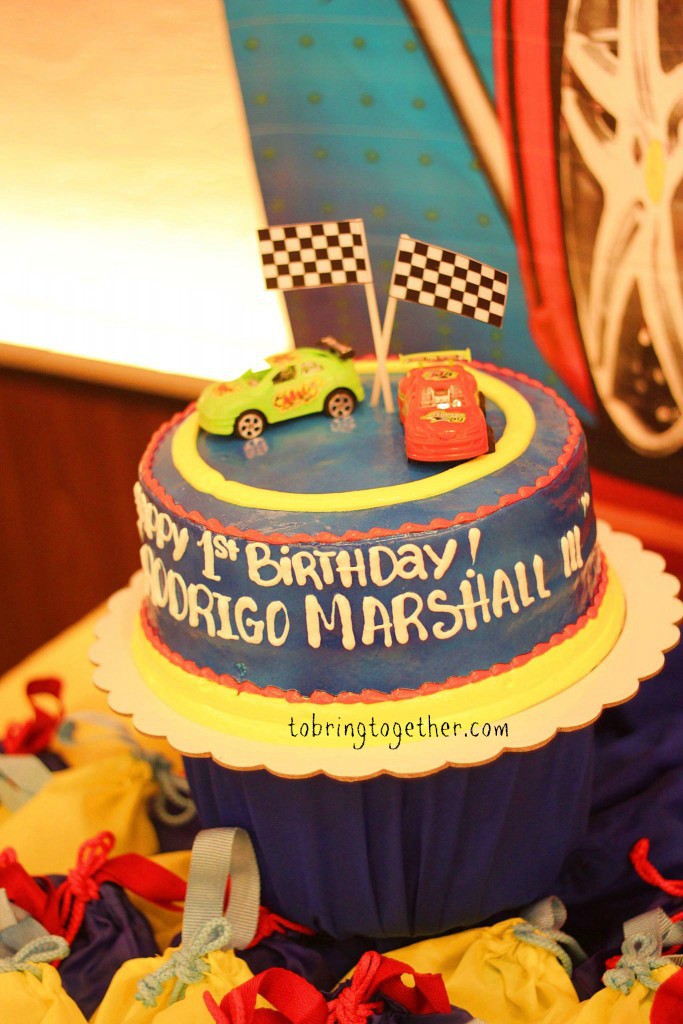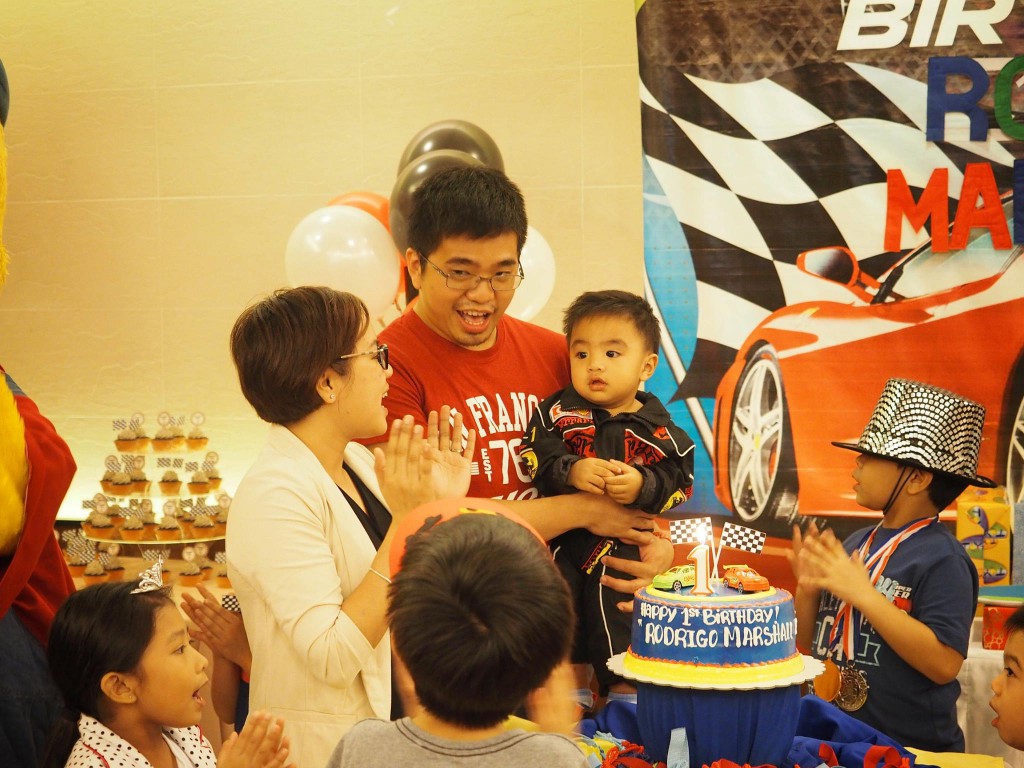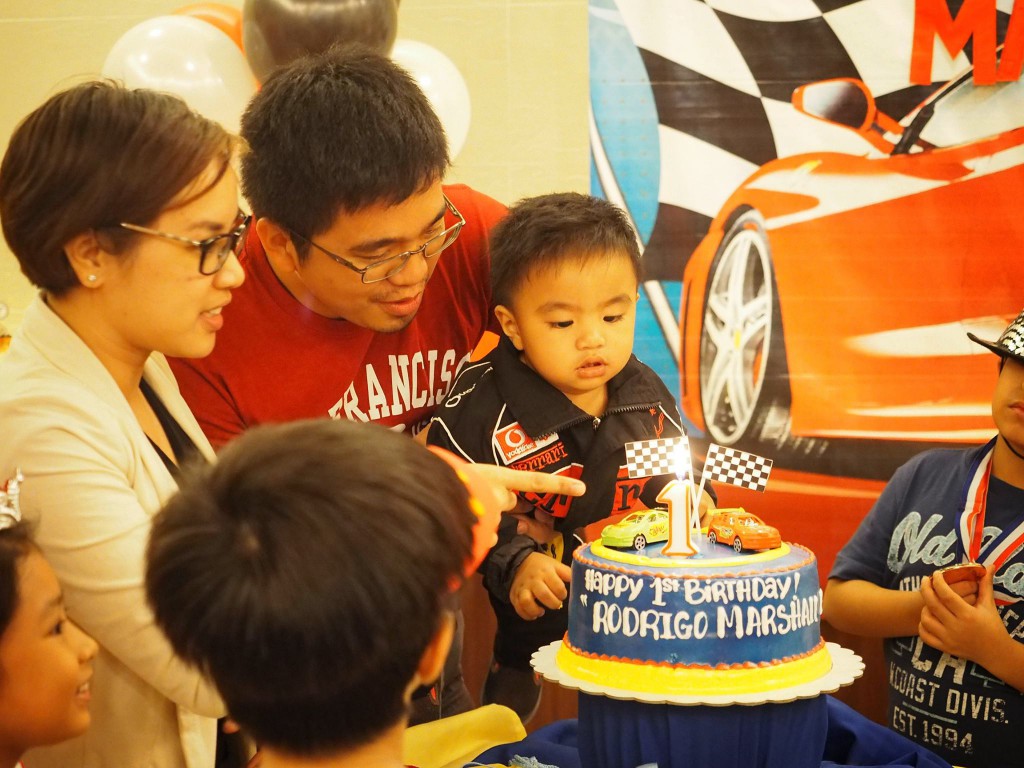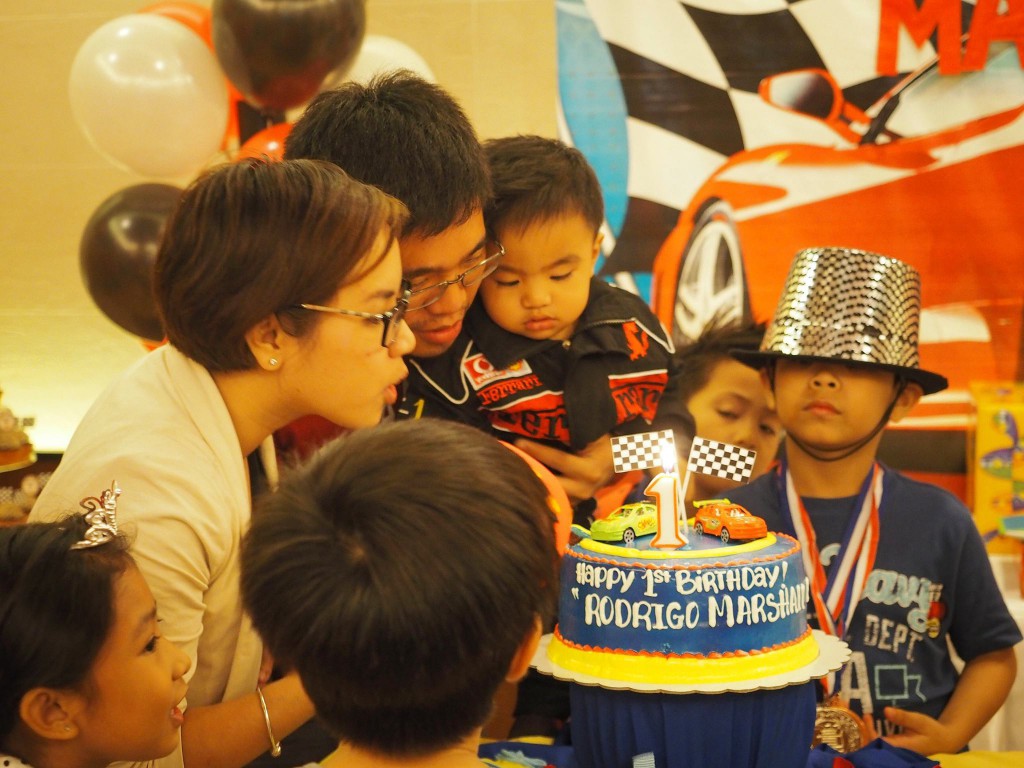 Then, the Birthday Cake Smash.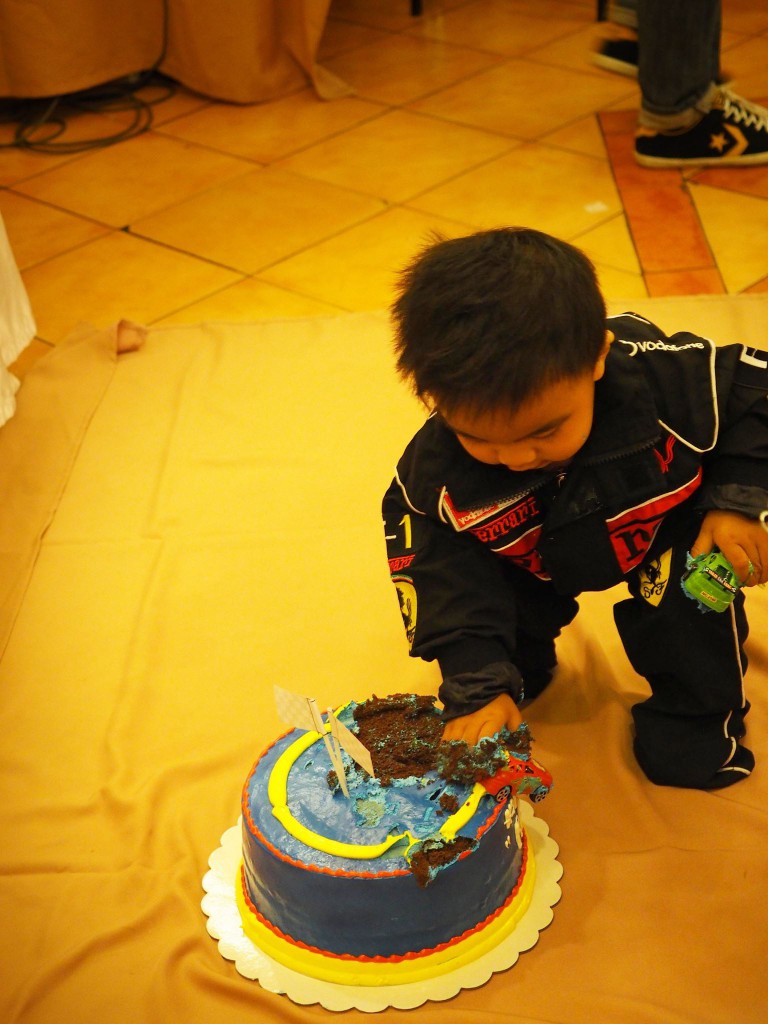 We let him smash the cake just a bit kasi sayang! Actually, he only took the car toy! hehe! And we brought home the cake.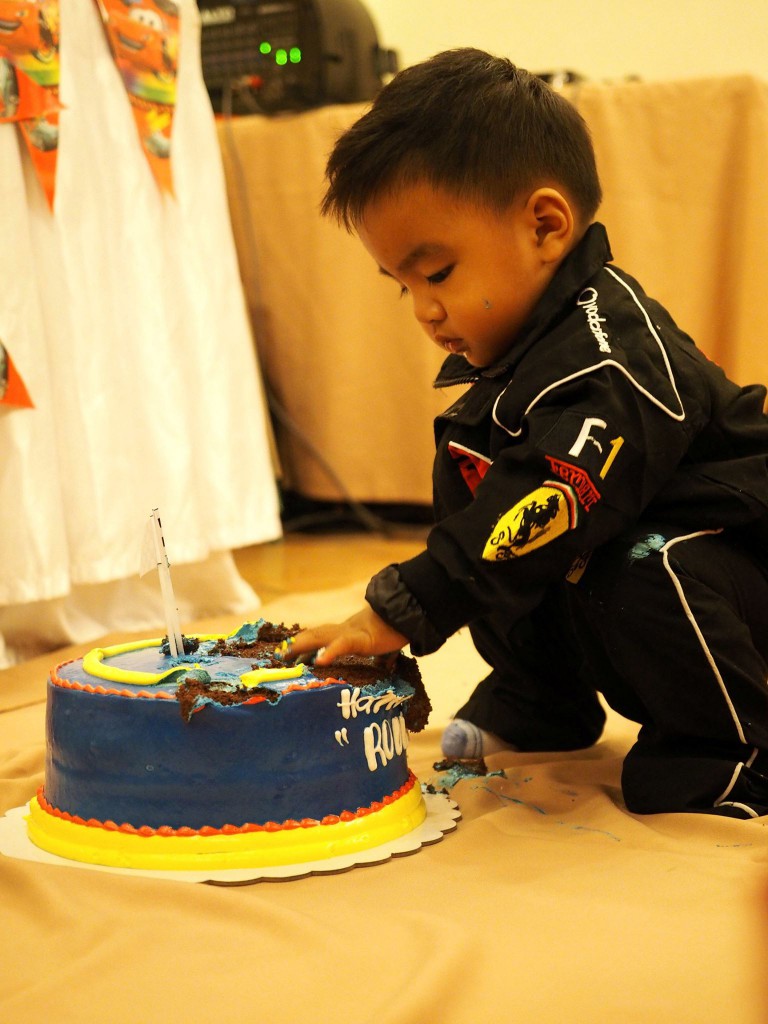 Anyway, we brought our own cupcakes for everyone to eat. We ordered from one of our friend who had some baking business. Mas mura compared to other cupcakes store and yet it's tasteful. The Staff allowed us to set up a mini candy bar. We were lucky that they didn't ask for additional payment. Sweets were brought by my other sister in law, Ate Leah. We placed car accessories labels.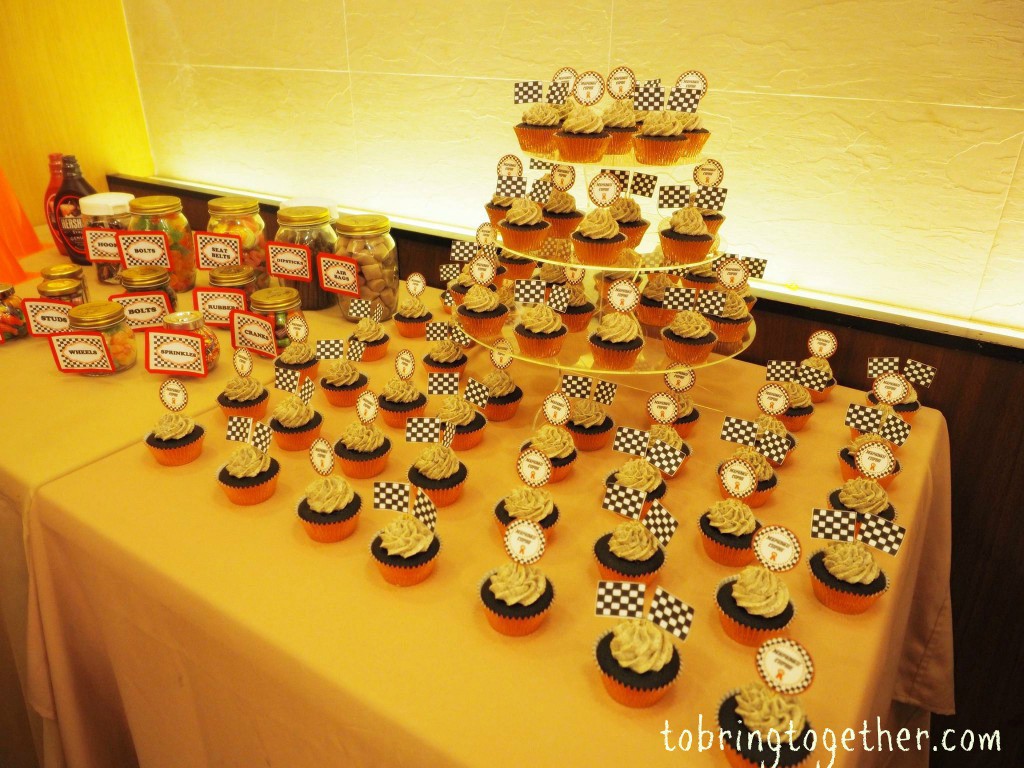 Chocolate and red velvet cupcakes.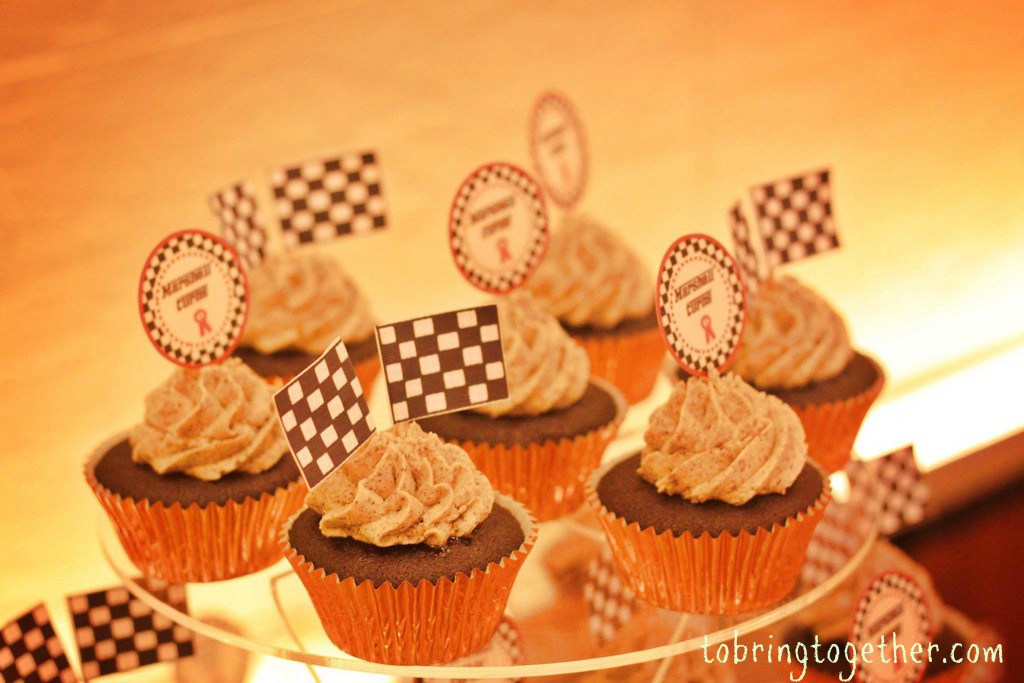 After that, we gave our big surprise for the birthday boy!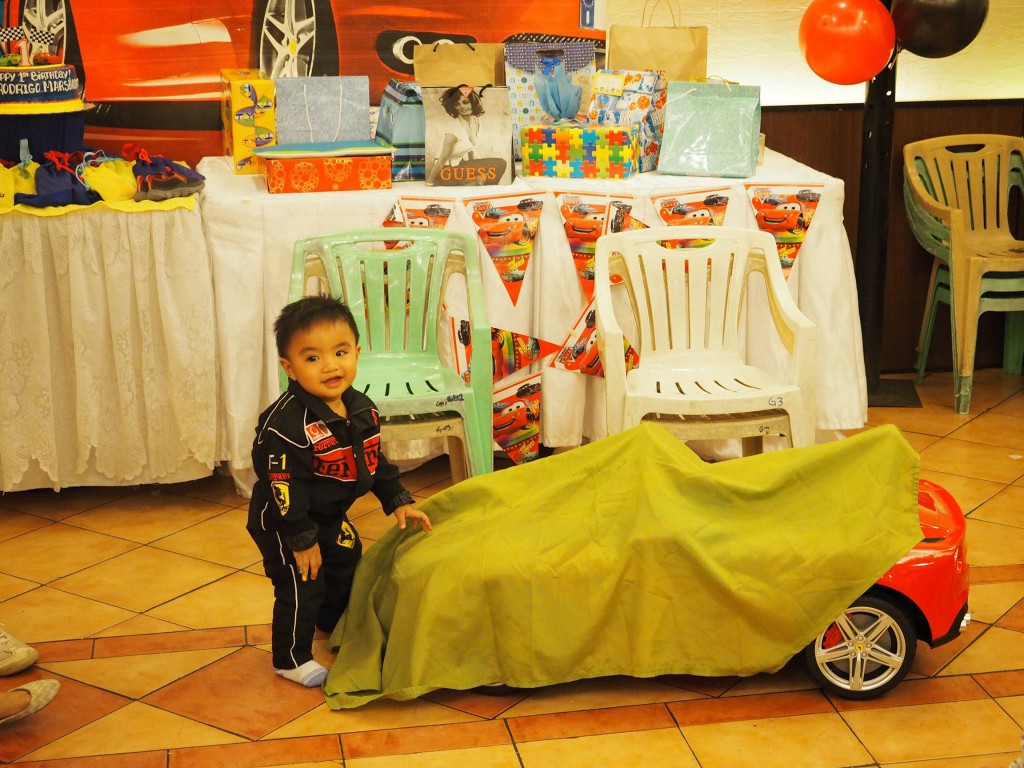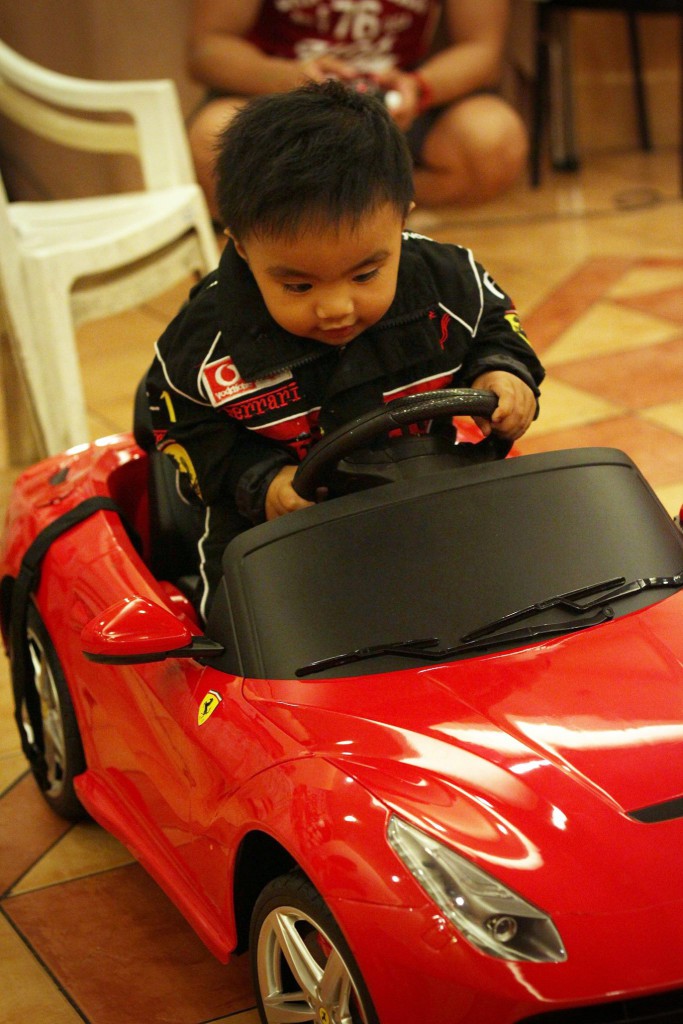 Overall, we had fun during that big day! Big thanks to Max's staff and crew for all the help during the event. And of course, this wouldn't be possible without our families and friends who celebrated with us.
To God be the glory! 🙂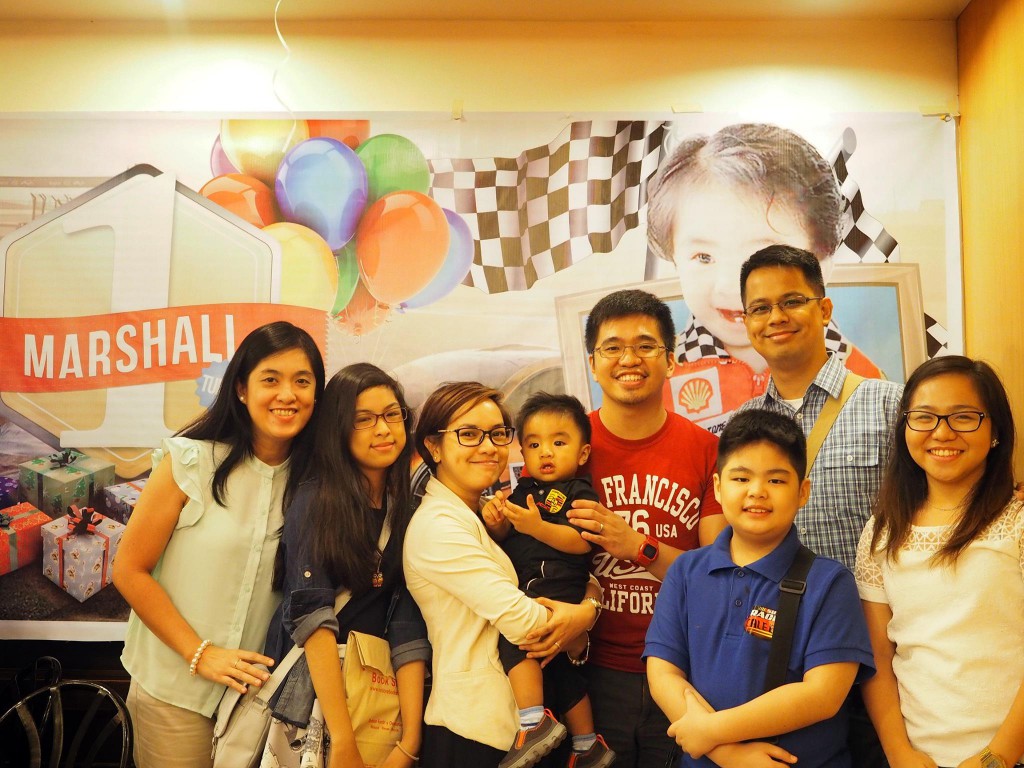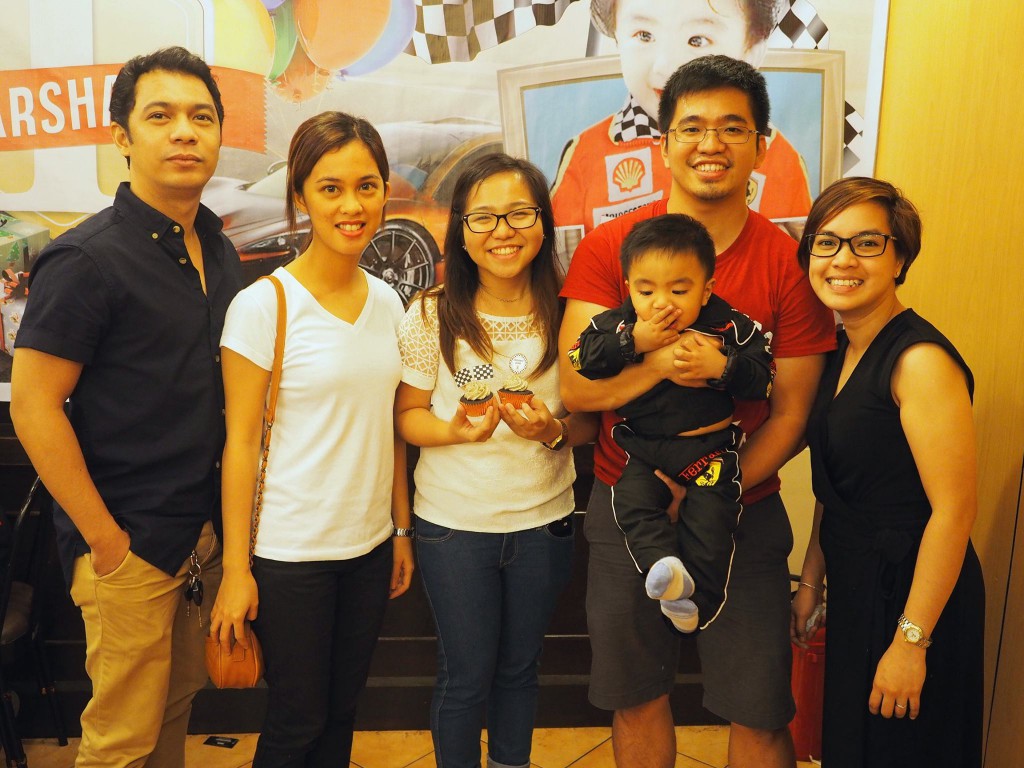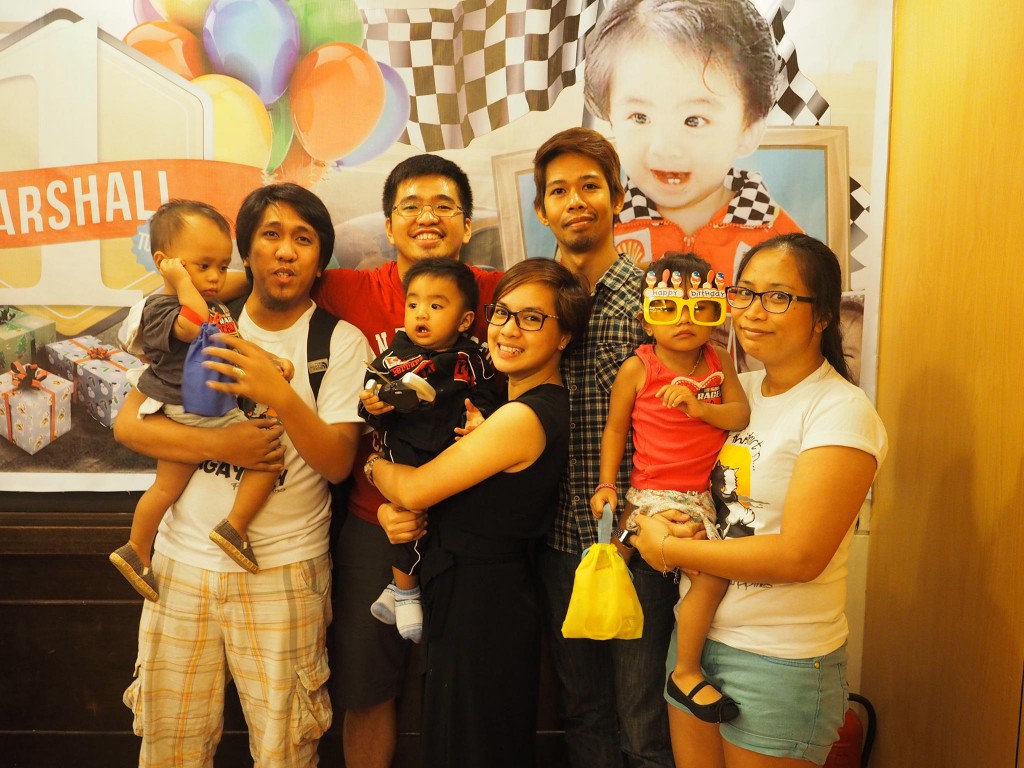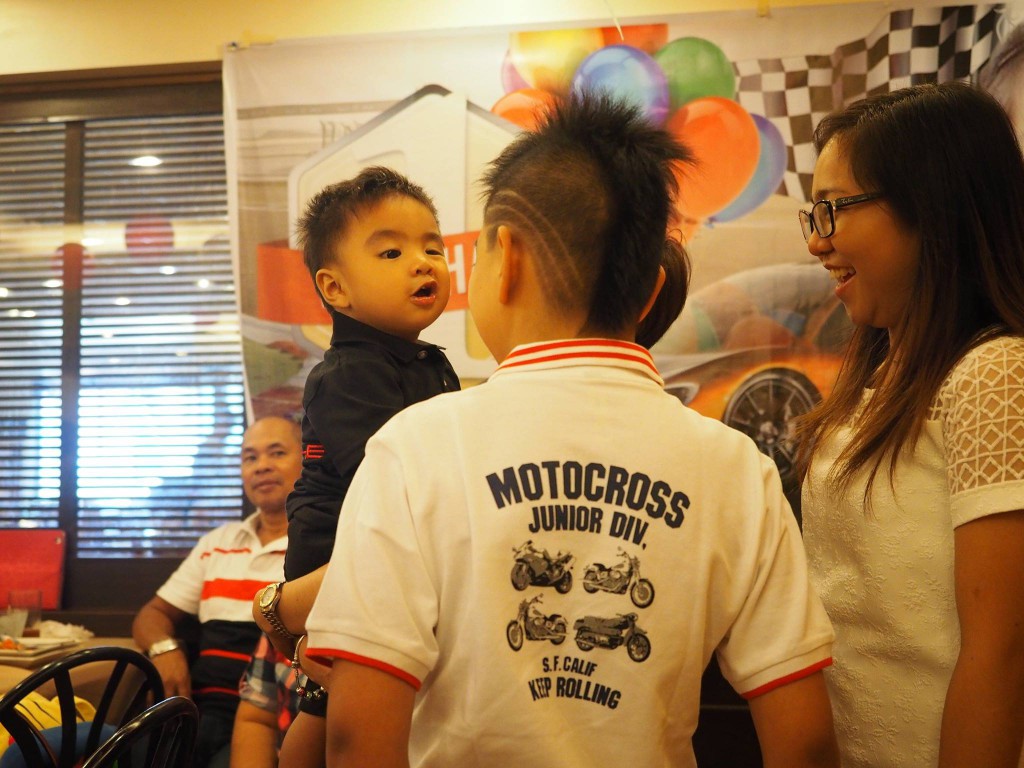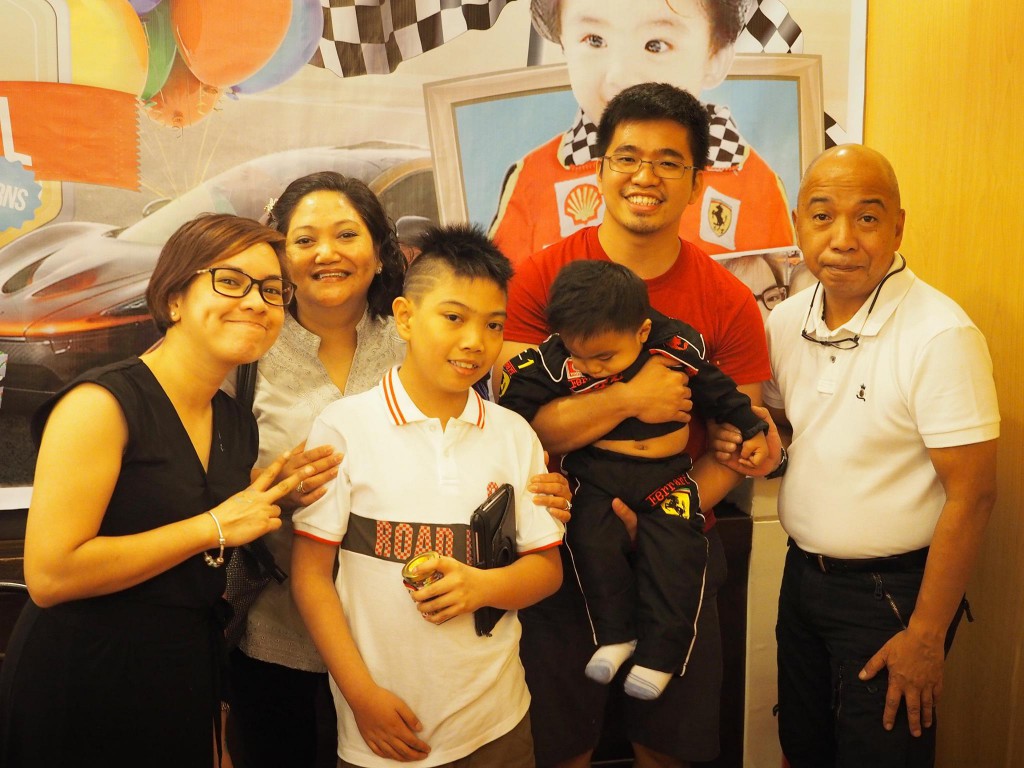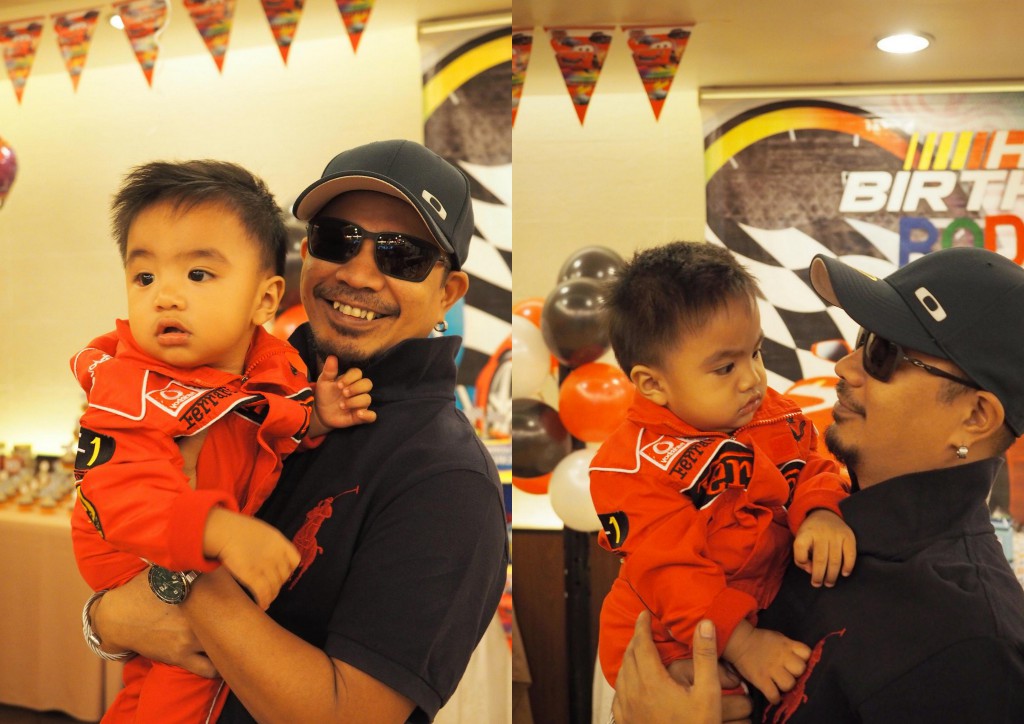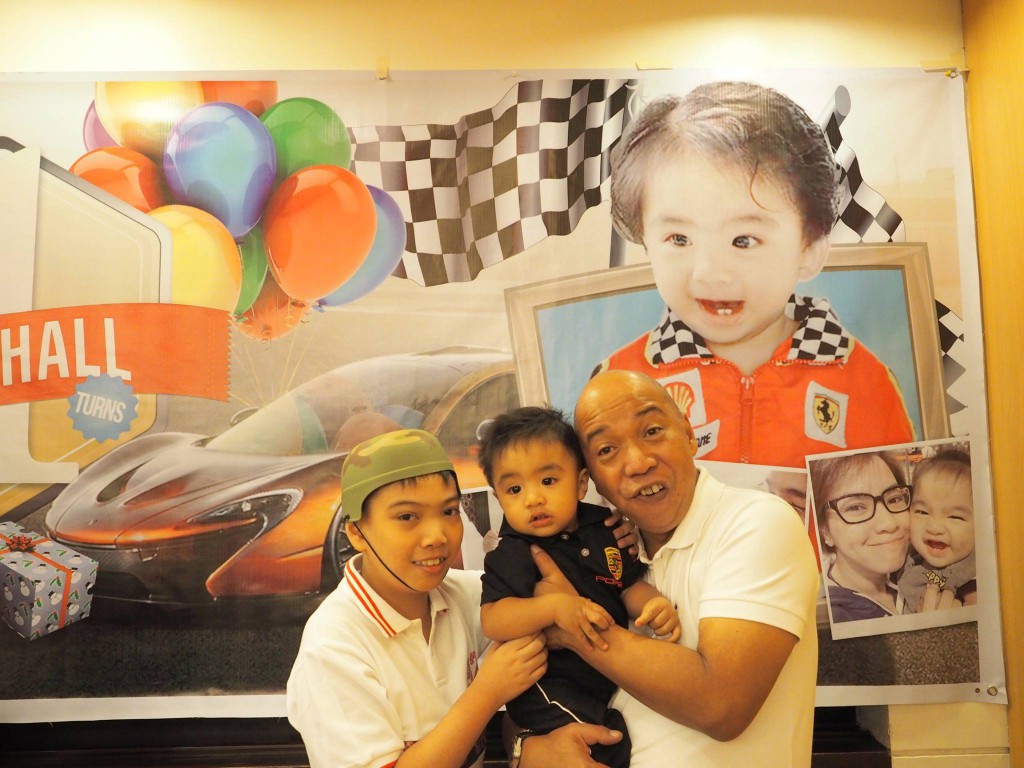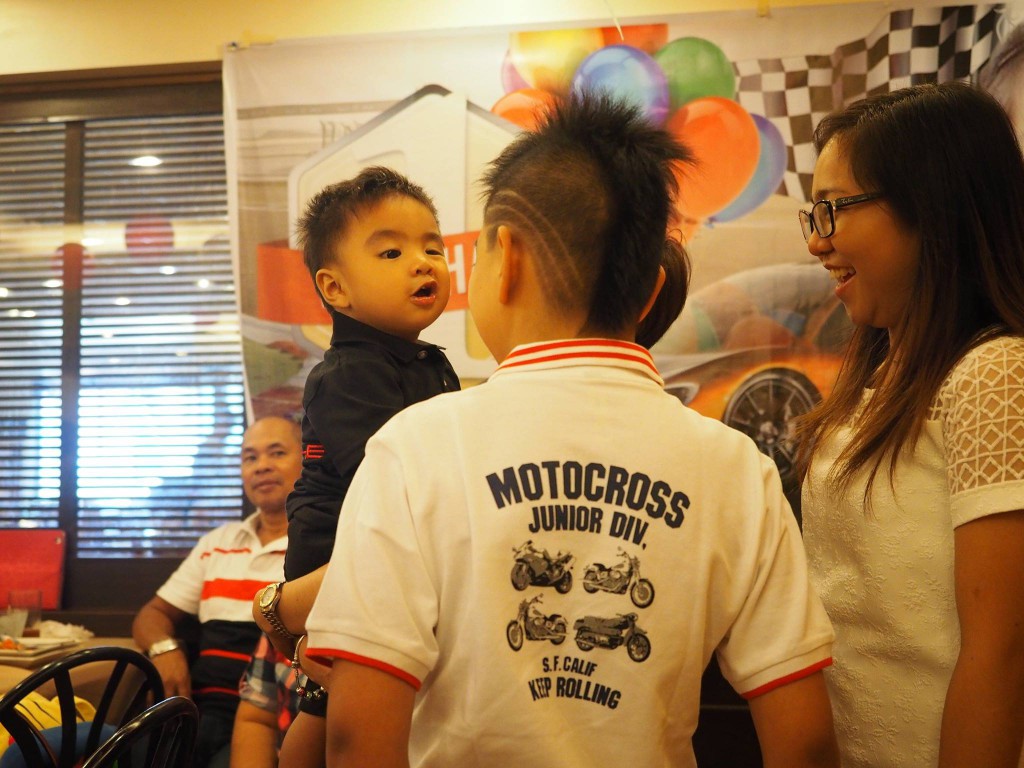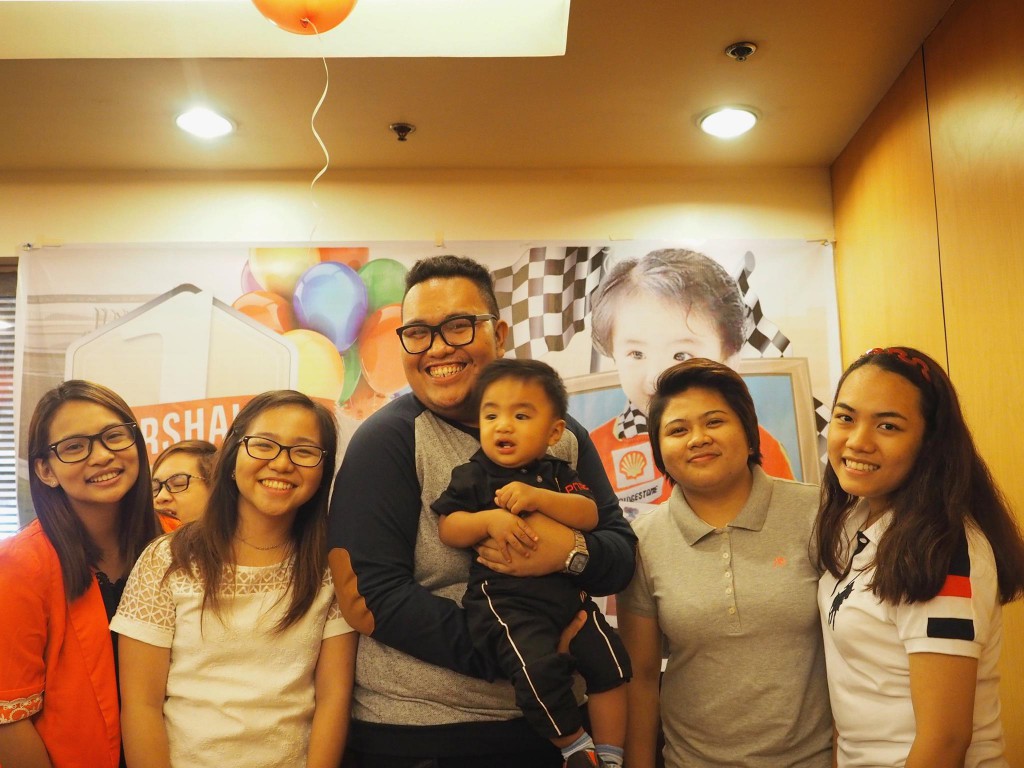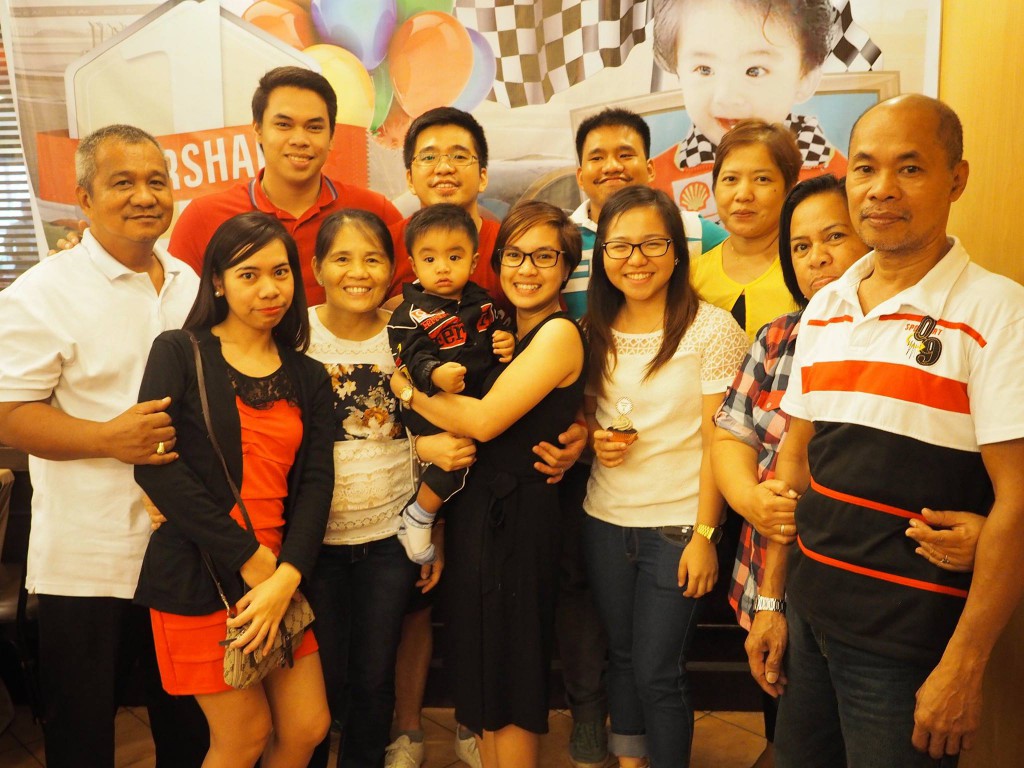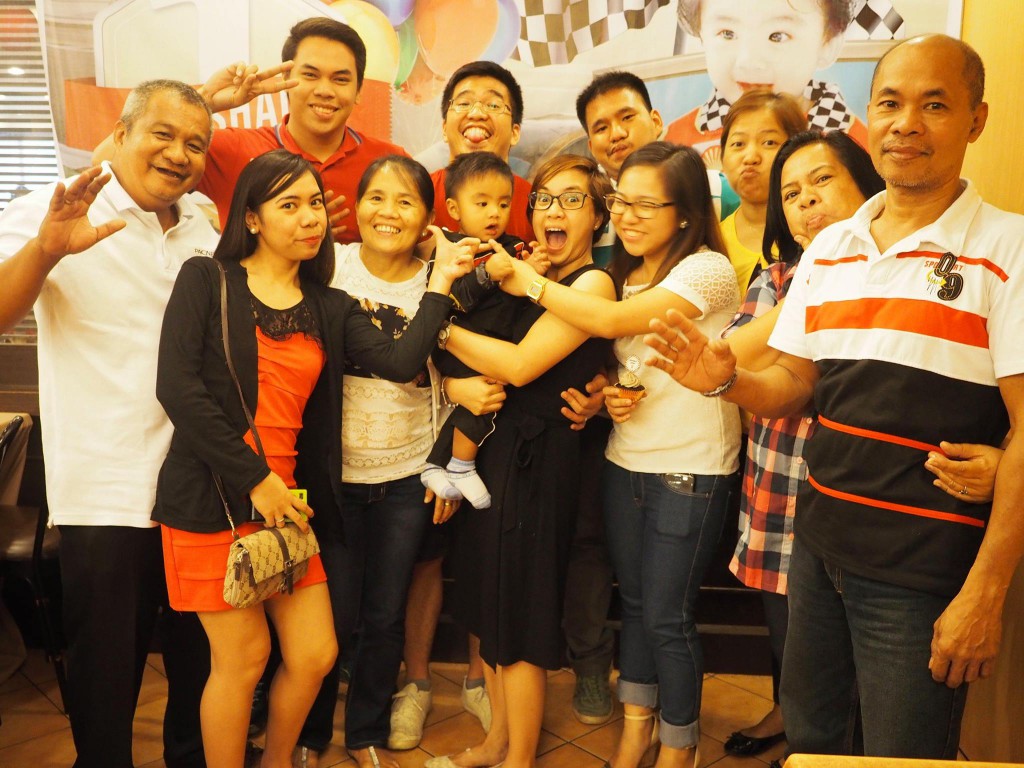 That night we all went to sleep late as we were busy opening all his gifts.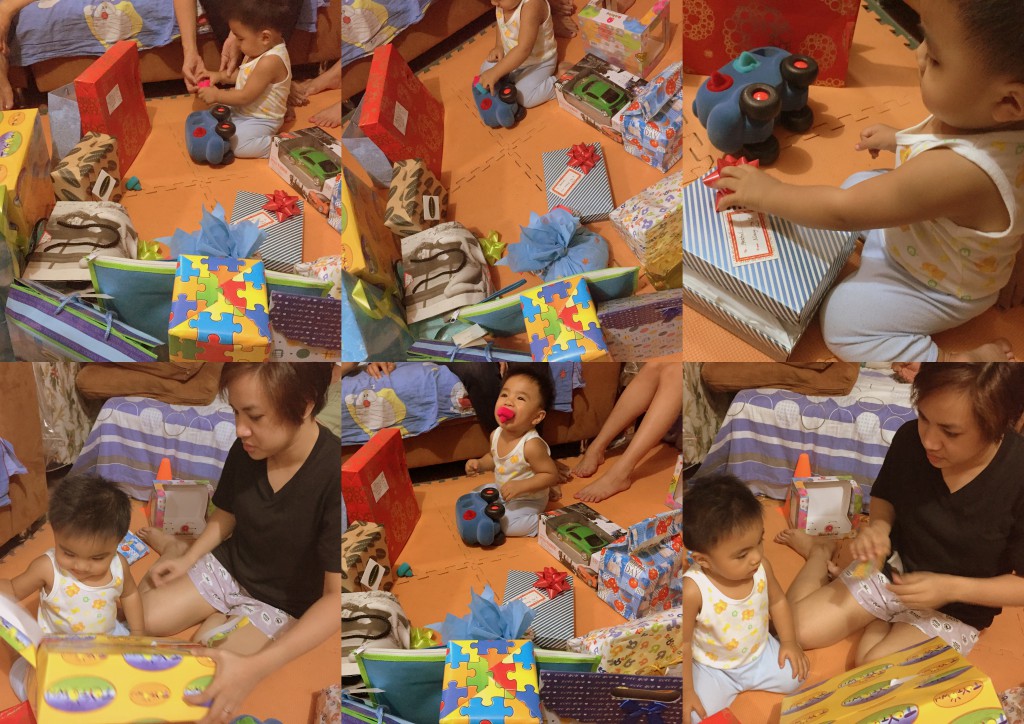 The next morning we had a feast again before flying back to Singapore. Nothing beats a simple boodle fight with the family 😉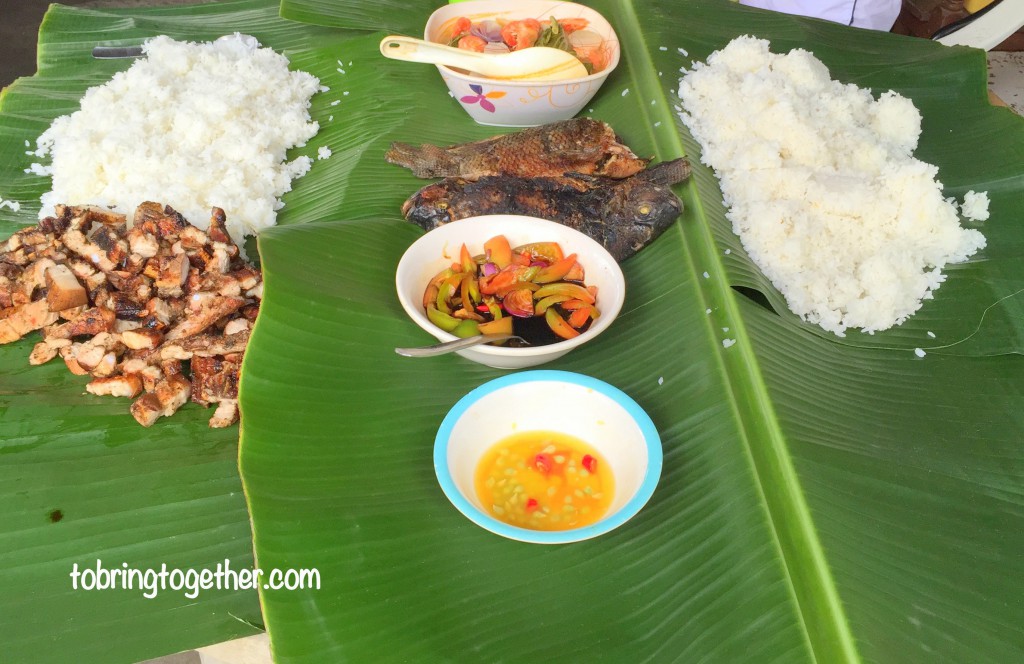 It was indeed a memorable first birthday! 😉 Thank you God for this blessing! 🙂